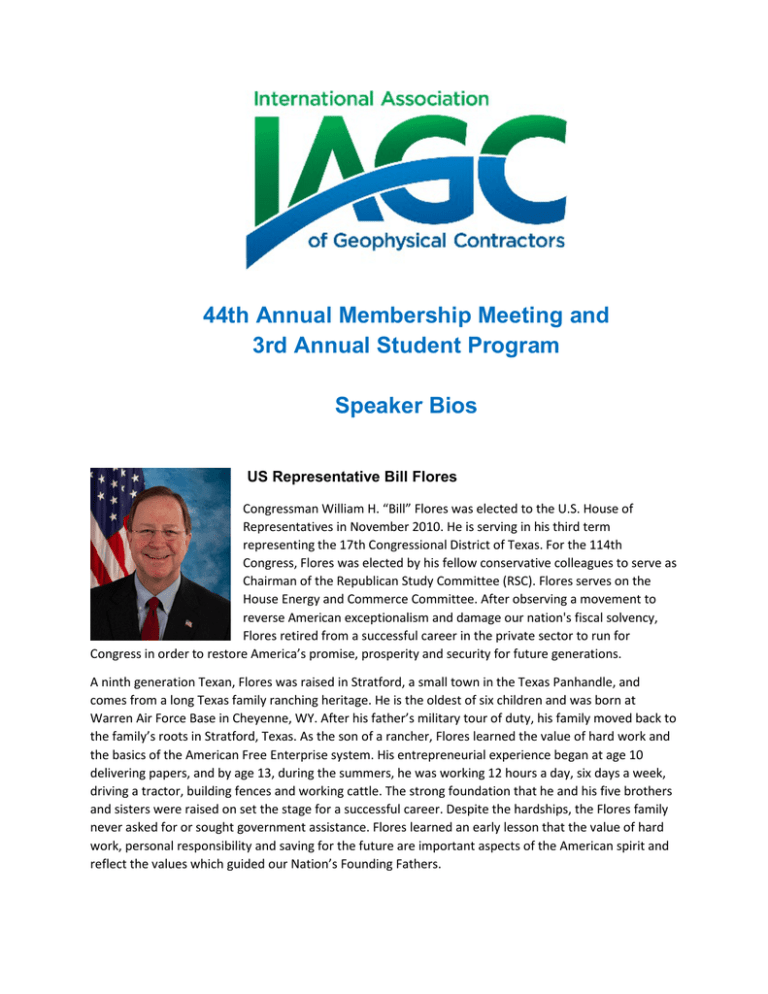 44th Annual Membership Meeting and
3rd Annual Student Program
Speaker Bios
US Representative Bill Flores
Congressman William H. "Bill" Flores was elected to the U.S. House of
Representatives in November 2010. He is serving in his third term
representing the 17th Congressional District of Texas. For the 114th
Congress, Flores was elected by his fellow conservative colleagues to serve as
Chairman of the Republican Study Committee (RSC). Flores serves on the
House Energy and Commerce Committee. After observing a movement to
reverse American exceptionalism and damage our nation's fiscal solvency,
Flores retired from a successful career in the private sector to run for
Congress in order to restore America's promise, prosperity and security for future generations.
A ninth generation Texan, Flores was raised in Stratford, a small town in the Texas Panhandle, and
comes from a long Texas family ranching heritage. He is the oldest of six children and was born at
Warren Air Force Base in Cheyenne, WY. After his father's military tour of duty, his family moved back to
the family's roots in Stratford, Texas. As the son of a rancher, Flores learned the value of hard work and
the basics of the American Free Enterprise system. His entrepreneurial experience began at age 10
delivering papers, and by age 13, during the summers, he was working 12 hours a day, six days a week,
driving a tractor, building fences and working cattle. The strong foundation that he and his five brothers
and sisters were raised on set the stage for a successful career. Despite the hardships, the Flores family
never asked for or sought government assistance. Flores learned an early lesson that the value of hard
work, personal responsibility and saving for the future are important aspects of the American spirit and
reflect the values which guided our Nation's Founding Fathers.
Through hard work, determination and prudent saving, Flores paid his own way through Texas A&M
University, from which he graduated in 1976 with a BBA in Accounting (Cum Laude). In 1985, he
received an MBA from Houston Baptist University. He and his wife Gina have provided scholarships,
faculty fellowships, and infrastructure investments to support higher education at Texas A&M University
and Houston Baptist University – portions of which are dedicated to assist first generation college
students, primarily from underrepresented groups. They are also major benefactors of K-12 education,
including support for Yellowstone Academy, which provides elementary education to children in one of
Houston's poorest inner city areas.
In 1978, Flores earned his Texas Certified Public Accountancy (CPA) license. Before retiring to pursue
public service, Flores worked in the energy industry for nearly three decades. During that time, he
served as a CFO, COO or CEO for successful energy companies, ultimately serving as President and CEO
of Phoenix Exploration Company, an oil and gas company focused upon the discovery of American oil
and gas resources. This company was started in late 2005, and in light of its rapid growth, was included
in the Houston Chronicle's Top Private Companies lists in 2007 and 2008.
As a company leader and entrepreneur, Flores has firsthand experience in helping to create hundreds of
good-paying American jobs. He also understands the problems that bad government policy and
regulation can cause for American job creation and economic prosperity.
Flores has also held numerous governance positions for various public companies, private companies
and non-profit organizations. Today, he serves on the Board of Trustees of Houston Baptist University,
the Board of Directors of Texas A&M's Private Enterprise Research Center, the advisory board of
the Ranching Heritage Association, and the Congressional board of directors of the Congressional
Hispanic Leadership Institute (CHLI).
His previous governance positions include Commissioner of the Texas Real Estate Commission, Director
and Past Chair of The Association of Former Students of Texas A&M University, as well as serving on the
Boards of the Phoenix Exploration Company, PetroAlliance Services, Ltd., Marine Drilling Companies,
Inc., OneOffshore, Inc., Great Western Resources, Inc. and The PARC Recreational Ministries Corp.
In 2013, Houston Baptist University honored Flores with the Distinguished Alumnus Award. In 2012,
Flores was inducted into the Texas A&M University Corps of Cadets Hall of Honor. In 2011, Texas Tech
University's Ranching Heritage Association honored him with the Boss of the Plains award in 2011 to
reflect his association with ranching. In 2010, Texas A&M University honored him as a Distinguished
Alumnus, the highest honor bestowed upon a former student of A&M, and in 2003, he was recognized
as an Outstanding Alumnus of Texas A&M's Mays Business School.
He and Gina are also major contributors to Wounded Warrior programs. Their community involvement
includes service as an active volunteer for charitable causes and not-for-profit organizations. Flores's
hobbies include snow skiing and flying. He is an instrument rated private pilot with more than 2,400
hours of pilot-in-command time.
Flores and his wife Gina have been married for 36 years and reside in Bryan, Texas, where they are
members of Central Baptist Church. They have two adult sons – Will and John. John and his wife Aimee
blessed them with their first grandchild in early 2011, and another grandchild in early 2014.
_____________________________________________________________________________________
Juan Carlos Zepeda Molina
President Commissioner
National Hydrocarbons Commission of Mexico
In May 2009, Juan Carlos Zepeda was appointed
President Commissioner of the National Hydrocarbons
Commission (CNH) for a five-year period, and in April
2014, Congress appointed him as the CNH President of
for a second five-year period.
Within the Mexican hydrocarbons industry, Juan Carlos has worked for the Ministry of
Finance SHCP and the Ministry of EnergySENER.
Juan Carlos' duties at the Ministry of Finance included evaluating Pemex's investment
projects; designing the Pemex tax system; evaluating and providing follow-up on the
Pemex budget and its finances and designing and setting pricing policies in the oil
industry.
At the Ministry of Energy, he was Head of the E&P Department where he was in charge
of technical evaluations of E&P projects.
Juan Carlos holds a B.A. in Economics from the Instituto Tecnológico Autónomo de
México (ITAM), a Master's degree in Economics and Finance from the University of the
Warwick, and a Master's degree in Economics from the University of Georgetown where
he studied for a Ph.D in Economics.
_____________________________________________________________________________________
Alma America Porres, PhD
Commissioner
National Hydrocarbons Commission of Mexico
In September 2010, the President of México appointed Dr.
Alma America Porres as Commissioner of the National
Hydrocarbons Commission (CNH) where she is in charge of
Deep Water Exploration Assessment, Exploration Projects,
Surface Exploration Permits Evaluation, Prospective
Resources Regulation, and Technical Support in Exploration
for Round 0 and Round 1.
For 26 years, Dr. Porres developed her skills in Applied Geophysics deposits in the
Mexican Petroleum Institute. She is an expert in geological and petrophysical reservoir
characterization, oilfield assessment, resource assessment and hydrocarbons reserves.
During her tenure at the Mexican Petroleum Institute she held the following positions:
Researcher, Head of Formation Evaluation, Manager of Reservoir Engineering,
Research Program Coordinator and Director of Exploration and Production.
Dr. Porres has a Geophysics Engineering degree from the National Autonomous
University of Mexico (UNAM). She earned her Master's and Ph.D. degrees in Applied
Geophysics at the University of Bordeaux I, France.
_____________________________________________________________________________________
Christian J. Beckett
CEO
Pacific Drilling
Christian J. Beckett has served as chief executive officer since
April 2008 and as a member of the board of directors since
March 11, 2011. He has more than 20 years' experience in the
energy industry.
Prior to joining Pacific Drilling, Beckett led the strategic business development and
planning group at Transocean Ltd. from 2004 to 2008. From 2001 to 2004, he served at
McKinsey & Company, Inc., where he provided strategic and operating advice to global
energy companies and governments. And from 1990 to 2001, he worked for
Schlumberger Limited in a series of international management roles with increasing
responsibilities.
Beckett holds a Bachelor of Science degree in exploration geophysics from University
College London and an MBA from Rice University.
_____________________________________________________________________________________
Bob Fryklund
Chief Upstream Strategist
IHS
Based in Houston, Bob Fryklund is Chief Upstream Strategist for
IHS, where he is responsible for providing strategic leadership
for global clients.
Bob joined IHS in 2006, after serving as Libya president and
Brazil country manager for ConocoPhillips. He brings more than
35 years of experience in the upstream oil and gas industry as
an explorer and as executive manager. He has also held senior management positions
in upstream with British Borneo, Union Texas and Hess.
Fryklund is an expert in exploration, opportunity assessment, acquisition, strategic
planning and portfolio management. He is a frequent expert witness and he has been
involved in many of the industries game changers- discovery of the giant oil and gas
fields and the largest M & A deal in the last decade.
He is a recognized industry thought-leader and frequent keynote speaker/moderator at
energy industry conferences and associations, including the World Economic Forum,
IHS CERAWeek, AAPG, SPE, IEA,OTC, ARPEL, EAGE, AIPN and NAPE. He serves
on the advisory board of IPAA and ARPEL and previously served on boards such as the
IBP (Brazilian oil and gas association), the Libyan-U.S. Council (a bilateral trade
association), the SPE-Libya and the American School of Tripoli. Bob has also written
numerous articles in several languages and regularly contributes to leading industry
publications.
A geologist, Fryklund holds an AB from Hamilton College and an advanced certificate in
management. Bob is a member of the Houston Geological Society (HGS) and the
American Association of Petroleum Geologists (AAPG).
_____________________________________________________________________________________
Erik Reiso
Partner
Rystad Energy
Erik Holm Reiso joined Rystad Energy as a
consultant in 2007. Prior to this, he had worked
as a consultant at Arkwright and Accenture in Oslo. Erik has led projects on exploration
strategy, global M&A screening and field/ company valuation for E&P companies as well
as detailed market forecasting, acquisition candidate screening, and strategy
development for oilfield service companies. He has also been deeply involved in the
development of Rystad Energy's global oil service database DCube and is responsible
for oil service strategy advisory services at Rystad Energy. Erik holds an M.Sc. in
Industrial Economics and Technology Management from the Norwegian University of
Science and Technology with specialization in finance and real option valuation.
_____________________________________________________________________________________
Richard Lunam
Vice President of Exploration and Production, North
America Operations
CononoPhillips
Richard Lunam is Vice President, E&P, North America
Exploration for ConocoPhillips. Lunam began his career
in the oil and gas industry in 1983 with Digicon, a
seismic company, where he held a number of technical
and leadership positions. He began his ConocoPhillips
career in London in 1990 as a geophysicist, and has held a variety of roles in
exploration, development, strategy and planning, and technology. From 1990 to 1994
he worked as a geophysicist in London, transferring to Aberdeen in 1994 as
geophysical operations supervisor. Lunam moved to Houston in 1999 as a manager in
the Seismic Imaging Technology Center. In 2001, he moved to global exploration, as
exploration strategy and portfolio director, a position he held until 2004. In December
2004, he transferred to the Lower 48 region as onshore asset development manager,
moving to become Development Manager for the Gulf Coast Business Unit South area
(GoM DW, S.Texas, S. Louisiana) in April 2006. In August 2008, he became Exploration
Manager, Gulf of Mexico and in April 2009, Exploration and Land manager for Lower 48
and Latin America. He moved into his current role in April 2010. Lunam was born in
Liverpool, England, and earned a B.Sc degree in Geology from the University of Bristol
in 1981, and an M.Sc. in Marine Geophysics from the University of London in 1982. He
currently serves on the Board of the National Ocean Industries Association (NOIA).
_____________________________________________________________________________________
Tracey Merriam
EHS Seismic Professional
Devon Energy
Tracey Merriam has over 15 years' professional experience in
the areas of Health Safety and Environment. Her training and
expertise focuses on the eight core elements of effective safety
and health systems and central issues that are critical to each
element's development, implementation and proper process
management.
Tracey's expertise lies in Geophysical Contractor Safety Management Audits and Gap
Analysis for contractor EHS qualification processes.
Tracey obtained her Masters from the University of Texas with a major in Safety
Management System Design. She is currently perusing an Aviation Safety and Security
Degree from University of Southern California and her Helicopter Pilot's License.
_____________________________________________________________________________________
Kirsty Spears
Head of Environmental Acceptability
Total E&P Research and Technology USA, LLC
Kirsty is based within the TOTAL E&P Research &
Technology division in Houston where she holds the
position of Head of Environmental Acceptability. In this
position Kirsty is primarily responsible for overseeing
research linked to the topic of Sound & Marine Life and is
the company representative for the IOGP Sound & Marine
Life JIP. She also acts as the North America correspondent for the TOTAL E&P
Acceptability Research programme.
Prior to her Houston move in November 2014, Kirsty spent 4 years based within the
HSE division of TOTAL E&P corporate headquarters in Paris with responsibility for
managing environmental studies for large new projects in Asia Pacific, the Americas
and Uganda. Between 2006 and 2010 she worked for the TOTAL E&P UK affiliate in an
operational support capacity, specializing in offshore environmental monitoring and oil
spill response. Prior to her time in TOTAL she spent 5 years as a consultant, delivering
projects for numerous E&P operators, the UK E&P trade association and the UK
offshore regulator.
_____________________________________________________________________________________
Ole Martin Westgaard
Investment Analyst
Carnegie Investment Bank
Ole Martin Westgaard is an investment analyst with
Carnegie Investment Bank. Ole has been an
analyst in the oil and oil service sector since 2006.
Prior to coming to Carnegie in 2012, he was an
analyst for ABG Sundal Collier.
Ole has been ranked one of the top 3 seismic analysts by Prospera and Kapital for
multiple years. In 2014 he was ranked as the #1 Earnings Estimator in the Nordic region
by Starmine for the Energy, Utilities and Marine sectors.
Ole earned his MBA in Finance from the Norwegian Business School.