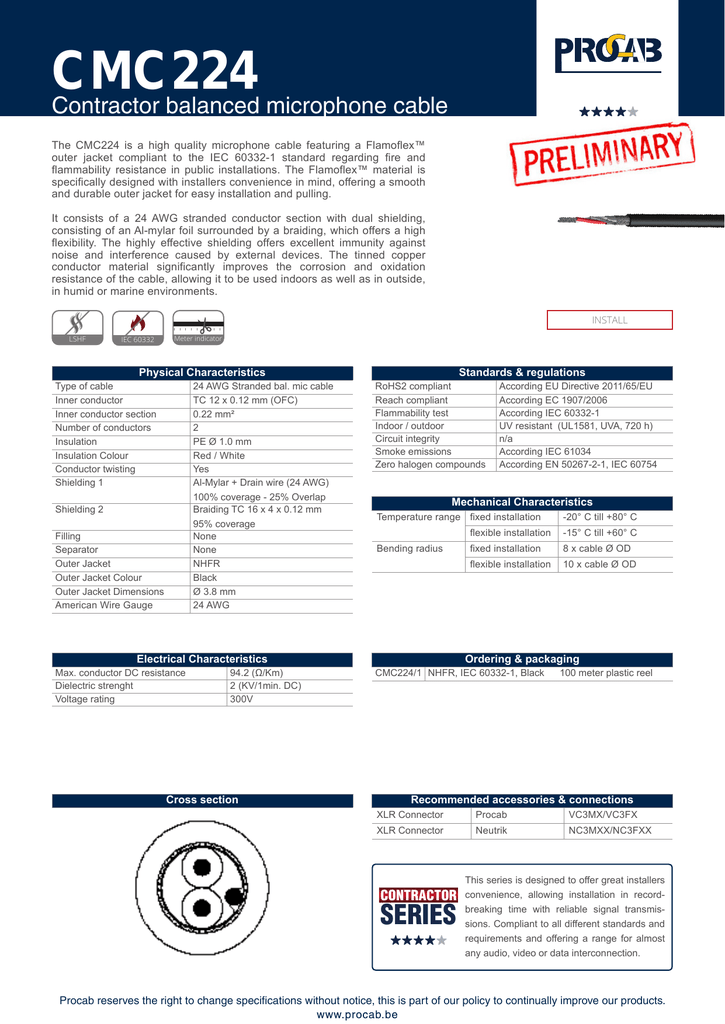 CMC224
Contractor balanced microphone cable
CONTRACTOR
SERIES
The CMC224 is a high quality microphone cable featuring a Flamoflex™
outer jacket compliant to the IEC 60332-1 standard regarding fire and
flammability resistance in public installations. The Flamoflex™ material is
specifically designed with installers convenience in mind, offering a smooth
and durable outer jacket for easy installation and pulling.
It consists of a 24 AWG stranded conductor section with dual shielding,
consisting of an Al-mylar foil surrounded by a braiding, which offers a high
flexibility. The highly effective shielding offers excellent immunity against
noise and interference caused by external devices. The tinned copper
conductor material significantly improves the corrosion and oxidation
resistance of the cable, allowing it to be used indoors as well as in outside,
in humid or marine environments.
INSTALL
LSHF
LSHF
LSHF
IEC 60332
Meter indicator
Physical Characteristics
Type of cable
Inner conductor
Inner conductor section
Number of conductors
Insulation
Insulation Colour
Conductor twisting
Shielding 1
24 AWG Stranded bal. mic cable
TC 12 x 0.12 mm (OFC)
0.22 mm²
2
PE Ø 1.0 mm
Red / White
Yes
Al-Mylar + Drain wire (24 AWG)
100% coverage - 25% Overlap
Braiding TC 16 x 4 x 0.12 mm
95% coverage
None
None
NHFR
Black
Ø 3.8 mm
24 AWG
Shielding 2
Filling
Separator
Outer Jacket
Outer Jacket Colour
Outer Jacket Dimensions
American Wire Gauge
Electrical Characteristics
Max. conductor DC resistance
Dielectric strenght
Voltage rating
94.2 (Ω/Km)
2 (KV/1min. DC)
300V
Cross section
Standards & regulations
RoHS2 compliant
Reach compliant
Flammability test
Indoor / outdoor
Circuit integrity
Smoke emissions
Zero halogen compounds
According EU Directive 2011/65/EU
According EC 1907/2006
According IEC 60332-1
UV resistant (UL1581, UVA, 720 h)
n/a
According IEC 61034
According EN 50267-2-1, IEC 60754
Mechanical Characteristics
Temperature range fixed installation
Bending radius
-20° C till +80° C
flexible installation
-15° C till +60° C
fixed installation
8 x cable Ø OD
flexible installation
10 x cable Ø OD
Ordering & packaging
CMC224/1 NHFR, IEC 60332-1, Black
100 meter plastic reel
Recommended accessories & connections
XLR Connector
Procab
VC3MX/VC3FX
XLR Connector
Neutrik
NC3MXX/NC3FXX
CONTRACTOR
SERIES
This series is designed to offer great installers
convenience, allowing installation in recordbreaking time with reliable signal transmissions. Compliant to all different standards and
requirements and offering a range for almost
any audio, video or data interconnection.
Procab reserves the right to change specifications without notice, this is part of our policy to continually improve our products.
CONTRACTOR
Additional specifications
SERIES
Attenuation & Linearity
Frequency
1 kHz
20 kHz
Attenuation
(dB/100m)
Crosstalk
Frequency
20 Hz
100 Hz
500 Hz
1 kHz
2.7 kHz
7.5 kHz
10 kHz
15 kHz
20 kHz
Crosstalk
(dB/100m)
Procab reserves the right to change specifications without notice, this is part of our policy to continually improve our products.