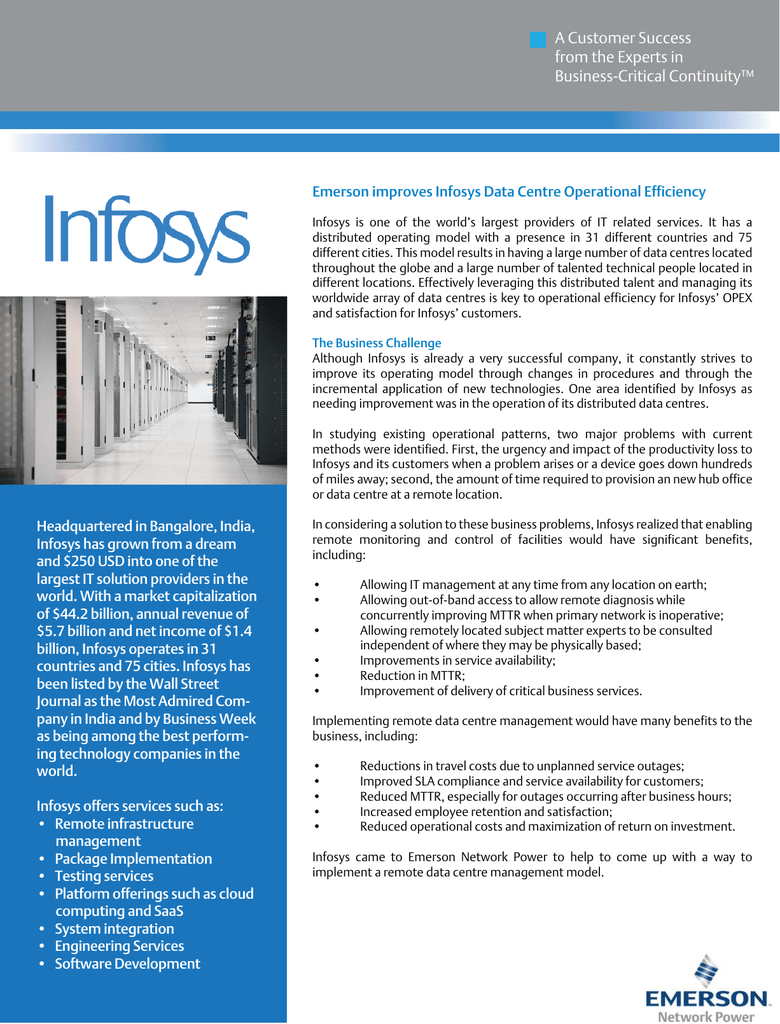 A Customer Success
from the Experts in
Business-Critical Continuity™
Emerson improves Infosys Data Centre Operational Efficiency
Infosys is one of the world's largest providers of IT related services. It has a
distributed operating model with a presence in 31 different countries and 75
different cities. This model results in having a large number of data centres located
throughout the globe and a large number of talented technical people located in
different locations. Effectively leveraging this distributed talent and managing its
worldwide array of data centres is key to operational efficiency for Infosys' OPEX
and satisfaction for Infosys' customers.
The Business Challenge
Although Infosys is already a very successful company, it constantly strives to
improve its operating model through changes in procedures and through the
incremental application of new technologies. One area identified by Infosys as
needing improvement was in the operation of its distributed data centres.
In studying existing operational patterns, two major problems with current
methods were identified. First, the urgency and impact of the productivity loss to
Infosys and its customers when a problem arises or a device goes down hundreds
of miles away; second, the amount of time required to provision an new hub office
or data centre at a remote location.
Headquartered in Bangalore, India,
Infosys has grown from a dream
and $250 USD into one of the
largest IT solution providers in the
world. With a market capitalization
of $44.2 billion, annual revenue of
$5.7 billion and net income of $1.4
billion, Infosys operates in 31
countries and 75 cities. Infosys has
been listed by the Wall Street
Journal as the Most Admired Company in India and by Business Week
as being among the best performing technology companies in the
world.
Infosys offers services such as:
• Remote infrastructure
management
• Package Implementation
• Testing services
• Platform offerings such as cloud
computing and SaaS
• System integration
• Engineering Services
• Software Development
In considering a solution to these business problems, Infosys realized that enabling
remote monitoring and control of facilities would have significant benefits,
including:
•
•
•
•
•
•
Allowing IT management at any time from any location on earth;
Allowing out-of-band access to allow remote diagnosis while
concurrently improving MTTR when primary network is inoperative;
Allowing remotely located subject matter experts to be consulted
independent of where they may be physically based;
Improvements in service availability;
Reduction in MTTR;
Improvement of delivery of critical business services.
Implementing remote data centre management would have many benefits to the
business, including:
•
•
•
•
•
Reductions in travel costs due to unplanned service outages;
Improved SLA compliance and service availability for customers;
Reduced MTTR, especially for outages occurring after business hours;
Increased employee retention and satisfaction;
Reduced operational costs and maximization of return on investment.
Infosys came to Emerson Network Power to help to come up with a way to
implement a remote data centre management model.
A Customer Success
from the Experts in
Business-Critical Continuity™
Defining the Solution
Emerson approached the Infosys problem using a formal solution lifecycle methodology, shown graphically below.
In other words, a strategy was developed first that considered the overall value to the business and all stakeholders, alternative
solutions, and the ROI period. Next, a solution design was derived which aligned itself with the strategy, existing infrastructure and
tools, and which would be simple to implement. After this, a phased deployment model was used to implement the solution with
minimal risk and impact to ongoing operations, while at the same time developing the skills necessary to realize the solution.
Finally, a system of continual improvement was instituted so that additional efficiencies could be realized.
Implementing the Solution
With the objectives of the solution completely understood, Emerson chose a solution consisting of a set of hardware and software
that would enable the requirements to be met efficiently at a low cost and with low risk. The solution consists of:
•
Emerson DSView™3 Management Software;
•
Emerson DSR family of KVM over IP switches for server management;
•
Emerson PM family of intelligent rack PDU (iPDU) for power management;
•
Emerson ACS family of Advanced Console Servers for serial console management;
•
Emerson MergePoint® Service Processor Manager (SPMs) to allow management of embedded technologies.
EMERSON. CONSIDER IT SOLVED.
A Customer Success
from the Experts in
Business-Critical Continuity™
The solution is shown in detail below.
1 KVM over IP
Solution
2 Power Rack
PDU Solution
3 Serial Console
Solution
4 Service Processor
Solution
This amalgamation of hardware and software readily met all of the established business and operational objectives established
during the solution definition process. Additionally, the following technical benefits are realized:
•
Allows for full boot level control and BIOS access;
•
Reduces time to provision and install equipment and software;
•
Allows Infosys personnel to work from home;
•
Scales as Infosys increases in size;
•
Full event and alert integration into existing Infosys management software;
•
Full failover capability;
•
Multi platform support;
•
Ability to integrate fully with existing Lights Out Management (LOM) available on server platforms.
Security is always a major concern, and the Emerson solution is able to integrate with Microsoft Active Directory, TACACS, and
RADIUS to provide secure and effective user management by leveraging Infosys' existing authentication and authorization
systems. The Lights out Data Centre approach improves security by reducing incursions into the physical data centre. Finally,
auditing of actions taken by system administrators is fully implemented through syslog integration.
EMERSON. CONSIDER IT SOLVED.
A Customer Success
from the Experts in
Business-Critical Continuity™
Results
The results enjoyed by Infosys are manifold and dramatic. It helps Infosys to be a more nimble company by allowing for adaption to
the high velocity of changing business requirements at a lower cost and at a higher speed. Infosys has also realized a reduction of
MTTR from hours or days to minutes as technical issues may be addressed from wherever the system administrator happens to be,
day or night. This has the additional benefit of improving SLA compliance. Trips to remote hub offices have been reduced from four
unplanned visits to one planned visit per year.
Conclusion
Emerson's solution for remote control of data centre assets has had a profound impact on Infosys' technical operation and bottom
line. The Emerson solution has also positively impacted Infosys' image to its customers by allowing for more rapid resolution of
problems and by allowing for more rapid response to changing customer requirements.
See what Emerson can do for you today by contacting your Emerson sales representative.
Emerson Network Power.
EmersonNetworkPower.com
The global leader in enabling Business-Critical Continuity™.
AC Power
Connectivity
DC Power
Embedded Computing
Embedded Power
Infrastructure Management & Monitoring
Outside Plant
Power Switching & Controls
Precision Cooling
Racks & Integrated Cabinets
Services
Surge Protection
Emerson and Emerson Network Power are trademarks of Emerson Electric Co. or one of its affiliated companies. ©2011 Emerson Electric Co.
EMERSON. CONSIDER IT SOLVED.