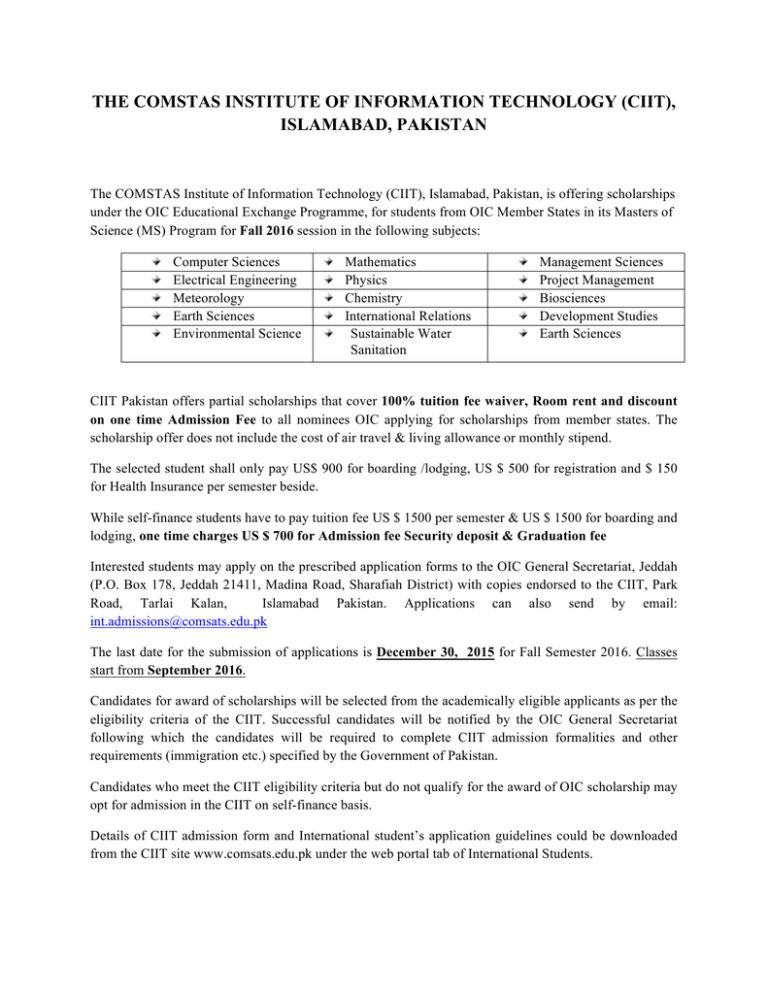 THE COMSTAS INSTITUTE OF INFORMATION TECHNOLOGY (CIIT),
ISLAMABAD, PAKISTAN
The COMSTAS Institute of Information Technology (CIIT), Islamabad, Pakistan, is offering scholarships
under the OIC Educational Exchange Programme, for students from OIC Member States in its Masters of
Science (MS) Program for Fall 2016 session in the following subjects:
Computer Sciences
Electrical Engineering
Meteorology
Earth Sciences
Environmental Science
Mathematics
Physics
Chemistry
International Relations
Sustainable Water
Sanitation
Management Sciences
Project Management
Biosciences
Development Studies
Earth Sciences
CIIT Pakistan offers partial scholarships that cover 100% tuition fee waiver, Room rent and discount
on one time Admission Fee to all nominees OIC applying for scholarships from member states. The
scholarship offer does not include the cost of air travel & living allowance or monthly stipend.
The selected student shall only pay US$ 900 for boarding /lodging, US $ 500 for registration and $ 150
for Health Insurance per semester beside.
While self-finance students have to pay tuition fee US $ 1500 per semester & US $ 1500 for boarding and
lodging, one time charges US $ 700 for Admission fee Security deposit & Graduation fee
Interested students may apply on the prescribed application forms to the OIC General Secretariat, Jeddah
(P.O. Box 178, Jeddah 21411, Madina Road, Sharafiah District) with copies endorsed to the CIIT, Park
Road, Tarlai Kalan,
Islamabad Pakistan. Applications can also send by email:
[email protected]
The last date for the submission of applications is December 30, 2015 for Fall Semester 2016. Classes
start from September 2016.
Candidates for award of scholarships will be selected from the academically eligible applicants as per the
eligibility criteria of the CIIT. Successful candidates will be notified by the OIC General Secretariat
following which the candidates will be required to complete CIIT admission formalities and other
requirements (immigration etc.) specified by the Government of Pakistan.
Candidates who meet the CIIT eligibility criteria but do not qualify for the award of OIC scholarship may
opt for admission in the CIIT on self-finance basis.
Details of CIIT admission form and International student's application guidelines could be downloaded
from the CIIT site www.comsats.edu.pk under the web portal tab of International Students.