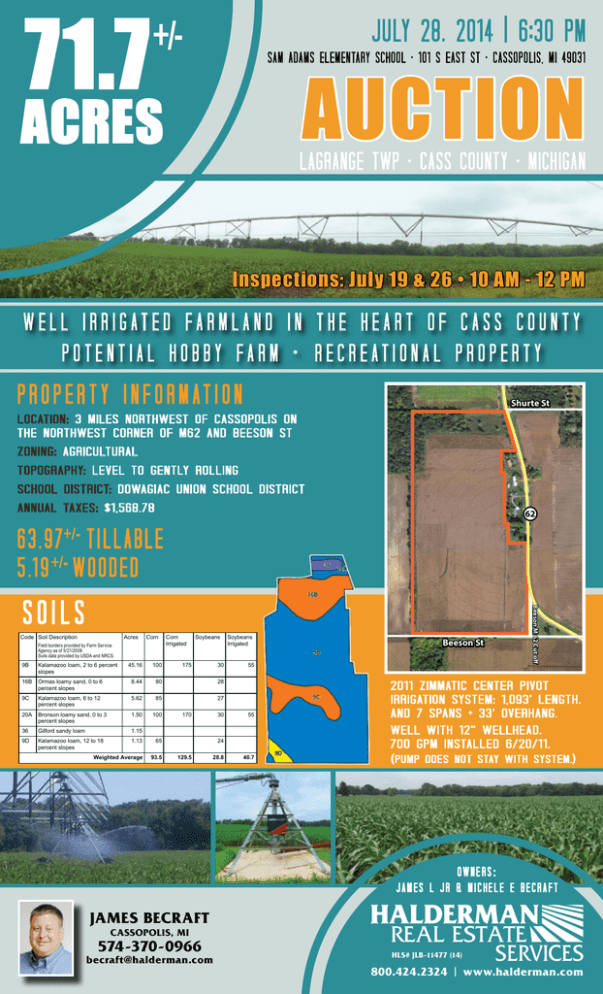 71.7
JULY 28, 2014 i 6 : 30 PM
+/-
AUCTION
Sam adams elementary school • 101 s East st • cassopolis , MI 49031
ACRES
LAGRANGE TWP • CASS COUNTY • MICHIGAN
Inspections: July 19 & 26 • 10 AM - 12 PM
Well irrigated farmland IN THE HEART OF CASS COUNTY
potential hobby farm • recreational property
PROPERTY INFORMATION
Shurte St
L OCATION: 3 mil es northwest of cassopol is on
the northwest corner of M62 and beeson st
ZONING: AGRICULTURAL
TOPOGRAPHY: L E VEL TO GENTLy ROL L ING
SCHOOL DISTRICT: dowagiac union school district
ANNUAL TAXES: $ 1 , 568.78
62
6 3 . 9 7 +/- T I L L A B L E
5 .1 9 +/- W o o d e d
Code Soil Description
Acres
Corn
Field borders provided by Farm Service
Agency as of 5/21/2008.
Soils data provided by USDA and NRCS.
9B
Kalamazoo loam, 2 to 6 percent
slopes
16B
Corn
Irrigated
Soybeans
45.16
100
175
30
Ormas loamy sand, 0 to 6
percent slopes
8.44
80
28
9C
Kalamazoo loam, 6 to 12
percent slopes
5.62
85
27
20A
Bronson loamy sand, 0 to 3
percent slopes
1.50
100
36
Gilford sandy loam
1.15
9D
Kalamazoo loam, 12 to 18
percent slopes
1.13
65
Weighted Average
93.5
170
30
Soybeans
Irrigated
55
55
24
129.5
28.8
Beeson St
40.7
Beeson M 62 Cut off
soils
2011 Zimmatic Center Pivot
irrigation system: 1 , 093' l ength,
and 7 spans + 33' overhang.
wel l with 12" wel l he ad,
700 gpm instal l ed 6/20/ 11.
( P ump doe s no t s tay wi t h sys t e m.)
O w n e r S:
JAMES L JR & MICHELE E BECRAFT
JAMES BECRAFT
CASSOPOLIS, MI
574-370-0966
becraft@halderman.com
HLS# JLB-11477 (14)
800.424.2324
| www.halderman.com
"Farm & Transitional Real Estate
Specialists Since 1930"
PO Box 297 • Wabash, IN 46992
800.424.2324
www.halderman.com
JULY 28, 2014 i 6 : 30 PM
AUCTION 71.7
LAGRANGE TWP • CASS COUNTY • MICHIGAN
+/-
ACRES
Well irrigated farmland IN THE HEART OF CASS COUNTY
regional map
PLACE BID
Online Bidding
is Available
Subject Property
NEW!
Halderman Real Estate App
Available on Android & Apple iOS
TERMS & CONDITIONS:
Auctioneer: Russell D. Harmeyer
METHOD OF SALE: Halderman Real Estate Services, Inc. (HRES, MI Auct. Lic. #6505264076) will offer this property at public auction July 28, 2014. At 6:30 PM, 71.74 acres, more or
less, will be sold at the Sam Adams Elementary School, Cassopolis, MI. This property will be offered as one single unit. Each bid shall constitute an offer to purchase and the final bid,
if accepted by the Sellers, shall constitute a binding contract between the Buyer and the Sellers. The auctioneer will settle any disputes as to bids and his decision will be final. To place
a confidential phone, mail or wire bid, please contact James Becraft at 574-370-0966 at least two days prior to the sale.
ACREAGE: The acreages listed in this brochure are based upon the completed survey of the property.
SURVEY: The Sellers reserve the right to determine the need for and type of survey provided. If an existing legal description is adequate for title insurance for a tract, no new survey will
be completed. If the existing legal description is not sufficient to obtain title insurance, a survey will be completed, the cost of which will be shared 50/50 by the Seller and the Buyer(s).
The Sellers will choose the type of survey to be completed and warrant that it will be sufficient to provide an owner's title insurance policy for the tract. If a survey is completed, the
purchase price for the surveyed tract(s) will be adjusted, up or down, to the exact surveyed acres. The price per acre will be the auction bid price for the tract, divided by the tract acreage
estimated in the auction brochure.
DOWN PAYMENT: 10% of the accepted bid down on the day of the auction with the balance due at closing. The down payment must be in the form of personal check, cashier's check,
cash or corporate check. YOUR BIDDING IS NOT CONTINGENT UPON FINANCING. BE SURE YOU HAVE FINANCING ARRANGED, IF NECESSARY, AND ARE CAPABLE OF
PAYING CASH AT CLOSING.
APPROVAL OF BIDS: The Sellers reserve the right to accept or reject any and all bids. The successful bidder must enter into a purchase agreement the day of the auction, immediately
following the conclusion of the bidding.
DEED: The Sellers will provide a General Warranty Deed at closing.
EVIDENCE OF TITLE: The Sellers will provide an Owner's Title Insurance Policy to the Buyer. The Buyer is responsible for a Lender's Policy, if needed. If the title is not marketable,
then the purchase agreement is null and void prior to the closing, and the Broker will return the Buyer's earnest money.
EASEMENTS: The sale of this property is subject to any and all easements of record.
CLOSING: The closing shall be on or about August 20, 2014. The Sellers have the choice to extend this date if necessary.
POSSESSION: Possession will be at closing, subject to harvest of the 2014 crop.
REAL ESTATE TAXES: Real estate taxes are $1,568.78. Taxes will be prorated to the date of closing. Sellers will pay all taxes due and payable to the date of closing and Buyer(s) will
all taxes due and payable from the date of closing and thereafter.
MINERAL RIGHTS: All mineral rights owned by the Sellers will be conveyed to the Buyer.
PROPERTY INSPECTION: Each potential Bidder is responsible for conducting, at their own risk, their own independent inspections, investigation, inquiries and due diligence concerning
the property. Further, Sellers disclaim any and all responsibility for bidder's safety during any physical inspections of the property. No party shall be deemed to be invited to the property
by HRES or the Sellers.
AGENCY: Halderman Real Estate Services; Russell D Harmeyer, Auctioneer and their representatives, are exclusive agents of the Sellers.
DISCLAIMER: All information contained in this brochure and all related materials are subject to the Terms and Conditions outlined in the purchase agreement. This information is
subject to verification by all parties relying upon it. No liability for its accuracy, errors or omissions is assumed by the Sellers or HRES. All sketches and dimensions in this brochure
are approximate. ANNOUNCEMENTS MADE BY HRES AND/OR THEIR AUCTIONEER AT THE AUCTION DURING THE TIME OF THE SALE TAKE PRECEDENCE OVER ANY
PREVIOUSLY PRINTED MATERIALS OR ANY OTHER ORAL STATEMENTS MADE. The property is being sold on an "AS IS, WHERE IS" basis, and no warranty or representation,
either express or implied, concerning the property is made by the Seller or HRES. Each prospective bidder is responsible for conducting his/her independent inspections, investigations,
inquiries and due diligence concerning the property. Except for any express warranties set forth in the sale documents, the Buyer accepts the property "AS IS," and the Buyer assumes all
risks thereof and acknowledges that in consideration of the other provisions contained in the sale documents, Sellers and HRES make no warranty or representation, express or implied
or arising by operation of law, including any warranty for merchantability or fitness for a particular purpose of the property, or any part thereof, and in no event shall the Sellers or HRES
be liable for any consequential damages. Conduction of the auction and increments of bidding are at the direction and discretion of HRES and/or the auctioneer. The Sellers and HRES
reserve the right to preclude any person from bidding if there is any question as to the person's credentials, fitness, etc. All decisions of HRES and/or the auctioneer are final.