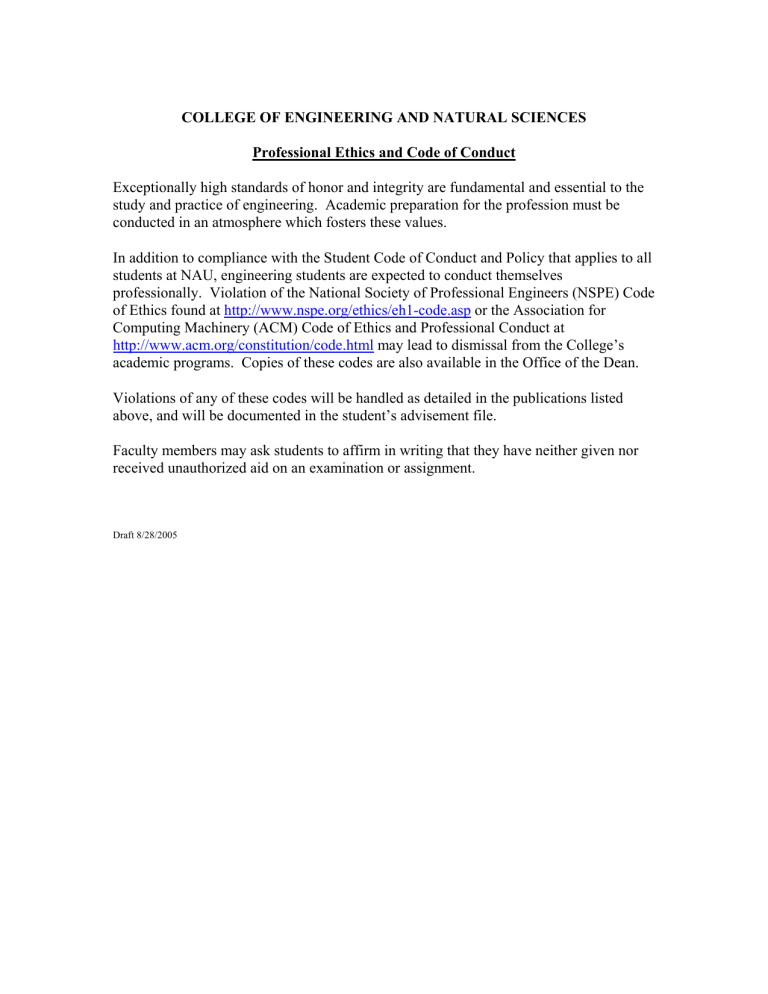 COLLEGE OF ENGINEERING AND NATURAL SCIENCES
Professional Ethics and Code of Conduct
Exceptionally high standards of honor and integrity are fundamental and essential to the study and practice of engineering. Academic preparation for the profession must be conducted in an atmosphere which fosters these values.
In addition to compliance with the Student Code of Conduct and Policy that applies to all students at NAU, engineering students are expected to conduct themselves professionally. Violation of the National Society of Professional Engineers (NSPE) Code of Ethics found at http://www.nspe.org/ethics/eh1-code.asp
or the Association for
Computing Machinery (ACM) Code of Ethics and Professional Conduct at http://www.acm.org/constitution/code.html
may lead to dismissal from the College's academic programs. Copies of these codes are also available in the Office of the Dean.
Violations of any of these codes will be handled as detailed in the publications listed above, and will be documented in the student's advisement file.
Faculty members may ask students to affirm in writing that they have neither given nor received unauthorized aid on an examination or assignment.
Draft 8/28/2005