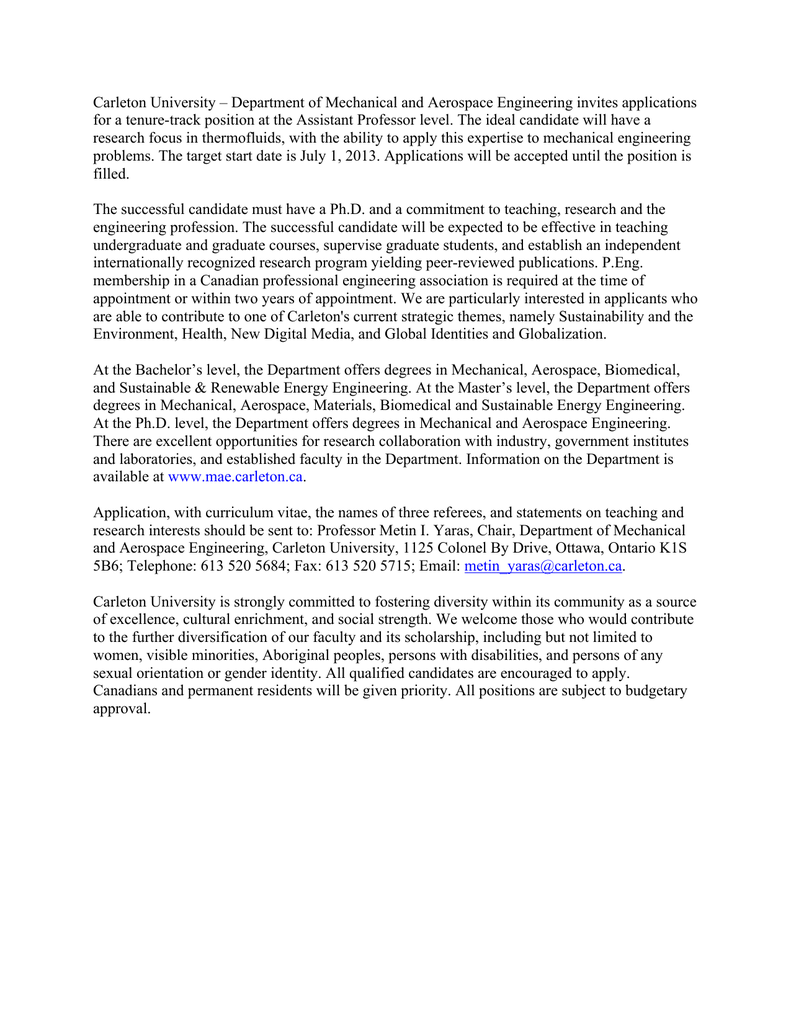 Carleton University – Department of Mechanical and Aerospace Engineering invites applications
for a tenure-track position at the Assistant Professor level. The ideal candidate will have a
research focus in thermofluids, with the ability to apply this expertise to mechanical engineering
problems. The target start date is July 1, 2013. Applications will be accepted until the position is
filled.
The successful candidate must have a Ph.D. and a commitment to teaching, research and the
engineering profession. The successful candidate will be expected to be effective in teaching
undergraduate and graduate courses, supervise graduate students, and establish an independent
internationally recognized research program yielding peer-reviewed publications. P.Eng.
membership in a Canadian professional engineering association is required at the time of
appointment or within two years of appointment. We are particularly interested in applicants who
are able to contribute to one of Carleton's current strategic themes, namely Sustainability and the
Environment, Health, New Digital Media, and Global Identities and Globalization.
At the Bachelor's level, the Department offers degrees in Mechanical, Aerospace, Biomedical,
and Sustainable & Renewable Energy Engineering. At the Master's level, the Department offers
degrees in Mechanical, Aerospace, Materials, Biomedical and Sustainable Energy Engineering.
At the Ph.D. level, the Department offers degrees in Mechanical and Aerospace Engineering.
There are excellent opportunities for research collaboration with industry, government institutes
and laboratories, and established faculty in the Department. Information on the Department is
available at www.mae.carleton.ca.
Application, with curriculum vitae, the names of three referees, and statements on teaching and
research interests should be sent to: Professor Metin I. Yaras, Chair, Department of Mechanical
and Aerospace Engineering, Carleton University, 1125 Colonel By Drive, Ottawa, Ontario K1S
5B6; Telephone: 613 520 5684; Fax: 613 520 5715; Email: [email protected]
Carleton University is strongly committed to fostering diversity within its community as a source
of excellence, cultural enrichment, and social strength. We welcome those who would contribute
to the further diversification of our faculty and its scholarship, including but not limited to
women, visible minorities, Aboriginal peoples, persons with disabilities, and persons of any
sexual orientation or gender identity. All qualified candidates are encouraged to apply.
Canadians and permanent residents will be given priority. All positions are subject to budgetary
approval.