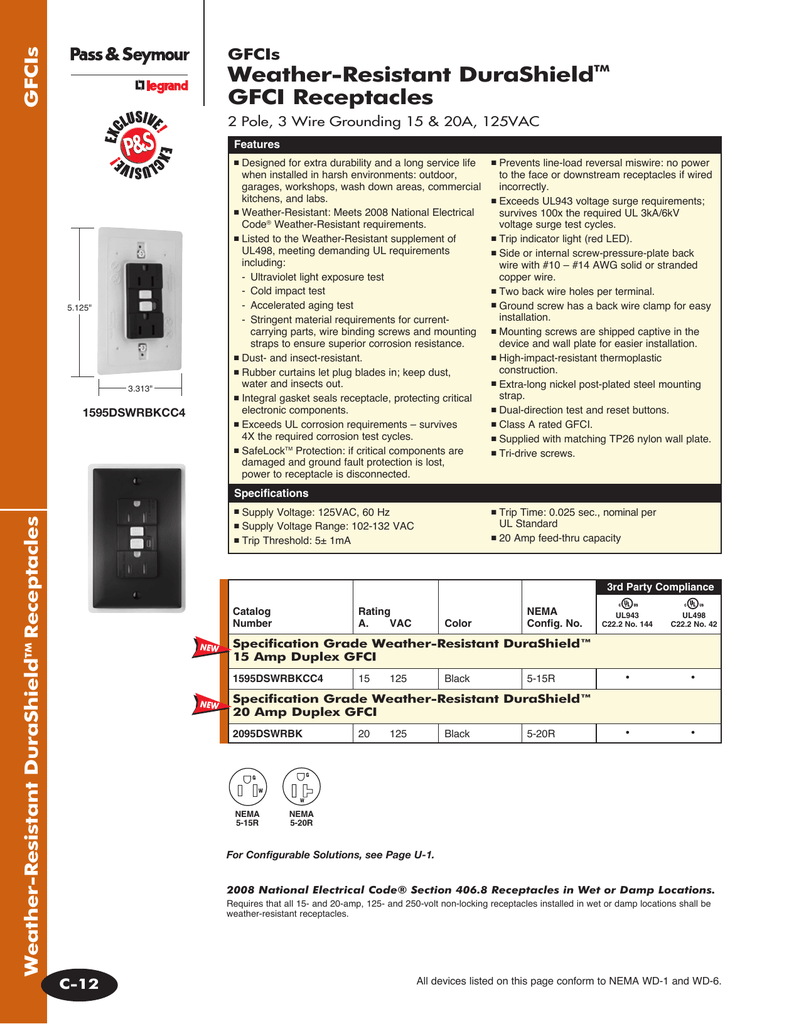 GFCIs
GFCIs
Weather-Resistant DuraShieldTM
GFCI Receptacles
2 Pole, 3 Wire Grounding 15 & 20A, 125VAC
Features
Designed for extra durability and a long service life
when installed in harsh environments: outdoor,
garages, workshops, wash down areas, commercial
kitchens, and labs.
nWeather-Resistant: Meets 2008 National Electrical
Code® Weather-Resistant requirements.
nListed to the Weather-Resistant supplement of
UL498, meeting demanding UL requirements
including:
- Ultraviolet light exposure test
- Cold impact test
- Accelerated aging test
- Stringent material requirements for currentcarrying parts, wire binding screws and mounting
straps to ensure superior corrosion resistance.
nDust- and insect-resistant.
nRubber curtains let plug blades in; keep dust,
water and insects out.
nIntegral gasket seals receptacle, protecting critical
electronic components.
nExceeds UL corrosion requirements – survives
4X the required corrosion test cycles.
nSafeLockTM Protection: if critical components are
damaged and ground fault protection is lost,
power to receptacle is disconnected.
n
5.125"
3.313"
1595DSWRBKCC4
Prevents line-load reversal miswire: no power
to the face or downstream receptacles if wired
incorrectly.
nExceeds UL943 voltage surge requirements;
survives 100x the required UL 3kA/6kV
voltage surge test cycles.
nTrip indicator light (red LED).
nSide or internal screw-pressure-plate back
wire with #10 – #14 AWG solid or stranded
copper wire.
nTwo back wire holes per terminal.
nGround screw has a back wire clamp for easy
installation.
nMounting screws are shipped captive in the
device and wall plate for easier installation.
nHigh-impact-resistant thermoplastic
construction.
nExtra-long nickel post-plated steel mounting
strap.
nDual-direction test and reset buttons.
nClass A rated GFCI.
nSupplied with matching TP26 nylon wall plate.
nTri-drive screws.
n
Specifications
Supply Voltage: 125VAC, 60 Hz
Supply Voltage Range: 102-132 VAC
nTrip Threshold: 5± 1mA
Trip Time: 0.025 sec., nominal per
UL Standard
n20 Amp feed-thru capacity
Weather-Resistant DuraShieldTM Receptacles
n
n
n
3rd Party Compliance
Catalog Number
NEW
Rating
A.
VAC
Color
UL943
C22.2 No. 144
UL498
C22.2 No. 42
Specification Grade Weather-Resistant DuraShield™
15 Amp Duplex GFCI
1595DSWRBKCC4
NEW
NEMA
Config. No.
15
125
Black
5-15R
•
•
•
•
Specification Grade Weather-Resistant DuraShield™
20 Amp Duplex GFCI
2095DSWRBK
NEMA
5-15R
20
125
Black
5-20R
NEMA
5-20R
For Configurable Solutions, see Page U-1.
2008 National Electrical Code® Section 406.8 Receptacles in Wet or Damp Locations.
Requires that all 15- and 20-amp, 125- and 250-volt non-locking receptacles installed in wet or damp locations shall be
weather-resistant receptacles.
C-12
All devices listed on this page conform to NEMA WD-1 and WD-6.