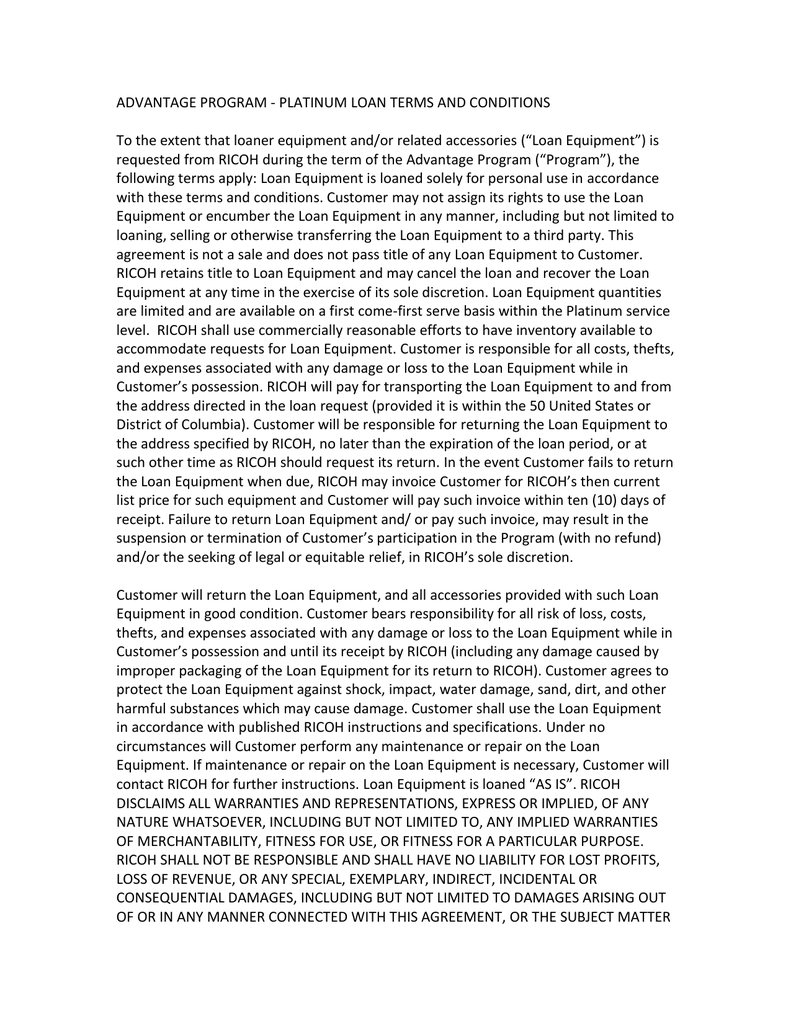 ADVANTAGE PROGRAM - PLATINUM LOAN TERMS AND CONDITIONS
To the extent that loaner equipment and/or related accessories ("Loan Equipment") is
requested from RICOH during the term of the Advantage Program ("Program"), the
following terms apply: Loan Equipment is loaned solely for personal use in accordance
with these terms and conditions. Customer may not assign its rights to use the Loan
Equipment or encumber the Loan Equipment in any manner, including but not limited to
loaning, selling or otherwise transferring the Loan Equipment to a third party. This
agreement is not a sale and does not pass title of any Loan Equipment to Customer.
RICOH retains title to Loan Equipment and may cancel the loan and recover the Loan
Equipment at any time in the exercise of its sole discretion. Loan Equipment quantities
are limited and are available on a first come-first serve basis within the Platinum service
level. RICOH shall use commercially reasonable efforts to have inventory available to
accommodate requests for Loan Equipment. Customer is responsible for all costs, thefts,
and expenses associated with any damage or loss to the Loan Equipment while in
Customer's possession. RICOH will pay for transporting the Loan Equipment to and from
the address directed in the loan request (provided it is within the 50 United States or
District of Columbia). Customer will be responsible for returning the Loan Equipment to
the address specified by RICOH, no later than the expiration of the loan period, or at
such other time as RICOH should request its return. In the event Customer fails to return
the Loan Equipment when due, RICOH may invoice Customer for RICOH's then current
list price for such equipment and Customer will pay such invoice within ten (10) days of
receipt. Failure to return Loan Equipment and/ or pay such invoice, may result in the
suspension or termination of Customer's participation in the Program (with no refund)
and/or the seeking of legal or equitable relief, in RICOH's sole discretion.
Customer will return the Loan Equipment, and all accessories provided with such Loan
Equipment in good condition. Customer bears responsibility for all risk of loss, costs,
thefts, and expenses associated with any damage or loss to the Loan Equipment while in
Customer's possession and until its receipt by RICOH (including any damage caused by
improper packaging of the Loan Equipment for its return to RICOH). Customer agrees to
protect the Loan Equipment against shock, impact, water damage, sand, dirt, and other
harmful substances which may cause damage. Customer shall use the Loan Equipment
in accordance with published RICOH instructions and specifications. Under no
circumstances will Customer perform any maintenance or repair on the Loan
Equipment. If maintenance or repair on the Loan Equipment is necessary, Customer will
contact RICOH for further instructions. Loan Equipment is loaned "AS IS". RICOH
DISCLAIMS ALL WARRANTIES AND REPRESENTATIONS, EXPRESS OR IMPLIED, OF ANY
NATURE WHATSOEVER, INCLUDING BUT NOT LIMITED TO, ANY IMPLIED WARRANTIES
OF MERCHANTABILITY, FITNESS FOR USE, OR FITNESS FOR A PARTICULAR PURPOSE.
RICOH SHALL NOT BE RESPONSIBLE AND SHALL HAVE NO LIABILITY FOR LOST PROFITS,
LOSS OF REVENUE, OR ANY SPECIAL, EXEMPLARY, INDIRECT, INCIDENTAL OR
CONSEQUENTIAL DAMAGES, INCLUDING BUT NOT LIMITED TO DAMAGES ARISING OUT
OF OR IN ANY MANNER CONNECTED WITH THIS AGREEMENT, OR THE SUBJECT MATTER
HEREOF, OR THE USE OR PERFORMANCE OF THE LOAN EQUIPMENT OR THE LOSS OF
USE OF THE LOAN EQUIPMENT, REGARDLESS OF THE FORM OF ACTION AND WHETHER
OR NOT SUCH PARTY HAS BEEN INFORMED OF, OR OTHERWISE MIGHT HAVE
ANTICIPATED THE POSSIBILITY OF SUCH DAMAGES. RICOH SHALL NOT BE LIABLE FOR
ANY DAMAGES ARISING FROM THIS AGREEMENT OR THE LOAN EQUIPMENT,
INCLUDING WITHOUT LIMITATION, PERSONAL INJURY, PROPERTY DAMAGE, LOST
PROFIT, OR OTHER DIRECT, INDIRECT, SPECIAL, INCIDENTAL OR CONSEQUENTIAL
DAMAGES, LOSS OF DATA OR THE USE OR INABILITY TO USE THE LOAN EQUIPMENT.
RICOH shall have no obligation to remove, delete, preserve, maintain or otherwise
safeguard any information, images or content retained by or resident in any Loan
Equipment. RICOH shall not be liable for failure to perform under this Agreement
occasioned by causes beyond RICOH's control.
This agreement shall be governed by and construed and interpreted in accordance with
the laws of the Commonwealth of Pennsylvania without regard to its conflict of laws
principles. The parties agree to submit to the non-exclusive jurisdiction of the courts of
the Commonwealth of Pennsylvania to resolve any action under this agreement. The
Uniform Computer Information Transactions Act shall not apply to this Agreement. This
agreement constitutes the entire agreement between the parties with respect to the
subject matter contained in this Agreement; supersedes all proposals, oral and written,
and all other communications between the parties relating to the Loan Equipment; and
may not be amended except in writing authorized by RICOH, which may be a posting on
a website or via email or another manner deemed suitable by RICOH. Any and all
representations, promises, warranties, or statements, including but not limited to,
statements or representations made in sales presentations or sales proposals, by any
RICOH agent, employee or representative that differ in any way from the terms of this
Agreement shall be given no force or effect. This Agreement shall be governed solely by
these terms and conditions, notwithstanding the inclusion of any additional or different
terms and conditions in any order document of any kind issued by Customer at any
time. The delay or failure of either party to enforce at any time any of the provisions of
this Agreement shall in no way be construed to be a waiver of such provision or affect
the right of such party thereafter to enforce each and every provision of this
Agreement. If any provision of this Agreement is held to be invalid or unenforceable,
this Agreement shall be construed as though it did not contain the particular provision
held to be invalid or unenforceable. No local, general or trade custom or usage or
course of prior dealings between the parties shall be relevant to supplement or explain
any term used herein.
ADVANTAGE PROGRAM – GOLD EXTENDED WARRANTY
The extended warranty set forth below is provided by RICOH Imaging Corporation
("RICOH") for products originally distributed in the United States by RICOH
Imaging Corporation, 633 17th Street, Suite 2600, Denver, Colorado 80202, excluding
PENTAX Sport Optics products ("Products") and must be purchased within thirty (30)
days of original purchase. This extended warranty is not available for RICOH's PENTAX
645z camera unless purchased and included as part of the Advantage Program. RICOH
warrants that the Product, when delivered to you in new conditions in its original
packaging, will be free from defects in original factory materials and workmanship under
normal use and service for a period of three (3) year from the date of original purchase.
If such Product is returned to RICOH and proven to be defective upon inspection, RICOH
will in its sole discretion and at no charge will (a) repair the Product utilizing new,
remanufactured, repaired and/or recycled parts; (b) exchanged for a new Product or; (c)
exchanged for a refurbished Product, as determined by the RICOH. Warranty exchange
or replacement does not extend the original warranty period of the Product. This
Extended Warranty includes one complete "checkup" to be provided anytime during the
warranty period. The "check-up" covers all camera functions to ensure each meets
factory specifications. You bear all shipping costs when exercising your rights under this
Extended Warranty. RICOH will not assume the responsibility for damages or loss
encountered in transit.
This warranty does not cover any accessories, loss of or damage caused to the product,
including, but not limited to that caused by: abuse, improper packaging, alteration,
accident, impact, moisture, liquid, sand/ corrosion, excessive temperature, battery
leakage, chemical corrosion, scratches, mishandling, operation contrary to operating,
maintenance or environmental instructions, tampering, modification, electrical current
fluctuations, use in conjunction with compatible computer equipment and compatible
software or servicing by an unauthorized repair shop. Non-RICOH brand equipment and
software that may be distributed with the RICOH Imaging Product are sold "as-is" and
without warranty of any kind by RICOH, including any implied warranty regarding
merchantability or fitness for a particular purpose and such warranties are explicitly
disclaimed. RICOH shall not be liable for any consequential or incidental damages, such
as memory cards, batteries, travel expenses, loss of time, etc. Routine cleaning and
normal cosmetic and mechanical wear are not covered under the terms of this
warranty.
NO IMPLIED WARRANTY, INCLUDING ANY IMPLIED WARRANTY OF MERCHANTABILITY
OR FITNESS FOR A PARTICULAR PURPOSE, APPLIES TO THE PRODUCT AFTER THE
APPLICABLE PERIOD OF THE EXTENDED WARRANTY STATED ABOVE, AND NO OTHER
EXPRESS WARRANTY OR GUARANTY, EXCEPT AS MENTIONED ABOVE, GIVEN BY ANY
PERSON OR ENTITY WITH RESPECT TO THE PRODUCT SHALL BIND RICOH (SOME STATES
DO NOT ALLOW LIMITATIONS ON HOW LONG AN IMPLIED WARRANTY LASTS, SO THE
ABOVE LIMITATION MAY NOT APPLY TO YOU). RICOH SHALL NOT BE LIABLE FOR ANY
CONSEQUENTIAL, SPECIAL OR INCIDENTIAL DAMAGES, INCLUDING BUT NOT LIMITED TO
LOSS OF REVENUES OR PROFITS, INCONVENIENCE, EXPENSE FOR SUBSTITUTE
EQUIPMENT OR SERVICE, STORAGE, CHARGES, LOSS OR CORRUPTION OF DATA,
REGARDLESS OF THE LEGAL THEORY ON WHICH THE CLAIM IS BASED, AND EVEN IF
RICOH HAS BEEN ADVISED OF THE POSSIBILITY OF SUCH DAMAGES. IN NO EVENT SHALL
RECOVERY OF ANY KIND AGAINST RICOH BE GREATER IN AMOUNT THAN THE
PURCHASE PRICE OF THE PRODUCT CAUSING THE ALLEGED DAMAGE.
WITHOUT LIMITING THE FOREGOING, YOU ASSUME ALL RISK AND LIABILITY FOR LOSS,
DAMAGE OR INJURY TO YOU AND YOUR PROPERTY AND TO OTHERS AND THEIR
PROPERTY ARISING OUT OF USE OR MISUSE OF, OR INABILITY TO USE, THE PRODUCT
NOT CAUSED DIRECTLY BY THE NEGLIGENCE OF RICOH (SOME STATES DO NOT ALLOW
THE EXCLUSION OR LIMITATION OF INCIDENTIAL OR CONSEQUENTIAL DAMAGES, SO
THE ABOVE EXCLUSION OR LIMITATION MAY NOT APPLY TO YOU). THIS EXTENDED
WARRANTY DOES NOT EXTEND TO ANYONE OTHER THAN THE ORIGINAL PURCHASER OF
THE PRODUCT, OR THE PERSON FOR WHOM IT WAS PURCHASED AS A GIFT, AND STATES
YOUR EXCLUSIVE REMEDY.
This extended warranty gives you specific legal rights, and you may also have other
rights, which vary from state to state. To exercise your rights under this Extended
Warranty, please call 1-800-238-5991 or visit http://us.ricoh-imaging.com/support for
more information.