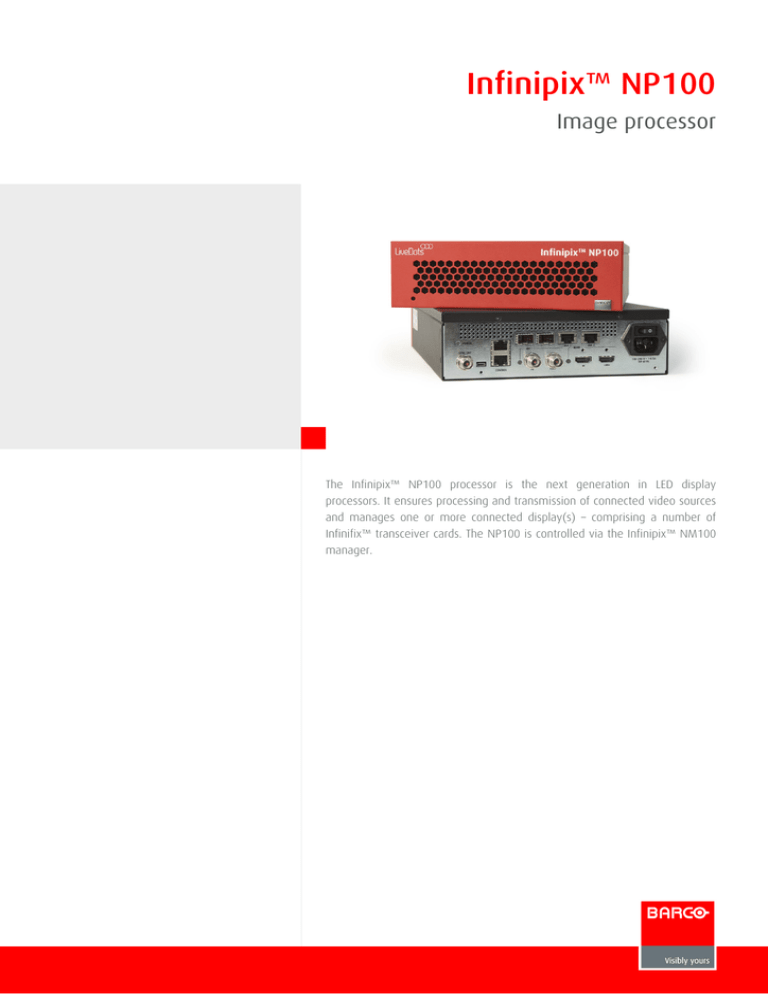 Infinipix™ NP100
Image processor
The Infinipix™ NP100 processor is the next generation in LED display
processors. It ensures processing and transmission of connected video sources
and manages one or more connected display(s) – comprising a number of
Infinifix™ transceiver cards. The NP100 is controlled via the Infinipix™ NM100
manager.
Product specifications
Video inputs
Infinipix™ NP100
1x HDMI (type A) Input:
d Formats RGB 4:4:4 and YCbCr 4:2:2 and 4:4:4; resolutions up to 2,560x1,600
@60Hz to a maximum pixel rate of 268MHz (Please consult your modular
display hardware specification for its maximum supported input frequency
which may be less than what is supported by the NP100 Infinipix Processor).
d Supports all RGB image processing at minimum of 12bits per color channel
d Other video formats supported: Single­link DVI digital sources using a DVI to
HDMI passive cable converter* / DisplayPort sources using a DisplayPort to
HDMI active cable converter* / VGA sources using VGA to HDMI active cable
converter* / Composite, Component, S­Video sources using active cable
converter* to HDMI. *: none of the cable converters are shipped with the
product. d EDID version 1.4 compatible
d Not supported: HDCP, CEC
1x 3G SDI Input:
d 75 ohm BNC connector, supporting formats SD­SDI per SMPTE 259M­C
(NTSC/PAL resolution); HD­SDI per SMPTE 292M, 296M; and 3G­SDI per SMPTE
425M
d Dual link HD­SDI (pair SMPTE 292 links) by SMPTE 372M NOT supported
Video loop outputs
3D sync
d 1x HDMI Loop Output: type A connector; HDMI input signals reproduced on
HDMI Loop Output limited to a maximum pixel rate of 225MHz
d 1x 3G SDI Loop Output: 75 ohm BNC connector; SDI input signals
reproduced through SDI Loop output
d HDCP is not supported on loop out
1x 75 ohm BNC connector:
d
d
d
d
Remote control
Outputs
Supports stereo synchronization signal for use with stereoscopic hardware
Synchronous with large modular display outputs
Polarity selectable
Standard 5V TTL Level
2x Ethernet: RJ­45 connectors, running 1GbE used as control protocol link to a
separate Infinipix™ Manager (NM100) for centralized management of
multi­device Infinipix™ Processors (NP100) and one or more Displays.
2x Ethernet (ULP) Modular Display Outputs: d RJ­45 connectors, running 10GbE
d Uses 10GBase­T Cat6A S/FTP or Cat7 S/FTP cables as the primary connection to
Displays up to a maximum cable length of 100m
Dimensions WxDxH
216 x 286 x 70 mm (8.5 x 11.25 x 2.75 in)
Weight
2.72 kg (6 lbs)
Enclosure
metal
Separate enclosure
rack shelf for side­by­side Infinipix™ Manager (NM100) and Infinipix™ Processor
(NP100)
d Width: 19" rack
d Height: 2RU
d Type: Metal
Environmental temperature
Operational: 0­40° Celsius (32­104° F)
Environmental humidity
Operational: 10­85%, non­condensing
Power Type
100­240 VAC, 1.5A ­ 50/60Hz
Power consumption
60 Watt
Standards
FCC: Part 15, Subpart B Section 15.107 & 15.109, Class A; CE: CISPR 24/ EN 55024,
CISPR 22/ EN 55022 Level A, EN 61000­3­2 with A1, A2 2006 (only if 75W or
above), IEC/EN/UL 60950­1, c­UL CSA C22.2 60950­1; ICES­003 Class A v4
Certifications
CE, ETL, RoHS, China RoHS, WEEE
Warranty
Full three­year parts and labor warranty
Last updated: 03 Mar 2016
Technical specifications are subject to change without prior notice.
Please check www.barco.com for the latest information.