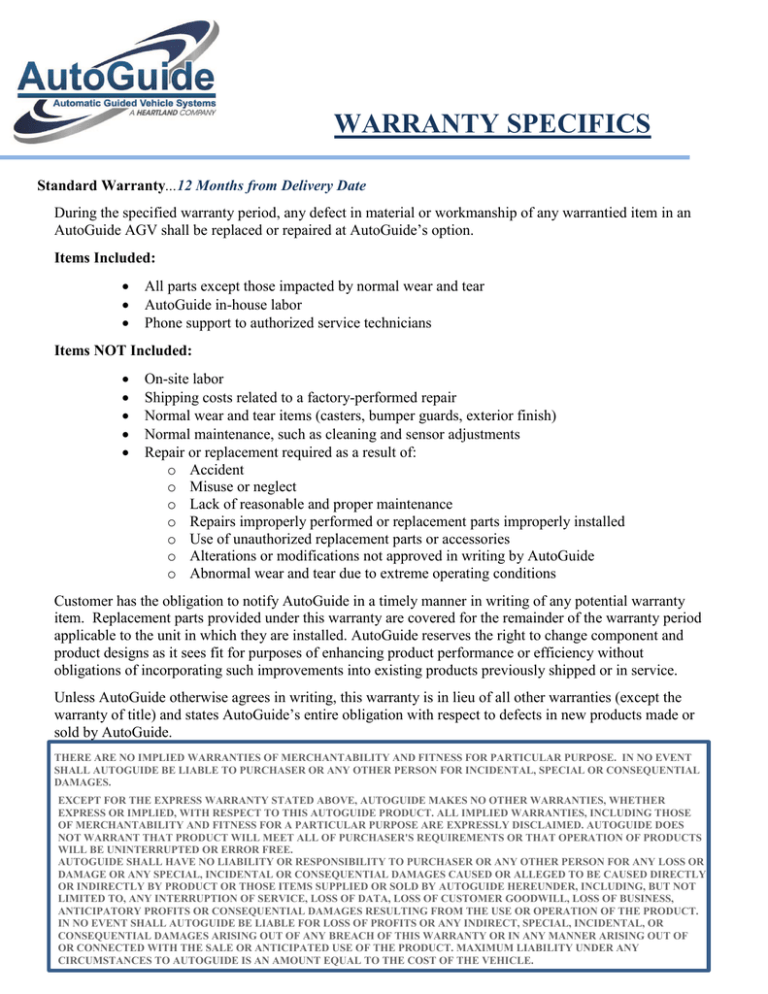 WARRANTY SPECIFICS
Standard Warranty...12 Months from Delivery Date
During the specified warranty period, any defect in material or workmanship of any warrantied item in an
AutoGuide AGV shall be replaced or repaired at AutoGuide's option.
Items Included:



All parts except those impacted by normal wear and tear
AutoGuide in-house labor
Phone support to authorized service technicians
Items NOT Included:





On-site labor
Shipping costs related to a factory-performed repair
Normal wear and tear items (casters, bumper guards, exterior finish)
Normal maintenance, such as cleaning and sensor adjustments
Repair or replacement required as a result of:
o Accident
o Misuse or neglect
o Lack of reasonable and proper maintenance
o Repairs improperly performed or replacement parts improperly installed
o Use of unauthorized replacement parts or accessories
o Alterations or modifications not approved in writing by AutoGuide
o Abnormal wear and tear due to extreme operating conditions
Customer has the obligation to notify AutoGuide in a timely manner in writing of any potential warranty
item. Replacement parts provided under this warranty are covered for the remainder of the warranty period
applicable to the unit in which they are installed. AutoGuide reserves the right to change component and
product designs as it sees fit for purposes of enhancing product performance or efficiency without
obligations of incorporating such improvements into existing products previously shipped or in service.
Unless AutoGuide otherwise agrees in writing, this warranty is in lieu of all other warranties (except the
warranty of title) and states AutoGuide's entire obligation with respect to defects in new products made or
sold by AutoGuide.
THERE ARE NO IMPLIED WARRANTIES OF MERCHANTABILITY AND FITNESS FOR PARTICULAR PURPOSE. IN NO EVENT
SHALL AUTOGUIDE BE LIABLE TO PURCHASER OR ANY OTHER PERSON FOR INCIDENTAL, SPECIAL OR CONSEQUENTIAL
DAMAGES.
EXCEPT FOR THE EXPRESS WARRANTY STATED ABOVE, AUTOGUIDE MAKES NO OTHER WARRANTIES, WHETHER
EXPRESS OR IMPLIED, WITH RESPECT TO THIS AUTOGUIDE PRODUCT. ALL IMPLIED WARRANTIES, INCLUDING THOSE
OF MERCHANTABILITY AND FITNESS FOR A PARTICULAR PURPOSE ARE EXPRESSLY DISCLAIMED. AUTOGUIDE DOES
NOT WARRANT THAT PRODUCT WILL MEET ALL OF PURCHASER'S REQUIREMENTS OR THAT OPERATION OF PRODUCTS
WILL BE UNINTERRUPTED OR ERROR FREE.
AUTOGUIDE SHALL HAVE NO LIABILITY OR RESPONSIBILITY TO PURCHASER OR ANY OTHER PERSON FOR ANY LOSS OR
DAMAGE OR ANY SPECIAL, INCIDENTAL OR CONSEQUENTIAL DAMAGES CAUSED OR ALLEGED TO BE CAUSED DIRECTLY
OR INDIRECTLY BY PRODUCT OR THOSE ITEMS SUPPLIED OR SOLD BY AUTOGUIDE HEREUNDER, INCLUDING, BUT NOT
LIMITED TO, ANY INTERRUPTION OF SERVICE, LOSS OF DATA, LOSS OF CUSTOMER GOODWILL, LOSS OF BUSINESS,
ANTICIPATORY PROFITS OR CONSEQUENTIAL DAMAGES RESULTING FROM THE USE OR OPERATION OF THE PRODUCT.
IN NO EVENT SHALL AUTOGUIDE BE LIABLE FOR LOSS OF PROFITS OR ANY INDIRECT, SPECIAL, INCIDENTAL, OR
CONSEQUENTIAL DAMAGES ARISING OUT OF ANY BREACH OF THIS WARRANTY OR IN ANY MANNER ARISING OUT OF
OR CONNECTED WITH THE SALE OR ANTICIPATED USE OF THE PRODUCT. MAXIMUM LIABILITY UNDER ANY
CIRCUMSTANCES TO AUTOGUIDE IS AN AMOUNT EQUAL TO THE COST OF THE VEHICLE.