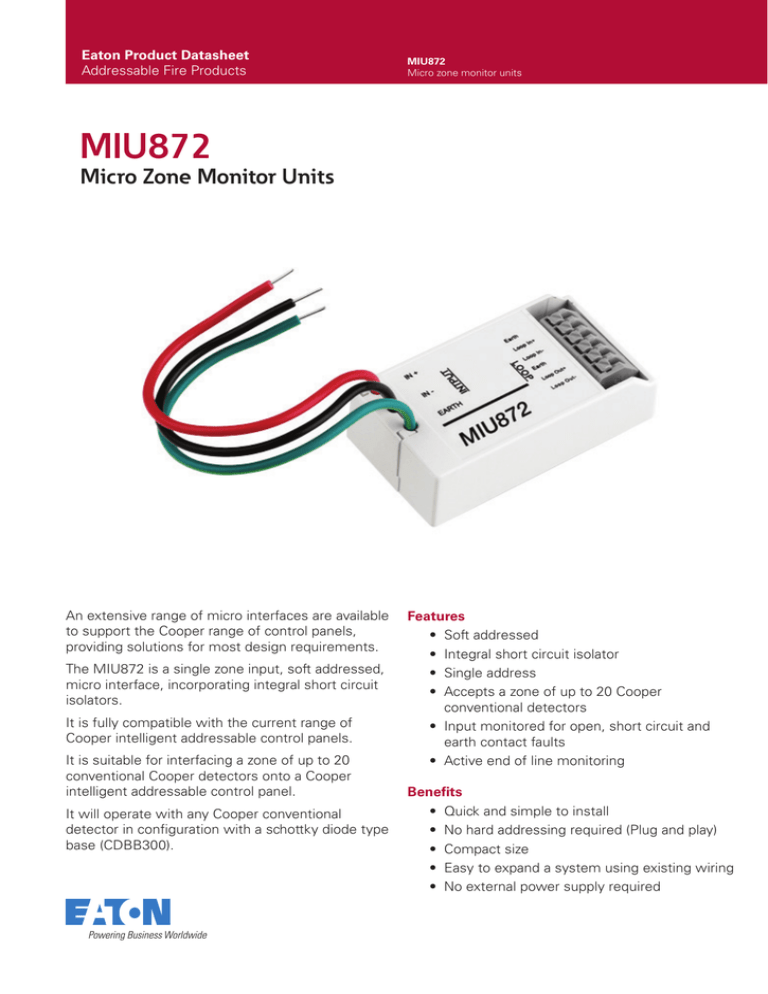 Eaton Product Datasheet
Addressable Fire Products
MIU872
Micro zone monitor units
MIU872
Micro Zone Monitor Units
An extensive range of micro interfaces are available
to support the Cooper range of control panels,
providing solutions for most design requirements.
The MIU872 is a single zone input, soft addressed,
micro interface, incorporating integral short circuit
isolators.
It is fully compatible with the current range of
Cooper intelligent addressable control panels.
It is suitable for interfacing a zone of up to 20
conventional Cooper detectors onto a Cooper
intelligent addressable control panel.
It will operate with any Cooper conventional
detector in configuration with a schottky diode type
base (CDBB300).
Features
• Soft addressed
• Integral short circuit isolator
• Single address
• Accepts a zone of up to 20 Cooper
conventional detectors
• Input monitored for open, short circuit and
earth contact faults
• Active end of line monitoring
Benefits
• Quick and simple to install
• No hard addressing required (Plug and play)
• Compact size
• Easy to expand a system using existing wiring
• No external power supply required
Eaton Product Datasheet
Addressable Fire Products
MIU872
Micro zone monitor units
Installation
Technical Specification
Code
MIU872
Description
Standards
Specification
Operating Voltage
Quiescent Current
Load With 20 Detectors, and
Unlimited Callpoints
Alarm Load With 20
Detectors, and Unlimited
Callpoints
Detector Zone
Detectors per Zone
End of Line Monitor
Micro Zone Monitor Unit
EN54 Pt17 & Pt18
1. Suitable for use with any Cooper conventional
detector.
2. Connections suitable for single strand fireproof cable
up to 2.5mm2.
18.5V dc to 30V dc
2.6mA (nom)
3.2mA (nom)
3. Loop and input cable screen must be connected to
interface earth terminals.
Note: No addressing of the interface is required (see
control panel operation for details)
8.0mA (nom)
Mounting Details
22mm
20 (max)
Active end of line unit - EOLM1
Fire Input Trigger Resistance 680Ω (nom)
Short Circuit Fault Threshold 100Ω (max)
Resistance
Open Circuit Fault Threshold 39KΩ (min)
Resistance
Environmental
Operating Temperature
-10ºC to +60ºC
Humidity (non condensing)
0 to 95% RH
Physical
Construction
PC/ABS
Dimensions (H x W x D)
63mm x 35mm x 18.5mm
Weight
0.28kg
Ingress Protection
IP40
Compatibility
Suitable for use with
Cooper Intelligent Addressable
Fire Systems
Recommended loop/cable
Fire Tuff, FP200, MICC
37.5mm
Standard Connections
EOLM-1
Dimensions
IN+
IN-
LOOP IN
EARTH
maximum 20 Cooper conventional detectors
INPUT
LOOP OUT
D
H
W
H (mm)
W (mm)
D (mm)
63
35
18.5
Eaton
Electrical Sector EMEA
Route de la Longeraie 7
1110 Morges, Switzerland
Eaton
Fire Systems Business
Cooper Lighting and Safety Ltd
Wheatley Hall Road
Doncaster
South Yorkshire
DN2 4NB
United Kingdom
Catalogue numbers
Description
Code
Micro Zone Monitor Unit
MIU872
Tel: +44 (0)1302 303 999
Fax: +44 (0)1302 303 333
Email: sales@cooperfire.com
Web: www.cooperfire.com
© 2014 Eaton
All Rights Reserved
Pub Reference: F-DS025
September 2014
Changes to the products, to the information
contained in this document, and to prices are
reserved; so are errors and omissions.
Only order confirmations and technical
documentation by Eaton is binding. Photos
and pictures also do not warrant a specific
layout or functionality. Their use in whatever
form is subject to prior approval by Eaton.
The same applies to Trademarks. The
Terms and Conditions of Eaton apply, as
referenced on Eaton Internet pages and
Eaton order confirmations.
Eaton is a registered trademark.
All other trademarks are property
of their respective owners.