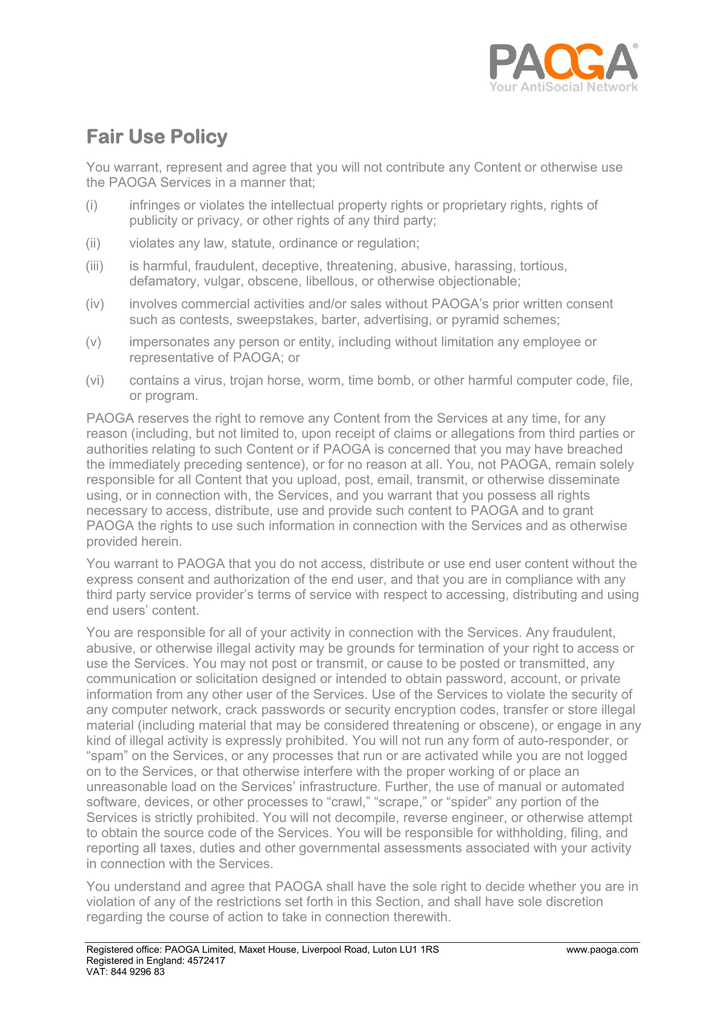 Fair Use Policy
You warrant, represent and agree that you will not contribute any Content or otherwise use
the PAOGA Services in a manner that;
(i)
infringes or violates the intellectual property rights or proprietary rights, rights of
publicity or privacy, or other rights of any third party;
(ii)
violates any law, statute, ordinance or regulation;
(iii)
is harmful, fraudulent, deceptive, threatening, abusive, harassing, tortious,
defamatory, vulgar, obscene, libellous, or otherwise objectionable;
(iv)
involves commercial activities and/or sales without PAOGA's prior written consent
such as contests, sweepstakes, barter, advertising, or pyramid schemes;
(v)
impersonates any person or entity, including without limitation any employee or
representative of PAOGA; or
(vi)
contains a virus, trojan horse, worm, time bomb, or other harmful computer code, file,
or program.
PAOGA reserves the right to remove any Content from the Services at any time, for any
reason (including, but not limited to, upon receipt of claims or allegations from third parties or
authorities relating to such Content or if PAOGA is concerned that you may have breached
the immediately preceding sentence), or for no reason at all. You, not PAOGA, remain solely
responsible for all Content that you upload, post, email, transmit, or otherwise disseminate
using, or in connection with, the Services, and you warrant that you possess all rights
necessary to access, distribute, use and provide such content to PAOGA and to grant
PAOGA the rights to use such information in connection with the Services and as otherwise
provided herein.
You warrant to PAOGA that you do not access, distribute or use end user content without the
express consent and authorization of the end user, and that you are in compliance with any
third party service provider's terms of service with respect to accessing, distributing and using
end users' content.
You are responsible for all of your activity in connection with the Services. Any fraudulent,
abusive, or otherwise illegal activity may be grounds for termination of your right to access or
use the Services. You may not post or transmit, or cause to be posted or transmitted, any
communication or solicitation designed or intended to obtain password, account, or private
information from any other user of the Services. Use of the Services to violate the security of
any computer network, crack passwords or security encryption codes, transfer or store illegal
material (including material that may be considered threatening or obscene), or engage in any
kind of illegal activity is expressly prohibited. You will not run any form of auto-responder, or
"spam" on the Services, or any processes that run or are activated while you are not logged
on to the Services, or that otherwise interfere with the proper working of or place an
unreasonable load on the Services' infrastructure. Further, the use of manual or automated
software, devices, or other processes to "crawl," "scrape," or "spider" any portion of the
Services is strictly prohibited. You will not decompile, reverse engineer, or otherwise attempt
to obtain the source code of the Services. You will be responsible for withholding, filing, and
reporting all taxes, duties and other governmental assessments associated with your activity
in connection with the Services.
You understand and agree that PAOGA shall have the sole right to decide whether you are in
violation of any of the restrictions set forth in this Section, and shall have sole discretion
regarding the course of action to take in connection therewith.
Registered office: PAOGA Limited, Maxet House, Liverpool Road, Luton LU1 1RS
Registered in England: 4572417
VAT: 844 9296 83
www.paoga.com
WARRANTY DISCLAIMER. PAOGA has no special relationship with or fiduciary duty to you.
You acknowledge that PAOGA has no control over, and no duty to take any action regarding:
which users gain access to the Services; what Content you access via the Services; what
effects the Content may have on you; how you may interpret or use the Content; or what
actions you may take as a result of having been exposed to the Content. You release PAOGA
from all liability for you having acquired or not acquired Content through the Services. The
Services may contain, or direct you to websites containing, information that some people may
find offensive or inappropriate. PAOGA makes no representations concerning any content
contained in or accessed through the Services, and PAOGA will not be responsible or liable
for the accuracy, copyright compliance, legality or decency of material contained in or
accessed through the Services. PAOGA makes no representations or warranties regarding
the accuracy of descriptions anywhere on the Services, or regarding suggestions or
recommendations of services or products offered or purchased through the Services.
Products and services purchased (whether or not following such recommendations and
suggestions) are provided "AS IS" without any warranty of any kind from PAOGA or others
unless, with respect to others (only), otherwise made expressly and unambiguously in writing
by a designated third party for a specific product or service.
THE SERVICES, CONTENT, WEBSITE, PRODUCTS AND SERVICES OBTAINED
THROUGH THE WEBSITE, AND ANY SOFTWARE ARE PROVIDED ON AN "AS IS" BASIS,
WITHOUT WARRANTIES OF ANY KIND, EITHER EXPRESS OR IMPLIED, INCLUDING,
WITHOUT LIMITATION, IMPLIED WARRANTIES OF MERCHANTABILITY, FITNESS FOR
A PARTICULAR PURPOSE, NON-INFRINGEMENT, OR THAT USE OF THE SERVICES
WILL BE UNINTERRUPTED OR ERROR-FREE. SOME COUNTRIES DO NOT ALLOW
LIMITATIONS ON HOW LONG AN IMPLIED WARRANTY LASTS, SO THE ABOVE
LIMITATIONS MAY NOT APPLY TO YOU.