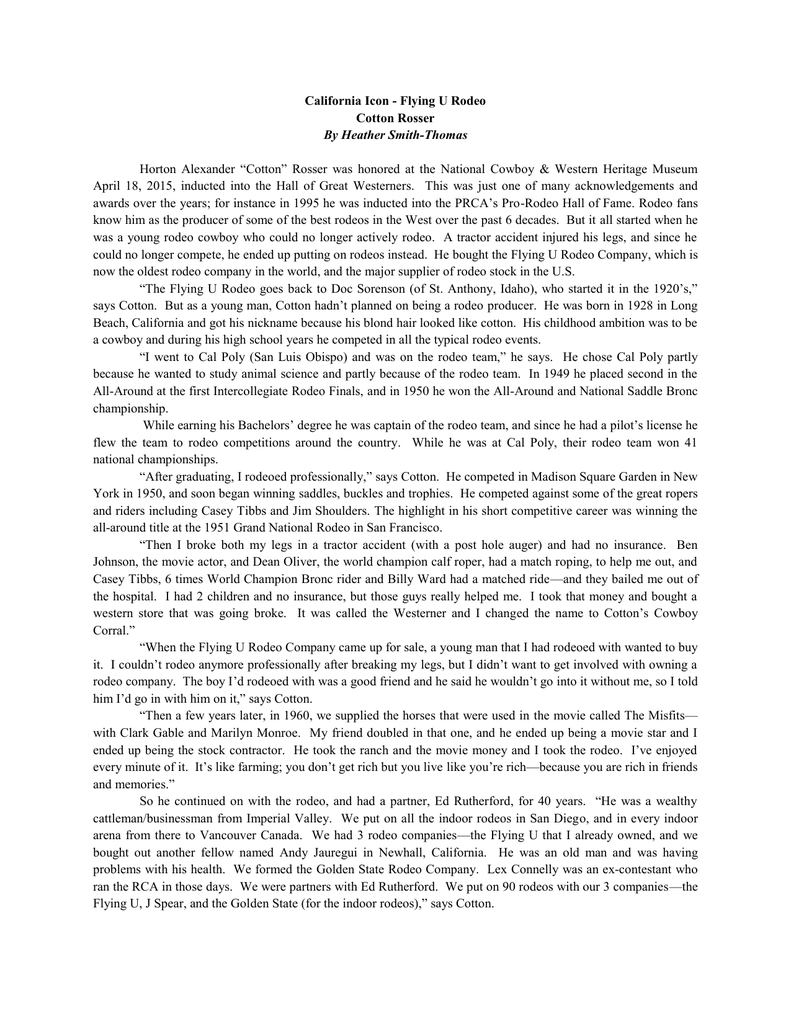 California Icon - Flying U Rodeo
Cotton Rosser
By Heather Smith-Thomas
Horton Alexander "Cotton" Rosser was honored at the National Cowboy & Western Heritage Museum
April 18, 2015, inducted into the Hall of Great Westerners. This was just one of many acknowledgements and
awards over the years; for instance in 1995 he was inducted into the PRCA's Pro-Rodeo Hall of Fame. Rodeo fans
know him as the producer of some of the best rodeos in the West over the past 6 decades. But it all started when he
was a young rodeo cowboy who could no longer actively rodeo. A tractor accident injured his legs, and since he
could no longer compete, he ended up putting on rodeos instead. He bought the Flying U Rodeo Company, which is
now the oldest rodeo company in the world, and the major supplier of rodeo stock in the U.S.
"The Flying U Rodeo goes back to Doc Sorenson (of St. Anthony, Idaho), who started it in the 1920's,"
says Cotton. But as a young man, Cotton hadn't planned on being a rodeo producer. He was born in 1928 in Long
Beach, California and got his nickname because his blond hair looked like cotton. His childhood ambition was to be
a cowboy and during his high school years he competed in all the typical rodeo events.
"I went to Cal Poly (San Luis Obispo) and was on the rodeo team," he says. He chose Cal Poly partly
because he wanted to study animal science and partly because of the rodeo team. In 1949 he placed second in the
All-Around at the first Intercollegiate Rodeo Finals, and in 1950 he won the All-Around and National Saddle Bronc
championship.
While earning his Bachelors' degree he was captain of the rodeo team, and since he had a pilot's license he
flew the team to rodeo competitions around the country. While he was at Cal Poly, their rodeo team won 41
national championships.
"After graduating, I rodeoed professionally," says Cotton. He competed in Madison Square Garden in New
York in 1950, and soon began winning saddles, buckles and trophies. He competed against some of the great ropers
and riders including Casey Tibbs and Jim Shoulders. The highlight in his short competitive career was winning the
all-around title at the 1951 Grand National Rodeo in San Francisco.
"Then I broke both my legs in a tractor accident (with a post hole auger) and had no insurance. Ben
Johnson, the movie actor, and Dean Oliver, the world champion calf roper, had a match roping, to help me out, and
Casey Tibbs, 6 times World Champion Bronc rider and Billy Ward had a matched ride—and they bailed me out of
the hospital. I had 2 children and no insurance, but those guys really helped me. I took that money and bought a
western store that was going broke. It was called the Westerner and I changed the name to Cotton's Cowboy
Corral."
"When the Flying U Rodeo Company came up for sale, a young man that I had rodeoed with wanted to buy
it. I couldn't rodeo anymore professionally after breaking my legs, but I didn't want to get involved with owning a
rodeo company. The boy I'd rodeoed with was a good friend and he said he wouldn't go into it without me, so I told
him I'd go in with him on it," says Cotton.
"Then a few years later, in 1960, we supplied the horses that were used in the movie called The Misfits—
with Clark Gable and Marilyn Monroe. My friend doubled in that one, and he ended up being a movie star and I
ended up being the stock contractor. He took the ranch and the movie money and I took the rodeo. I've enjoyed
every minute of it. It's like farming; you don't get rich but you live like you're rich—because you are rich in friends
and memories."
So he continued on with the rodeo, and had a partner, Ed Rutherford, for 40 years. "He was a wealthy
cattleman/businessman from Imperial Valley. We put on all the indoor rodeos in San Diego, and in every indoor
arena from there to Vancouver Canada. We had 3 rodeo companies—the Flying U that I already owned, and we
bought out another fellow named Andy Jauregui in Newhall, California. He was an old man and was having
problems with his health. We formed the Golden State Rodeo Company. Lex Connelly was an ex-contestant who
ran the RCA in those days. We were partners with Ed Rutherford. We put on 90 rodeos with our 3 companies—the
Flying U, J Spear, and the Golden State (for the indoor rodeos)," says Cotton.
They put on rodeos all over the western states. "We put on the rodeo at Helena, Montana for 17 years, and
many in Idaho (Pocatello, Idaho Falls, Jerome, Gooding, Caldwell, and at Filer for 30 years). Then Connelly could
see we weren't making any money so he went to manage the Cow Palace and left me with the rest of it. Mr.
Rutherford called me in one day and said I was wearing out airplanes and killing myself off putting on 90 rodeos,"
recalls Cotton.
"He suggested that we just do half as many and just lose half as much money! So we closed up Golden
State. Later on I changed J Spears and made it the Rosser Rodeo Company. My son Reno now runs that one and I
run the Flying U. We were operating in 11 states and now we are operating in just 3 states—Utah, California and
Nevada. We finished 2 rodeos in mid-May—the 82nd Annual Helldorado Rodeo in Las Vegas, and the 90-year-old
Rowell Ranch rodeo. The last weekend in May it was the Marysville Stampede right here in our own county. We
sponsor that whole rodeo but we have a committee helping us and they are doing a great job," he says.
"We were very involved in the National Finals Rodeo in Vegas. I was one of two people who wanted it to
come to Vegas. Everyone else wanted it to stay in Oklahoma City. We worked hard, along with Benny Binion,
Herb McDonald and Las Vegas Events to get it to Vegas, and Shawn Davis was the swing vote. Moving it to Vegas
was the best thing that ever happened to National Finals Rodeo," Cotton says.
He is well known for his outstanding rodeo productions, including the spectacular opening ceremony
presentation at the National Finals Rodeo, the Houston Livestock Show and the Grand National Rode in San
Francisco. To Cotton, a rodeo is just like show business, and it has to be a crowd-pleaser. He always says that if
you don't keep the audience entertained, they will go somewhere else.
He continually comes up with new ideas and inspirations to please his audiences, including specialty events
such as Bull Poker, Roman chariot races, a Bull Teeter-Totter and the Wild Ride at the Red Bluff Roundup--in
which famous bronc riders wear outrageous costumes as they try to stay aboard some of the Flying U's best bucking
stock. He says Gene Autry was the person who inspired him the most and influenced his efforts at showmanship.
During the early days of rodeo in the 1930's, 40's and 50's the stock contractors were showmen, using silver saddles
and matched horses. In the heyday of rodeo, every cowboy contestant rode in the grand entry—in places like
Madison Square Garden in New York, and the rodeos in Chicago, Houston, Fort Worth and Boston. Cotton tries to
bring some of that color and pageantry back into rodeos. His rodeo company also has a breeding program to keep
improving the quality of the stock.
His rodeo career has left a lasting legacy. Cotton was instrumental in bringing high school rodeo to
California, and he has also been a longtime Cal Poly Rodeo booster. In 2007 the Flying U Rodeo Company
published a book called "Million Dollar Memories: Fifty Years with Cotton Rosser and the Flying U" to highlight
his career. In 2009 he was inducted into the National Cowboy and Western Heritage Museum Rodeo Hall of Fame
in Oklahoma City. In 2013 he received the Jim Shoulders Lifetime Achievement Award at the Heroes & Legends
ceremony in Las Vegas, just before the PBR World Finals.
FAMILY
Today the Flying U Rodeo is headquartered at Marysville, California, and Cotton is President and CEO,
with the help of his wife. Cotton, at age 87, still rides a horse, if he has help to get on and off. "I have a young wife
named Karin, and we've been married 36 years. She was a good Mormon girl from Utah who was Miss Rodeo
Utah, and runner up to Miss Rodeo America in Oklahoma City. I have been blessed with 5 children. Four are from
an earlier marriage, and Karin and I have a daughter who just graduated with a masters from Cal Poly. All of my
kids went to Cal Poly, and she's the 9th one in my family, including 2 daughter-in-laws, who went to college there.
We think it is a wonderful school," he says.
"The Cal Poly motto is that we learn by doing. Some great students have come out of that school. A
person can always get a job if they've graduated from Cal Poly, especially with a masters degree," Cotton says.
The Flying U Rodeo is very much a family business. "We do a lot of cattle drives as well as rodeos, and
we have a lot of family helping with those. We had a big cattle drive May 21 st from Yuba City and across the 5th
Street Bridge into Marysville. Yuba City and Marysville are just across the river from one another."
He and his family have worked hard to make the Flying U Rodeo Company one of the most successful
stock contracting outfits in professional rodeo. He and his wife Karin both have pilot's licenses and have flown a lot
of miles, and they also still own and operate Cotton's Cowboy Corral, a western wear store in Marysville. In 2014
Cotton celebrated 60 years of producing rodeos.