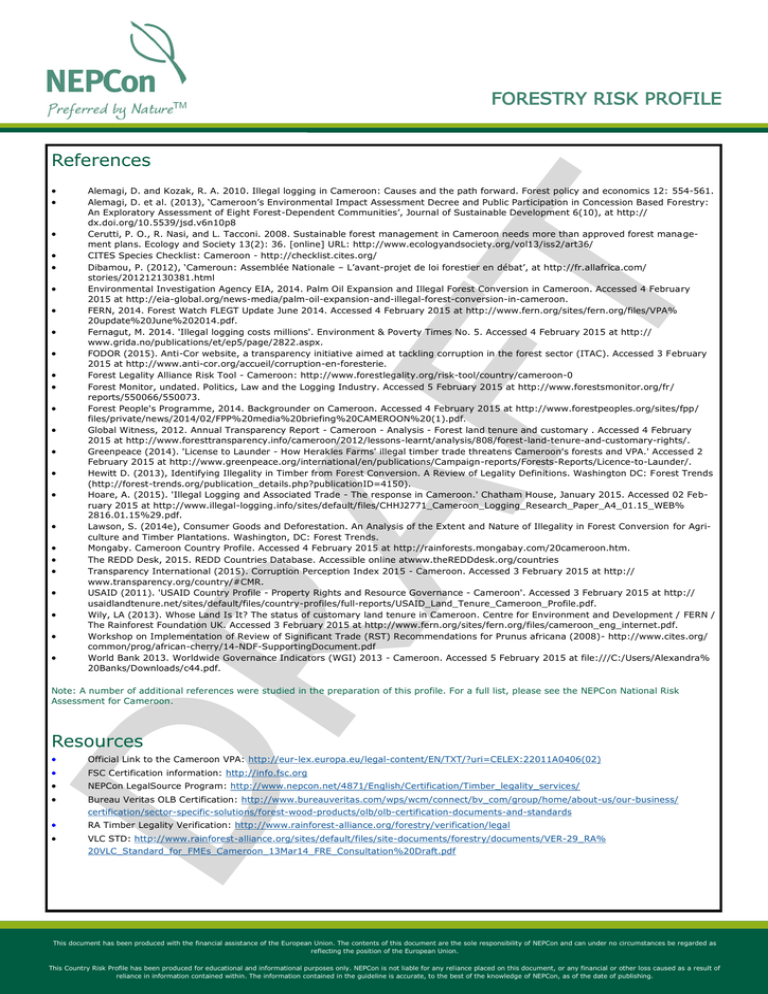 FORESTRY RISK PROFILE
References
























Alemagi, D. and Kozak, R. A. 2010. Illegal logging in Cameroon: Causes and the path forward. Forest policy and economics 12: 554-561.
Alemagi, D. et al. (2013), 'Cameroon's Environmental Impact Assessment Decree and Public Participation in Concession Based Forestry:
An Exploratory Assessment of Eight Forest-Dependent Communities', Journal of Sustainable Development 6(10), at http://
dx.doi.org/10.5539/jsd.v6n10p8
Cerutti, P. O., R. Nasi, and L. Tacconi. 2008. Sustainable forest management in Cameroon needs more than approved forest management plans. Ecology and Society 13(2): 36. [online] URL: http://www.ecologyandsociety.org/vol13/iss2/art36/
CITES Species Checklist: Cameroon - http://checklist.cites.org/
Dibamou, P. (2012), 'Cameroun: Assemblée Nationale – L'avant-projet de loi forestier en débat', at http://fr.allafrica.com/
stories/201212130381.html
Environmental Investigation Agency EIA, 2014. Palm Oil Expansion and Illegal Forest Conversion in Cameroon. Accessed 4 February
2015 at http://eia-global.org/news-media/palm-oil-expansion-and-illegal-forest-conversion-in-cameroon.
FERN, 2014. Forest Watch FLEGT Update June 2014. Accessed 4 February 2015 at http://www.fern.org/sites/fern.org/files/VPA%
20update%20June%202014.pdf.
Fernagut, M. 2014. 'Illegal logging costs millions'. Environment & Poverty Times No. 5. Accessed 4 February 2015 at http://
www.grida.no/publications/et/ep5/page/2822.aspx.
FODOR (2015). Anti-Cor website, a transparency initiative aimed at tackling corruption in the forest sector (ITAC). Accessed 3 February
2015 at http://www.anti-cor.org/accueil/corruption-en-foresterie.
Forest Legality Alliance Risk Tool - Cameroon: http://www.forestlegality.org/risk-tool/country/cameroon-0
Forest Monitor, undated. Politics, Law and the Logging Industry. Accessed 5 February 2015 at http://www.forestsmonitor.org/fr/
reports/550066/550073.
Forest People's Programme, 2014. Backgrounder on Cameroon. Accessed 4 February 2015 at http://www.forestpeoples.org/sites/fpp/
files/private/news/2014/02/FPP%20media%20briefing%20CAMEROON%20(1).pdf.
Global Witness, 2012. Annual Transparency Report - Cameroon - Analysis - Forest land tenure and customary . Accessed 4 February
2015 at http://www.foresttransparency.info/cameroon/2012/lessons-learnt/analysis/808/forest-land-tenure-and-customary-rights/.
Greenpeace (2014). 'License to Launder - How Herakles Farms' illegal timber trade threatens Cameroon's forests and VPA.' Accessed 2
February 2015 at http://www.greenpeace.org/international/en/publications/Campaign-reports/Forests-Reports/Licence-to-Launder/.
Hewitt D. (2013), Identifying Illegality in Timber from Forest Conversion. A Review of Legality Definitions. Washington DC: Forest Trends
(http://forest-trends.org/publication_details.php?publicationID=4150).
Hoare, A. (2015). 'Illegal Logging and Associated Trade - The response in Cameroon.' Chatham House, January 2015. Accessed 02 February 2015 at http://www.illegal-logging.info/sites/default/files/CHHJ2771_Cameroon_Logging_Research_Paper_A4_01.15_WEB%
2816.01.15%29.pdf.
Lawson, S. (2014e), Consumer Goods and Deforestation. An Analysis of the Extent and Nature of Illegality in Forest Conversion for Agriculture and Timber Plantations. Washington, DC: Forest Trends.
Mongaby. Cameroon Country Profile. Accessed 4 February 2015 at http://rainforests.mongabay.com/20cameroon.htm.
The REDD Desk, 2015. REDD Countries Database. Accessible online atwww.theREDDdesk.org/countries
Transparency International (2015). Corruption Perception Index 2015 - Cameroon. Accessed 3 February 2015 at http://
www.transparency.org/country/#CMR.
USAID (2011). 'USAID Country Profile - Property Rights and Resource Governance - Cameroon'. Accessed 3 February 2015 at http://
usaidlandtenure.net/sites/default/files/country-profiles/full-reports/USAID_Land_Tenure_Cameroon_Profile.pdf.
Wily, LA (2013). Whose Land Is It? The status of customary land tenure in Cameroon. Centre for Environment and Development / FERN /
The Rainforest Foundation UK. Accessed 3 February 2015 at http://www.fern.org/sites/fern.org/files/cameroon_eng_internet.pdf.
Workshop on Implementation of Review of Significant Trade (RST) Recommendations for Prunus africana (2008)- http://www.cites.org/
common/prog/african-cherry/14-NDF-SupportingDocument.pdf
World Bank 2013. Worldwide Governance Indicators (WGI) 2013 - Cameroon. Accessed 5 February 2015 at file:///C:/Users/Alexandra%
20Banks/Downloads/c44.pdf.
Note: A number of additional references were studied in the preparation of this profile. For a full list, please see the NEPCon National Risk
Assessment for Cameroon.
Resources




Official Link to the Cameroon VPA: http://eur-lex.europa.eu/legal-content/EN/TXT/?uri=CELEX:22011A0406(02)


RA Timber Legality Verification: http://www.rainforest-alliance.org/forestry/verification/legal
FSC Certification information: http://info.fsc.org
NEPCon LegalSource Program: http://www.nepcon.net/4871/English/Certification/Timber_legality_services/
Bureau Veritas OLB Certification: http://www.bureauveritas.com/wps/wcm/connect/bv_com/group/home/about-us/our-business/
certification/sector-specific-solutions/forest-wood-products/olb/olb-certification-documents-and-standards
VLC STD: http://www.rainforest-alliance.org/sites/default/files/site-documents/forestry/documents/VER-29_RA%
20VLC_Standard_for_FMEs_Cameroon_13Mar14_FRE_Consultation%20Draft.pdf
This document has been produced with the financial assistance of the European Union. The contents of this document are the sole responsibility of NEPCon and can under no circumstances be regarded as
reflecting the position of the European Union.
This Country Risk Profile has been produced for educational and informational purposes only. NEPCon is not liable for any reliance placed on this document, or any financial or other loss caused as a result of
reliance in information contained within. The information contained in the guideline is accurate, to the best of the knowledge of NEPCon, as of the date of publishing.