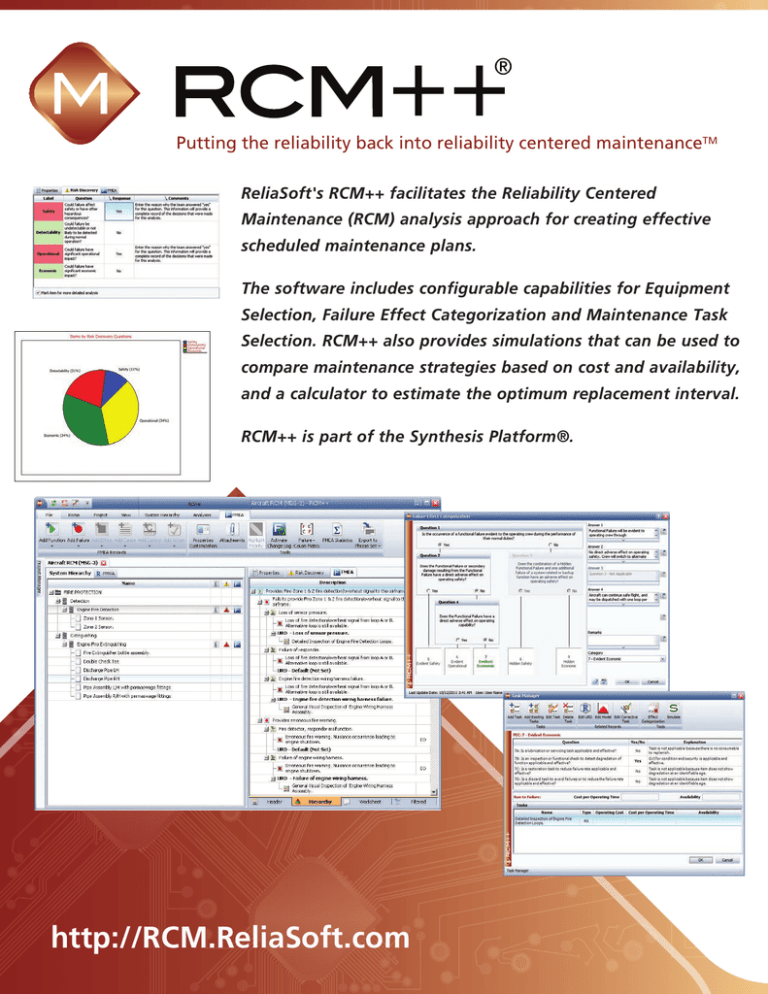 Putting the reliability back into reliability centered maintenanceTM
ReliaSoft's RCM++ facilitates the Reliability Centered
Maintenance (RCM) analysis approach for creating effective
scheduled maintenance plans.
The software includes configurable capabilities for Equipment
Selection, Failure Effect Categorization and Maintenance Task
Selection. RCM++ also provides simulations that can be used to
compare maintenance strategies based on cost and availability,
and a calculator to estimate the optimum replacement interval.
RCM++ is part of the Synthesis Platform®.
http://RCM.ReliaSoft.com
Software Highlights - ReliaSoft's RCM++
RCM Standards
• SAE JA1011/1012
• MSG-3
• NAVAIR 00-25-403
• Also highly configurable to define
your own custom profiles
Organization and Data Structure
• Easy to Build System Configurations
• Multiple Views for Data Entry
--Hierarchy (Tree) View
--Worksheet View
--Filtered View
Support for RCM Logic
• Equipment Selection
--Yes/No Questions
--Criticality Factors (Rating Scales)
• Failure Effect Categorization (FEC)
• Maintenance Task Selection
• Also highly configurable to define
your own logic charts
Finding and Reusing Data
• Browse or query to import existing
analysis data
• Use keywords to find and import
existing record descriptions
• Copy/paste and drag/drop
Maintenance Strategies
• Run to Failure
• Preventive Maintenance (PM)
--Scheduled Repair
--Scheduled Replacement
--Scheduled Service
--Failure Finding Inspection
• Predictive Maintenance (PdM)
--On Condition Inspection
Predefined Reports and Charts
• Equipment Selection
• Functional Failure Analysis
• Failure Effect Categorization
• Maintenance Task Selection
• Maintenance Task Summaries
• Pie, Bar and Pareto Charts
Reliability Calculations
• Analytical and/or Simulation Results
• Reliability
• Average Availability
• Operating Costs
Tools and Utilities
• Custom Query Utility
• Customized Templates for Imports,
Queries and Reports
• Analysis Planning Tool
• Links and Attachments
• Find and Replace
• Action Alerts via E-mail, SMS Text
Message or Synthesis Portal Message
Maintenance Planning
• Optimum Replacement Time
• For a Given Maintenance Strategy:
--Cost per Operating Time
--Average Availability
• Flexible Task Packaging
Centralized Data Storage
• Standard Repository
• Microsoft SQL Server® & Oracle®
• Simultaneous Access by Multiple Users
• Shared Analysis Settings and Data
• Flexible User Access Levels
Integrated FMEA Capabilities
• Configurable for All Types of FMEA
• Risk Priority Numbers (RPNs)
• Criticality Analysis (Qualitative &
Quantitative)
• Track Corrective Actions
• FMEA Reports, Charts and Dashboards
Import Types
• Microsoft Excel®
--Build and manage custom templates
for import/export
• Import from Xfmea, RBI, MPC and
XFRACAS
File Output
• Microsoft Excel® and Word®
• Easily export to *.pdf, *.rtf or *.html
from Word or Excel
• Save chart graphics (*.jpg, *.gif, *.png
or *.wmf)
Integration
Integration with all other Synthesis
Platform applications.
Multiple Languages Supported
For details, please visit:
http://www.ReliaSoft.com/languages
Available Services
• Detailed User Documentation
• Practical Example Files
• Step-by-Step Example Guide
• Training for Theory + Software
• Professional Consulting Services
Real Power for Real Applications
Some of the potential applications and benefits for using reliability centered maintenance (RCM) techniques and
ReliaSoft's RCM++ software as part of your organization's asset management program include the ability to:

Develop a scheduled maintenance plan for a physical asset that will provide an acceptable level of
functionality, with an acceptable level of risk, in an efficient and cost-effective manner.

Evaluate whether preventive maintenance (PM) is appropriate and determine the optimum preventive
maintenance intervals.

Promote analysis processes that are more efficient and more effective, utilizing lessons learned from past
analyses when applicable.
Why Upgrade to Version 10? (for details, visit http://RCM.ReliaSoft.com/version10.htm)

Major upgrades to the Synthesis Platform®, such as an integrated Project Planner with expanded actions
tracking, automated watches and alerts, easier to find and filter analyses, batch properties editor for
managing resources, better integration with Active Directory® for user account management, and the
option to implement a Synthesis Enterprise Portal website.

Linked FMEAs, Smart Add (to find relevant text from similar analyses), filter the system hierarchy and
automatic test plan generation.

FMEA/FMRA dashboards, interactive FMEA Block Diagram, universal diagram skins and change log
manager. Quantitative Consequence Priority Numbers (QCPNs) and the ability to allocate target reliability/
availability from the FMRA.