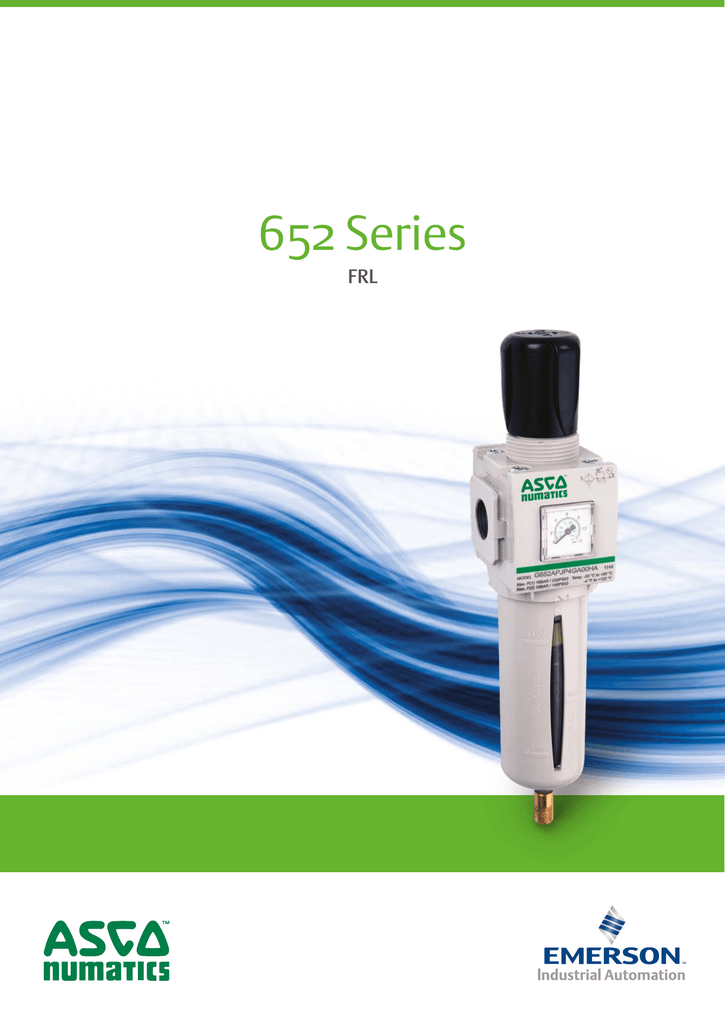 652 Series
FRL
Knobs
The 652 Series
Differential Pressure Actuator
Side Mounting Bracket
Scissor Lock
Pop Up Indicator
Body Clamp
Wall/Panel
Brackets
Shut Off Valve
End Flanges
High Performance
The 652 Series features one of the highest flow characteristics
of any FRL on the market, compared to its size. A high flow
rate can mean a smaller pressure drop – delivering savings in
energy consumption.
Versatile
Drains
Robust construction features allows use of the 652 Series under
corrosive conditions, and in temperatures of -40° C to 80° C.
Our range of options offers you the widest choice from a single
supplier. The 652 series can be used in many applications
including industrial automation, process industries, breathing
air, food packaging and paint spraying.
Compact and Modular
Thanks to the clever design the 652 series is a compact and
modular product that is space saving, easy to install, flexible
and weighs as much as 40% less than similar products on the
market – enabling savings in overall machine footprint and in
the manufacture of support structures.
2
Metal Bowl
ls
652 Series: Air Treatment Range
Solenoid Operators
Side Mounting Bracket
Filter Regulator
Lubricator
End Flanges
Quick Exhaust
and Slow Start
Liquid Level Indicator
Gauges
Key Information
Port sizes
1/4 – 3/8 – 1/2
Operating Temperature
- 20 + 50 ºC (-40 + 80ºC optional)
Maximum Flow
Up to 7.000 L/min
Regulated Pressure
0,2 to 10 bar
Fluid
Air or Inert Gas
Certifications
ATEX, CU-TR
Standards
Complies to ISO 8573.1:2010
and ISO 2500 air purity classification
Options
High and Low Temperature
Stainless Steel Fasteners
Right to Left Flow
FPM Seals
NPT & RC Threads
Tamper Resistant and Key Lockable
Coalescing & Active Carbon Filters
Bottom Knob
Air Pressure Operated
Quick Relief
Non Relieving
3
28.08.2015
Why Emerson?
Emerson has an established worldwide reputation for technology innovation and
industry leadership. Our technologies have served to transform entire industries, from
the creative solutions provided by the smallest detail, to their greater collective impact
on the environments we live and work in. Helping our customers achieve that distinct
competitive advantage is our priority – and the high performance of our ASCO Numatics
652 Series truly delivers this.
Problem solving is our passion. We are committed to driving technological progress
and setting the standards of the future by maintaining a strong focus on research and
development, and investment in training and future talent. Our approach includes
extensive research on both emerging technology and key global market trends, and our
own customer challenges enable us to prioritise our R&D efforts.
Emerson. Consider it solved.
ASCO Numatics Express guarantees short-term deliveries on
an extensive range of our most popular products, including
the 652 Series. With products dispatched from our European
manufacturing plant on the same day that your order is
received, you get the products you need faster, reducing
downtime and increasing productivity.
For more information and how to order,
please visit www.asconumatics.eu /FRL
The Emerson logo is a trademark and a service mark of Emerson Electric Co. © 2015 Emerson Electric Co.