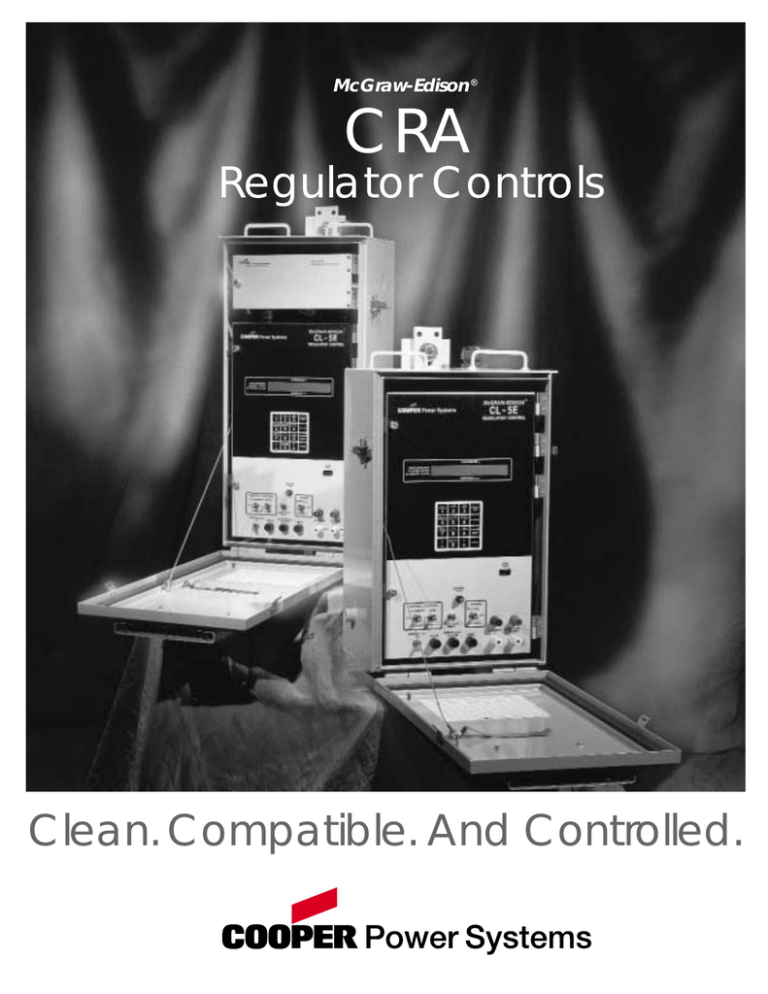 McGraw-Edison ®
CRA
Regulator Controls
Clean. Compatible. And Controlled.
Cooper Control
with a Solid Reputation
Exceptional Quality
The CRA is designed for all operating
conditions and all climate conditions.
Every single control assembly undergoes
rigorous, thorough testing. Every manufacturing process is checked and
rechecked. And checked again.
We use the highest quality materials,
paints and processes. Like all Cooper
Power Systems and McGraw-Edison®
products, the CRA is made to live in
a world of extremes. It will stand up
and deliver. We make it that way.
Experience You
Can Count On
Exceptional performance is what
you can expect from our products ––
and our people. Cooper Power
Systems backs our products with
outstanding service and support.
Count on our team of engineers
to give you fast, reliable support.
Keeping you up and running is our
commitment to you.
CRA—
Complete in Every Way
Cooper CRA controlling pole-mounted
Siemens regular outside Boise, Idaho.
The CRA comes complete with the latest CL-series control
and enclosure, a detailed installation & operations manual
and a function code card. Our universal mounting bracket
mounts easily to your existing regulator — with no holes to
drill. All the hardware and brackets you need are included
to make installation quick and easy.
Handles Ours, Handles Theirs
The Most Versatile Control Ever Made for a Voltage Regulator
We designed the Control Replacement Assembly (CRA) to manage McGraw-Edison® brand voltage
regulators -- and all domestically manufactured, single-phase, 32-step regulators, regardless of size or
capacity*. The CRA retrofits GE® , Siemens® and Allis Chalmers® regulators -- easily and reliably.
Whether you use one of these brands or all of them, you'll find the CRA is the most adaptable,
functional and easy to maintain control available. We've proven it.
* The following signals are needed to achieve functionality of the CRA unless otherwise noted as optional:
•
•
•
•
Control voltage or load side voltage signal
Operations counter
CT current signal (optional)
Neutral light (optional)
•
•
•
•
Motor raise and lower circuits
Common or ground
Source side voltage signal (optional)
Drag hand reset (optional)
Dependable Control
The Short Box has virtually every standard feature you will
need for reliable operation — and room for one accessory.
Short Box
Room to Expand
If your application requires two accessories, the Long Box
provides the extra space you'll need. Choose from a 2179
interface board, 2179 modem interface, DNP 3.0 Interface,
SCADA relay or a heater. Accessories can be factory installed
or retrofitted using the pre-tapped holes on the rear plate.
Long Box
Efficient in Every Way
Simple Installation
in Both Shop and Field
The CRA is equipped with easy-to-identify terminals that
accept existing cable terminations of all three manufacturers
(McGraw-Edison, GE, Siemens). Simple installation can take
place in a substation, on a
pole or in the shop, using
easy-to-follow, step-by-step
instructions. An experienced
technician can retrofit the
CRA in less than one hour;
successive installations take
only 15 to 30 minutes.
The Cooper CRA combines easy installation, easy operation and
minimized training costs across all manufacturer platforms – at a
competitive price.
(Clockwise from upper left: CRA shop installation on a Siemens regulator;
CRA with Siemens regulator nameplate; field installation of CRAs on
GE regulators in a substation; completed shop installation of CRAs
on GE regulators.)
Easier to Work On
Technicians will find the CRA easier to service because the work area is confined to the control end of
the control cable. This eliminates the need to enter the regulator tank to perform any type of control
service. (In-service regulators should be properly bypassed before attempting to service the regulator.)
Reduces Inventoryand Training Costs
Reduce your regulator control inventory from several models to just one – and save money. Stocking this
one standardized regulator control panel means that your field technicians need only be trained on one
control — not several.
Speeds Service and Data Acquisition
We incorporated highly operational Function Codes that are simple to understand and operate.
It's much faster than "scrolling," and makes support via phone with factory experts quick and easy.
Unmatched Flexibility
Accessory Mounting Made Simple
Cooper Power Systems offers a number of accessories for your custom applications.
Accessories can be factory installed or retrofitted using the pre-tapped holes on the rear plate.
Data Reader and Modem Interface
With the McGraw-Edison Data Reader, you can download control readings from as many as 25
different regulators. To download, simply connect the Data Reader to your control via a Data
Reader cable (which is supplied with the Data Reader). You can also install a modem card
and transmit data via your phone, or use enhanced communications by installing an RS-232/fiber
optic interface board to meet your communications needs.
2179 Interface Board
Provides either fiber optic or RS-232 interface with DATA 2179 communications
output. (An RS-485 version is also available.)
2179 Modem Interface
Provides modem/fiber optic interface with DATA 2179 communications output.
DNP 3.0
Provides either fiber optic or RS-232 interface with DNP 3.0 communications output.
(An RS-485 version is also available.)
SCADA Relay
For analog SCADA operations, the SCADA relay enables remote tap changer control.
Heater
A thermostatically controlled heater assembly for use in high-humidity areas.
Cooper Control Interface Software (CCI)
When you install Windows®-based CCI Software to your laptop or desktop
computer, you can establish control settings, upload settings, download
readings, provide output of settings and readings, reset metering, block
automatic operation and even operate the tap changer. You can also
export the data to another spreadsheet or database program.
Unparalleled Versatility
Easy, Convenient Adaptability
The CRA terminal board is clearly labeled for GE or Siemens wiring terminations.
Easy-to-access terminals provide convenient hook-up of the motor circuit;
the potential and current circuits; and the auto inhibit and voltage reduction
circuits, making it easy to connect existing analog (discrete) SCADA systems.
Compatible Yesterday, Today and Tomorrow
CL-2A
CL-4C
CL-5A
CL-5C
CL-5D
CL-5E
Today's CRA, like the first one we produce in 1988, is designed with standardization in mind.
From the beginning, we took into account the specifications of domestically manufactured regulators:
Cooper/McGraw-Edison, Siemens and GE. We also designed the CRA to be backward - and forward compatible with every Cooper CL-series control panel ever made.
In fact, in an emergency you could remove any CL-series control panel from the CRA, replace it with
any of the control panels shown above, and obtain all the functionality of the replacement control panel.
That's part of Cooper's ongoing commitment to the concept of universal regulator control — yesterday,
today and tomorrow.
Compatible Up & Down the Line
CONTROL FEATURE COMPARISON
CL-2A
CL-4C
CL-5A
CL-5C
CL-5D
CL-5E
Voltage Limiting
Metering
Time-tagged Demand (Fwd & Rev)
Profile Recorder
Fwd & Rev Source Voltage Demand added
Reverse Power Operation
Reverse Operation without IDPT
Configurable Profile Recorder
Co-Generation Mode Redefined
Reactive Bi-Directional Mode added
Source Voltage Calculator
Tap Position Tracking
Voltage Reduction
Pulse Mode
SCADA (Distribution Automation)
Discrete Auto Inhibit & Motor Control
Digital Communications Capable
Resident Communications Protocol
Data Retrieval (Data Port)
Security Override
Quik-Drive Tap Changer Support
Line Drop Compensation
Expanded limits +/- 96V
Tap To Neutral
SOFT ADD-AMP
Operations Counter
7 Resettable Operations Counters
= STANDARD FEATURE
= NEW STANDARD FEATURE
Cooper Power Systems manufactures a wide range of high-quality medium
voltage electrical equipment, components and systems that help bring electric
power to homes, industries, businesses and institutions throughout the world.
With our strong customer focus, superior products, controls and systems applications
expertise, nobody does a better job than Cooper Power Systems of supporting
your ability to profitably supply your customer with clean, reliable power.
World Headquarters:
COOPER POWER SYSTEMS
2300 Badger Drive, Waukesha, WI 53188, USA • Telephone: (262) 896-2400 • Fax: (262) 896-2313
E-mail: cooper@cooperpower.com • Web site: www.cooperpower.com
U.S. Utility Sales Offices:
U.S. Industrial Sales Offices:
International Offices:
ATLANTA, GEORGIA
RENTON, WASHINGTON
MIAMI, FLORIDA USA (Latin America)
Phone: 770-449-3725
Phone: 425-917-9919
Phone: 305-477-9400
Fax: 770-447-1320
Fax: 425-917-9779
Fax: 305-477-9414
CHARLOTTE, NORTH CAROLINA
KINGWOOD, TEXAS
SAO PAULO, BRAZIL
Phone: 704-921-0336
Phone: 281-358-1105
Phone: 55-11-5641-3451
Fax: 704-921-2927
Fax: 281-358-4212
Fax: 55-11-5641-2127
MCMURRAY, PENNSYLVANIA
WILMINGTON, MASSACHUSETTS
ATHENS, GREECE
Phone: 724-942-2901
Phone: 978-988-5580
Phone: 30-1-964-6332
Fax: 724-942-2907
Fax: 978-988-5582
Fax: 30-1-964-6336
MESQUITE, TEXAS
SYDNEY, AUSTRALIA
Phone: 972-279-0023
Phone: 61-2-8787-2779
Fax: 972-279-0712
Fax: 61-2-9609-2746
MILWAUKEE, WISCONSIN
TAIPEI, TAIWAN
Phone: 262-524-4455
Phone: 886-2-2758-4530
Fax: 262-524-4664
Fax: 886-2-2758-4535
MARLTON, NEW JERSEY
THE CONCOURSE, SINGAPORE
Phone: 856-797-7054
Phone: 65-273-8225
Fax: 856-797-7082
Fax: 65-273-8550
SAN FRANCISCO, CALIFORNIA
Phone: 650-692-4433
Fax: 650-692-0483
P.O. Box 1640 Waukesha, WI 53187
© 2001 Cooper Power Systems, Inc.
McGraw-Edison® is a registered trademark
of Cooper Industries, Inc.
http://www.cooperpower.com
Cooper Power Systems P.O. Box 1640, Waukesha, WI 53187
Bulletin No. 95009 (8/01); supersedes 95009 (6/95).
PRINTED IN USA.