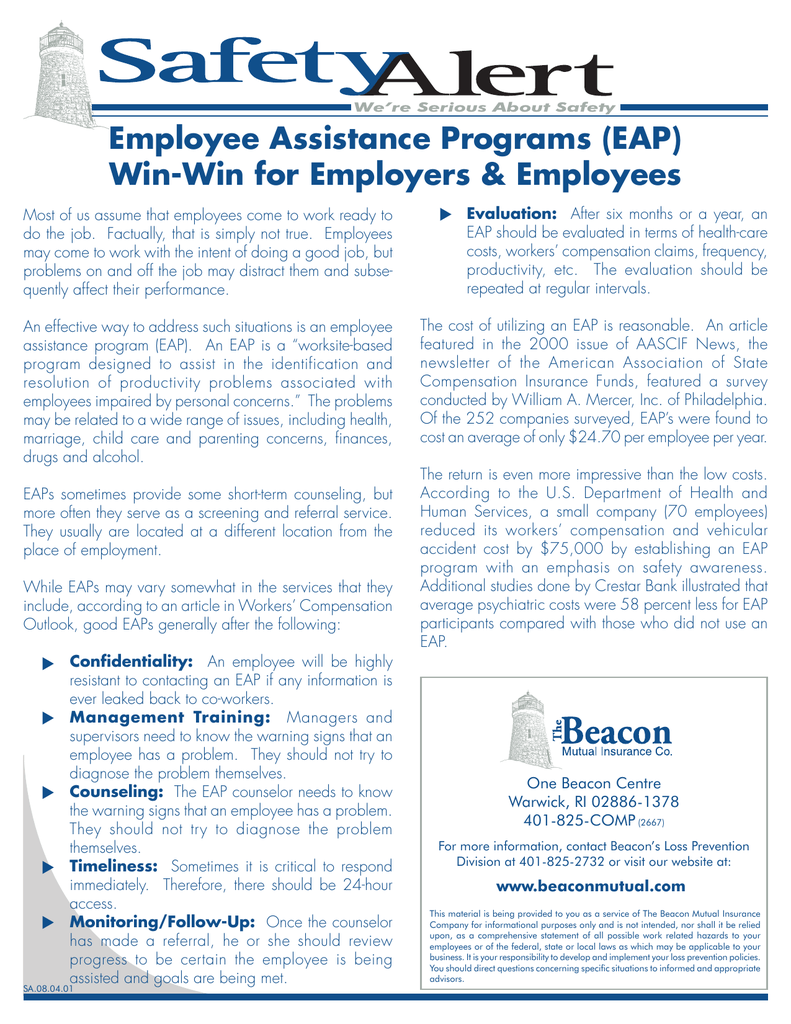 We're Serious About Safety
Employee Assistance Programs (EAP)
Win-Win for Employers & Employees
Most of us assume that employees come to work ready to
do the job. Factually, that is simply not true. Employees
may come to work with the intent of doing a good job, but
problems on and off the job may distract them and subsequently affect their performance.
An effective way to address such situations is an employee
assistance program (EAP). An EAP is a "worksite-based
program designed to assist in the identification and
resolution of productivity problems associated with
employees impaired by personal concerns." The problems
may be related to a wide range of issues, including health,
marriage, child care and parenting concerns, finances,
drugs and alcohol.
EAPs sometimes provide some short-term counseling, but
more often they serve as a screening and referral service.
They usually are located at a different location from the
place of employment.
While EAPs may vary somewhat in the services that they
include, according to an article in Workers' Compensation
Outlook, good EAPs generally after the following:
-
-
-
-
-
Confidentiality: An employee will be highly
resistant to contacting an EAP if any information is
ever leaked back to co-workers.
Management Training: Managers and
supervisors need to know the warning signs that an
employee has a problem. They should not try to
diagnose the problem themselves.
Counseling: The EAP counselor needs to know
the warning signs that an employee has a problem.
They should not try to diagnose the problem
themselves.
Timeliness: Sometimes it is critical to respond
immediately. Therefore, there should be 24-hour
access.
Monitoring/Follow-Up: Once the counselor
has made a referral, he or she should review
progress to be certain the employee is being
assisted and goals are being met.
SA.08.04.01
-
Evaluation: After six months or a year, an
EAP should be evaluated in terms of health-care
costs, workers' compensation claims, frequency,
productivity, etc. The evaluation should be
repeated at regular intervals.
The cost of utilizing an EAP is reasonable. An article
featured in the 2000 issue of AASCIF News, the
newsletter of the American Association of State
Compensation Insurance Funds, featured a survey
conducted by William A. Mercer, Inc. of Philadelphia.
Of the 252 companies surveyed, EAP's were found to
cost an average of only $24.70 per employee per year.
The return is even more impressive than the low costs.
According to the U.S. Department of Health and
Human Services, a small company (70 employees)
reduced its workers' compensation and vehicular
accident cost by $75,000 by establishing an EAP
program with an emphasis on safety awareness.
Additional studies done by Crestar Bank illustrated that
average psychiatric costs were 58 percent less for EAP
participants compared with those who did not use an
EAP.
One Beacon Centre
Warwick, RI 02886-1378
401-825-COMP (2667)
For more information, contact Beacon's Loss Prevention
Division at 401-825-2732 or visit our website at:
www.beaconmutual.com
This material is being provided to you as a service of The Beacon Mutual Insurance
Company for informational purposes only and is not intended, nor shall it be relied
upon, as a comprehensive statement of all possible work related hazards to your
employees or of the federal, state or local laws as which may be applicable to your
business. It is your responsibility to develop and implement your loss prevention policies.
You should direct questions concerning specific situations to informed and appropriate
advisors.