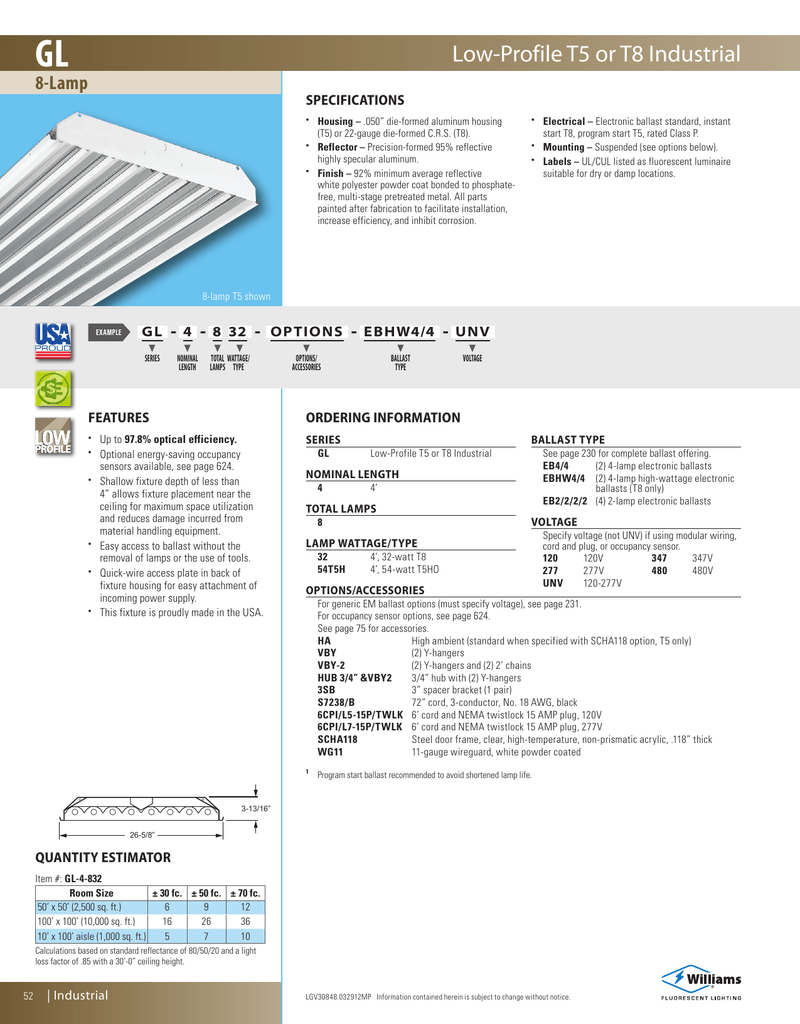 GL
Low-Profile T5 or T8 Industrial
8-Lamp
SPECIFICATIONS
•• Housing – .050" die-formed aluminum housing
(T5) or 22-gauge die-formed C.R.S. (T8).
•• Reflector – Precision-formed 95% reflective
highly specular aluminum.
•• Finish – 92% minimum average reflective
white polyester powder coat bonded to phosphatefree, multi-stage pretreated metal. All parts
painted after fabrication to facilitate installation,
increase efficiency, and inhibit corrosion.
•• Electrical – Electronic ballast standard, instant
start T8, program start T5, rated Class P.
•• Mounting – Suspended (see options below).
•• Labels – UL/CUL listed as fluorescent luminaire
suitable for dry or damp locations.
8-lamp T5 shown
EXAMPLE
GL
-
t
SERIES
4
t
-
8 32
t
-
OP TIONS
t
NOMINAL TOTALWATTAGE/
LENGTH LAMPSTYPE
-
E BHW4/4
t
-
UNV
t
OPTIONS/
ACCESSORIES
BALLAST
TYPE
FEATURES
ORDERING INFORMATION
•• Up to 97.8% optical efficiency.
•• Optional energy-saving occupancy
SERIES
••
••
••
••
sensors available, see page 624.
Shallow fixture depth of less than
4" allows fixture placement near the
ceiling for maximum space utilization
and reduces damage incurred from
material handling equipment.
Easy access to ballast without the
removal of lamps or the use of tools.
Quick-wire access plate in back of
fixture housing for easy attachment of
incoming power supply.
This fixture is proudly made in the USA.
GL
t
VOLTAGE
BALLAST TYPE
Low-Profile T5 or T8 Industrial
See page 230 for complete ballast offering.
EB4/4
(2) 4-lamp electronic ballasts
EBHW4/4 (2) 4-lamp high-wattage electronic
ballasts (T8 only)
EB2/2/2/2 (4) 2-lamp electronic ballasts
NOMINAL LENGTH
4
4'
TOTAL LAMPS
8
VOLTAGE
LAMP WATTAGE/TYPE
32
54T5H
4', 32-watt T8
4', 54-watt T5HO
OPTIONS/ACCESSORIES
Specify voltage (not UNV) if using modular wiring,
cord and plug, or occupancy sensor.
120
120V
347
347V
277
277V
480
480V
UNV
120-277V
For generic EM ballast options (must specify voltage), see page 231.
For occupancy sensor options, see page 624.
See page 75 for accessories.
HA
High ambient (standard when specified with SCHA118 option, T5 only)
VBY
(2) Y-hangers
VBY-2
(2) Y-hangers and (2) 2' chains
HUB 3/4" &VBY2
3/4" hub with (2) Y-hangers
3SB
3" spacer bracket (1 pair)
S7238/B
72" cord, 3-conductor, No. 18 AWG, black
6CPI/L5-15P/TWLK 6' cord and NEMA twistlock 15 AMP plug, 120V
6CPI/L7-15P/TWLK 6' cord and NEMA twistlock 15 AMP plug, 277V
SCHA118
Steel door frame, clear, high-temperature, non-prismatic acrylic, .118" thick
WG11
11-gauge wireguard, white powder coated
1
Program start ballast recommended to avoid shortened lamp life.
3-13/16"
26-5/8"
QUANTITY ESTIMATOR
Item #: GL-4-832
Room Size
± 30 fc. ± 50 fc. ± 70 fc.
50' x 50' (2,500 sq. ft.)
6
9
12
100' x 100' (10,000 sq. ft.)
16
26
36
10' x 100' aisle (1,000 sq. ft.)
5
7
10
Calculations based on standard reflectance of 80/50/20 and a light
loss factor of .85 with a 30'-0" ceiling height.
52
| Industrial
LGV30848.032912MP Information contained herein is subject to change without notice.