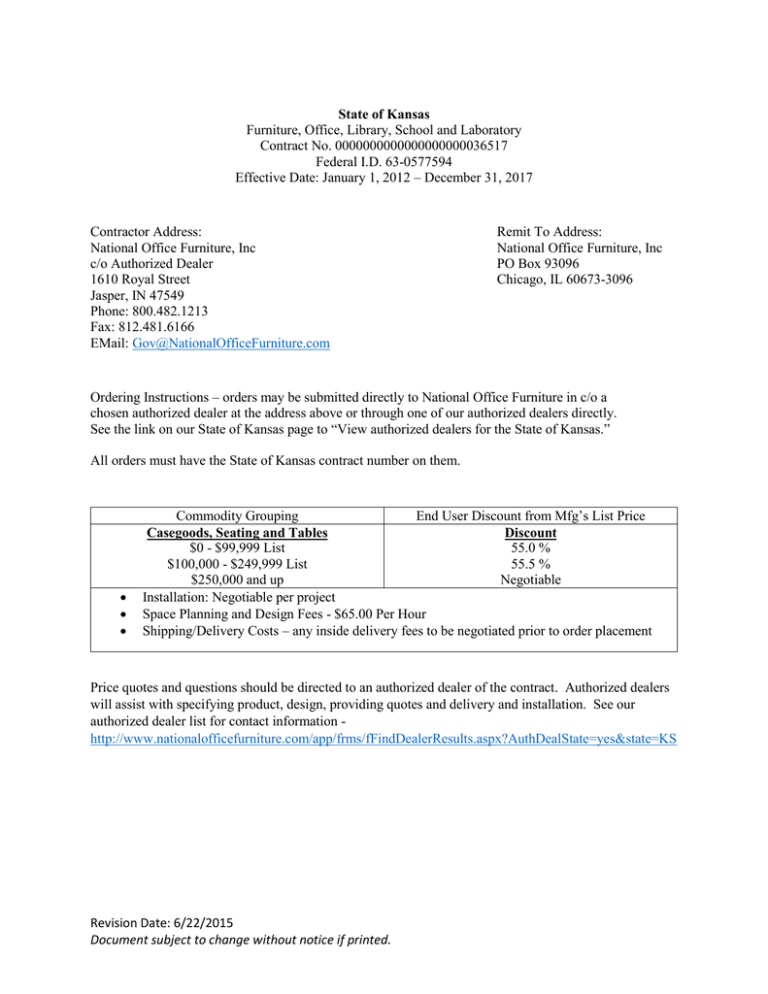 State of Kansas
Furniture, Office, Library, School and Laboratory
Contract No. 0000000000000000000036517
Federal I.D. 63-0577594
Effective Date: January 1, 2012 – December 31, 2017
Contractor Address:
National Office Furniture, Inc
c/o Authorized Dealer
1610 Royal Street
Jasper, IN 47549
Phone: 800.482.1213
Fax: 812.481.6166
EMail: [email protected]
Remit To Address:
National Office Furniture, Inc
PO Box 93096
Chicago, IL 60673-3096
Ordering Instructions – orders may be submitted directly to National Office Furniture in c/o a
chosen authorized dealer at the address above or through one of our authorized dealers directly.
See the link on our State of Kansas page to "View authorized dealers for the State of Kansas."
All orders must have the State of Kansas contract number on them.



Commodity Grouping
End User Discount from Mfg's List Price
Casegoods, Seating and Tables
Discount
$0 - $99,999 List
55.0 %
$100,000 - $249,999 List
55.5 %
$250,000 and up
Negotiable
Installation: Negotiable per project
Space Planning and Design Fees - $65.00 Per Hour
Shipping/Delivery Costs – any inside delivery fees to be negotiated prior to order placement
Price quotes and questions should be directed to an authorized dealer of the contract. Authorized dealers
will assist with specifying product, design, providing quotes and delivery and installation. See our
authorized dealer list for contact information http://www.nationalofficefurniture.com/app/frms/fFindDealerResults.aspx?AuthDealState=yes&state=KS
Revision Date: 6/22/2015
Document subject to change without notice if printed.