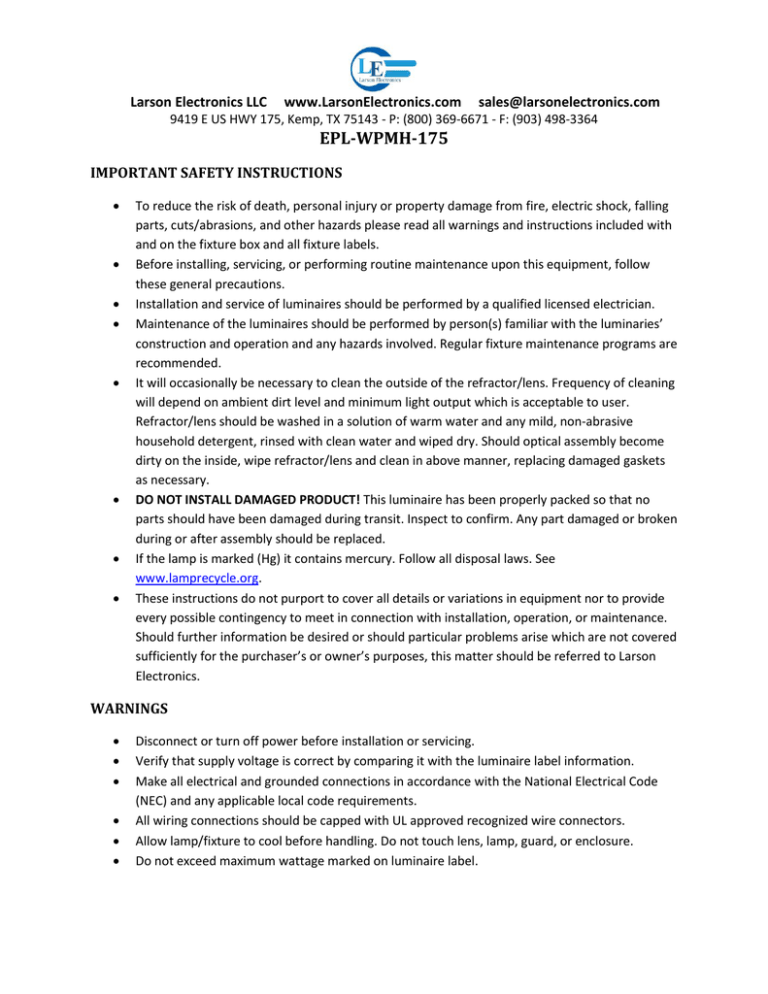 Larson Electronics LLC
www.LarsonElectronics.com
sales@larsonelectronics.com
9419 E US HWY 175, Kemp, TX 75143 - P: (800) 369-6671 - F: (903) 498-3364
EPL-WPMH-175
IMPORTANT SAFETY INSTRUCTIONS








To reduce the risk of death, personal injury or property damage from fire, electric shock, falling
parts, cuts/abrasions, and other hazards please read all warnings and instructions included with
and on the fixture box and all fixture labels.
Before installing, servicing, or performing routine maintenance upon this equipment, follow
these general precautions.
Installation and service of luminaires should be performed by a qualified licensed electrician.
Maintenance of the luminaires should be performed by person(s) familiar with the luminaries'
construction and operation and any hazards involved. Regular fixture maintenance programs are
recommended.
It will occasionally be necessary to clean the outside of the refractor/lens. Frequency of cleaning
will depend on ambient dirt level and minimum light output which is acceptable to user.
Refractor/lens should be washed in a solution of warm water and any mild, non-abrasive
household detergent, rinsed with clean water and wiped dry. Should optical assembly become
dirty on the inside, wipe refractor/lens and clean in above manner, replacing damaged gaskets
as necessary.
DO NOT INSTALL DAMAGED PRODUCT! This luminaire has been properly packed so that no
parts should have been damaged during transit. Inspect to confirm. Any part damaged or broken
during or after assembly should be replaced.
If the lamp is marked (Hg) it contains mercury. Follow all disposal laws. See
www.lamprecycle.org.
These instructions do not purport to cover all details or variations in equipment nor to provide
every possible contingency to meet in connection with installation, operation, or maintenance.
Should further information be desired or should particular problems arise which are not covered
sufficiently for the purchaser's or owner's purposes, this matter should be referred to Larson
Electronics.
WARNINGS






Disconnect or turn off power before installation or servicing.
Verify that supply voltage is correct by comparing it with the luminaire label information.
Make all electrical and grounded connections in accordance with the National Electrical Code
(NEC) and any applicable local code requirements.
All wiring connections should be capped with UL approved recognized wire connectors.
Allow lamp/fixture to cool before handling. Do not touch lens, lamp, guard, or enclosure.
Do not exceed maximum wattage marked on luminaire label.
Larson Electronics LLC


www.LarsonElectronics.com
sales@larsonelectronics.com
9419 E US HWY 175, Kemp, TX 75143 - P: (800) 369-6671 - F: (903) 498-3364
Follow all lamp manufacturer's warnings, recommendations and restrictions on lamp operation
including but not limited to: ballast type, burning position, replacement, and recycling.
Use only lamps that comply with ANSI standards.
CAUTION




Wear gloves and safety glasses at all times when removing luminaire form carton, installing,
servicing or performing maintenance.
Avoid direct eye exposure to the light source while it is on.
Keep combustible and other materials that can burn away from lamps/lens.
Do not operate in close proximity to persons, combustible materials or substances affected by
heat or drying.
Failure to follow any of these instructions could void product warranties.
INSTALLATION
1. Unpack the fixture and remove the door by loosening the two captive closure screws just far
enough to allow the door to swing open. Remove any internal packing material.
2. Remove the reflector from housing. The two screws need only be loosened for reflector
removal.
3. Mount the housing to the wall using three bolts (installer to provide). Note: If Hazardous unit is
being installed it comes with a Wall Bracket attached. DO NOT REMOVE. Mount to wall using 4
bolts (installer to provide).
CAUTION: Do not mount upside down. In upside down orientation the fixture is not suitable for
wet locations.
4. Caulk the mounting holes to prevent moisture entry. (NOT REQUIRED FOR HAZARDOUS
LOCATIONS)
5. If the luminaire is mounted over a rough surface a weatherproof sealant type of caulking
compound should be used to provide a water tight seal between the luminaire and the
mounting surface.
Top Entry
1. Remove the threaded plug in the top-entry threaded conduit opening.
2. Apply pipe thread sealant to threads to prevent moisture entry ( NOT SUITABLE FOR USE IN
HAZARDOUS LOCATIONS).
3. Install ¾ - 14 NPT threaded conduit. (FOR HAZARDOUS LOCATIONS: a bead of water proof
sealant should be added to the outside of the installed conduit between it and the Luminaire
housing.)
4. Pull wiring into the luminaire and make the appropriate supply wire connections.
Larson Electronics LLC
www.LarsonElectronics.com
sales@larsonelectronics.com
9419 E US HWY 175, Kemp, TX 75143 - P: (800) 369-6671 - F: (903) 498-3364
Back Entry Over a Recessed Outlet Box (Not suitable for use in hazardous locations)
1. Remove the 1 ½" diameter knock-out from the back of the housing and any sharp edges that
may damage the wire insulation.
2. Be certain that the hole is positioned over the recessed outlet box.
3. Pull supply wires through the hole into the luminaire and make the appropriate connections.
4. Reposition all supply wires and supply wire connections back through the hole and into the
outlet box.
Caution: Do not leave any wiring inside the fixture. Supply wire in contact with hot internal
components may cause insulation failure, a short circuit condition and damage to the fixture.
5. Re-install the door and prop open using the door prop.
6. Plug in the connectors between the ballast and supply lines.
7. Install the reflector and tighten two screws securely.
8. Install the proper lamp, tightening it securely.
9. Swing the door closed and tighten the closure screws securely.
MAINTENANCE
Relamping and Cleaning
1. Disconnect electrical power to the fixture location.
2. Open the door by loosening the two captive closure screws and prop open.
3. Remove the lamp and discard it in a safe and legal manner.
4. Wipe the reflector and the glass refractor with a clean dry cloth to remove any dust and dirt.
5. Install the correct new type lamp, close the door, and retighten the closure screws.
Electrical Component Replacement
1. Disconnect electrical power to the fixture location.
2. Open the door by loosening the two captive closure screws and prop open.
3. Disconnect the power between the supply and ballast.
4. Remove the door from the housing for easy maintenance.
5. Tag all wiring that will be disconnect to assure proper rewiring.
6. Remove any components that need to be replaced being sure to save the attachment hardware.
Note the orientation and position of the components before removing them to insure proper
positioning of the new components. Position the new components and attach them with the
original hardware. Be certain all fasteners are fully engaged and/or tightened.
7. Rewire the components according to the marked tags and approved wiring practices. Use wire
connectors that are suitable for 150° C temperature exposure. When completed check all wiring
to insure that all connections are good and no wires are pinched.
8. Install the door onto the housing and connect supply leads.
9. Close the door and tighten closure screws.