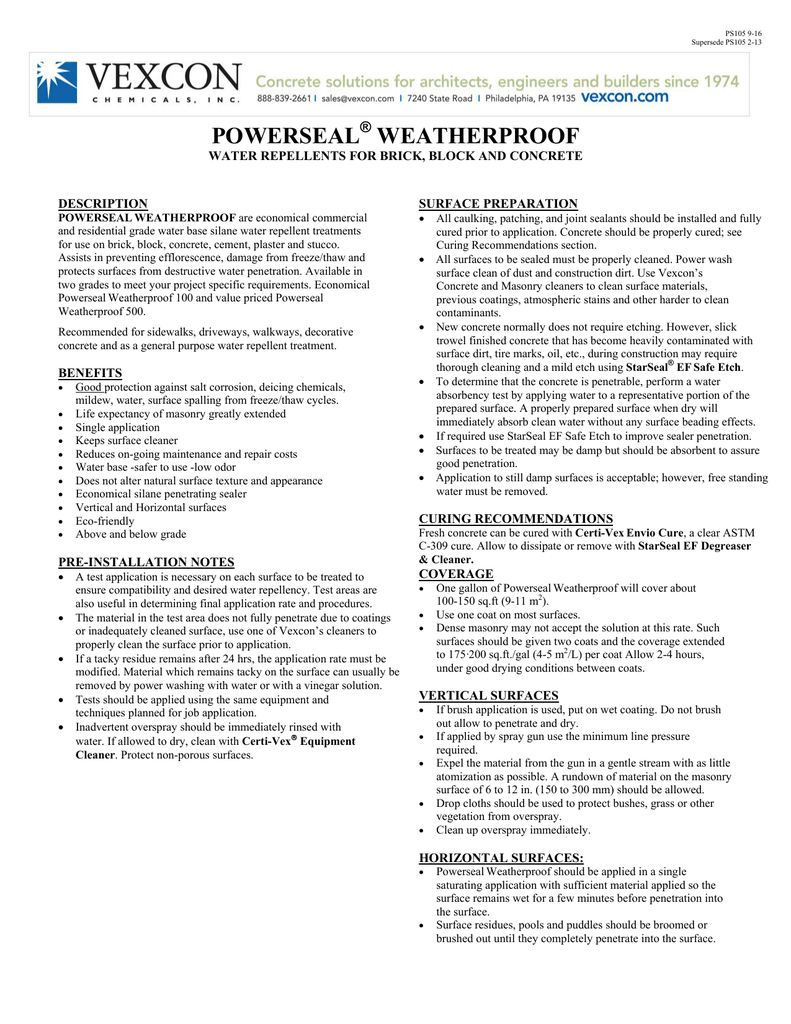 PS105 9-16
Supersede PS105 2-13
POWERSEAL® WEATHERPROOF
WATER REPELLENTS FOR BRICK, BLOCK AND CONCRETE
DESCRIPTION
POWERSEAL WEATHERPROOF are economical commercial
and residential grade water base silane water repellent treatments
for use on brick, block, concrete, cement, plaster and stucco.
Assists in preventing efflorescence, damage from freeze/thaw and
protects surfaces from destructive water penetration. Available in
two grades to meet your project specific requirements. Economical
Powerseal Weatherproof 100 and value priced Powerseal
Weatherproof 500.
Recommended for sidewalks, driveways, walkways, decorative
concrete and as a general purpose water repellent treatment.
BENEFITS











Good protection against salt corrosion, deicing chemicals,
mildew, water, surface spalling from freeze/thaw cycles.
Life expectancy of masonry greatly extended
Single application
Keeps surface cleaner
Reduces on-going maintenance and repair costs
Water base -safer to use -low odor
Does not alter natural surface texture and appearance
Economical silane penetrating sealer
Vertical and Horizontal surfaces
Eco-friendly
Above and below grade
PRE-INSTALLATION NOTES





A test application is necessary on each surface to be treated to
ensure compatibility and desired water repellency. Test areas are
also useful in determining final application rate and procedures.
The material in the test area does not fully penetrate due to coatings
or inadequately cleaned surface, use one of Vexcon's cleaners to
properly clean the surface prior to application.
If a tacky residue remains after 24 hrs, the application rate must be
modified. Material which remains tacky on the surface can usually be
removed by power washing with water or with a vinegar solution.
Tests should be applied using the same equipment and
techniques planned for job application.
Inadvertent overspray should be immediately rinsed with
water. If allowed to dry, clean with Certi-Vex Equipment
Cleaner. Protect non-porous surfaces.
SURFACE PREPARATION







All caulking, patching, and joint sealants should be installed and fully
cured prior to application. Concrete should be properly cured; see
Curing Recommendations section.
All surfaces to be sealed must be properly cleaned. Power wash
surface clean of dust and construction dirt. Use Vexcon's
Concrete and Masonry cleaners to clean surface materials,
previous coatings, atmospheric stains and other harder to clean
contaminants.
New concrete normally does not require etching. However, slick
trowel finished concrete that has become heavily contaminated with
surface dirt, tire marks, oil, etc., during construction may require
thorough cleaning and a mild etch using StarSeal® EF Safe Etch.
To determine that the concrete is penetrable, perform a water
absorbency test by applying water to a representative portion of the
prepared surface. A properly prepared surface when dry will
immediately absorb clean water without any surface beading effects.
If required use StarSeal EF Safe Etch to improve sealer penetration.
Surfaces to be treated may be damp but should be absorbent to assure
good penetration.
Application to still damp surfaces is acceptable; however, free standing
water must be removed.
CURING RECOMMENDATIONS
Fresh concrete can be cured with Certi-Vex Envio Cure, a clear ASTM
C-309 cure. Allow to dissipate or remove with StarSeal EF Degreaser
& Cleaner.
COVERAGE



One gallon of Powerseal Weatherproof will cover about
100-150 sq.ft (9-11 m2).
Use one coat on most surfaces.
Dense masonry may not accept the solution at this rate. Such
surfaces should be given two coats and the coverage extended
to 175·200 sq.ft./gal (4-5 m2/L) per coat Allow 2-4 hours,
under good drying conditions between coats.
VERTICAL SURFACES





If brush application is used, put on wet coating. Do not brush
out allow to penetrate and dry.
If applied by spray gun use the minimum line pressure
required.
Expel the material from the gun in a gentle stream with as little
atomization as possible. A rundown of material on the masonry
surface of 6 to 12 in. (150 to 300 mm) should be allowed.
Drop cloths should be used to protect bushes, grass or other
vegetation from overspray.
Clean up overspray immediately.
HORIZONTAL SURFACES:


Powerseal Weatherproof should be applied in a single
saturating application with sufficient material applied so the
surface remains wet for a few minutes before penetration into
the surface.
Surface residues, pools and puddles should be broomed or
brushed out until they completely penetrate into the surface.
SPECIAL NOTES

Allow 5-7- days for the product to fully react before
evaluation.
Full water repellency may take up to 7 days to develop.
Do not apply water repellent treatment when surface
temperatures are below or expected to fall below 40°F
(4.4°C).
Do not apply water repellent treatment when surface
temperatures are above 85°F (29°C).
Do not apply water repellent treatment on windy days.
Mix well before each use and during application.
Application should not be attempted if it has rained in the past
3 or 4 days or if rain is anticipated within 24 hours after
application.
Do not apply to frozen surfaces.
Equipment Clean up: Use water when wet and Certi-Vex
Equipment Cleaner when dry. Flush with water before use.
Shelf Life: If properly stored in its original sealed container,
six months. Rotate your stock.
For use by experienced contractors.
Storage/ Handling: Store in tightly sealed original factory
container. Keep from freezing and exposure to moisture. Store
at room temperature prior to use. Care should be taken to keep
dirt, water and contaminants away from the opening of
containers.
Delivery: Deliver materials to site in manufacturer's original,
unopened containers and packaging, with labels clearly
identifying product name and manufacturer.
Proper application of Vexcon material is the responsibility of
the installer or user. Telephone consultation and/or field visits
by Vexcon personnel are for the sole purpose of making
technical recommendations only, and not for providing
quality control or supervision on location.













PACKAGING
Powerseal Weatherproof is available in 55.gallon drums and
5-gallon pails. Contact Vexcon directly to discuss your customized
packaging requirements.
HEALTH AND SAFETY


Use only with adequate ventilation
Use of gloves, goggles and other protective clothing is advised
when using this product.
 (If swallowed, do not induce vomiting.
 For use by experienced applicators only.
Vexcon SDS PS105 is an integral part of the safety and application
of our product. A short synopsis is provided in this product data
sheet. Before using this Vexcon product it is advisable to obtain a
copy of the SDS from vexcon.com.
PHYSICAL PROPERTIES




Color
Dry Time
Solids
Flash Point
100
While Emulsion
1 1/2 hours
6% Minimum
1570 F (660 C) min.
500
White Emulsion
1 1/2 hours
10% Minimum
1570 F (660 C) min.
CONTACT [email protected]
Additional product information, technical assistance and customer
service are available by contacting Vexcon Chemicals directly or
our distributors.

vexcon.com

[email protected]

[email protected]
 Voice: 888.839.2661

[email protected]

Fax: 215.332.9997
SPECIFICATIONS/COMPLIANCE
 VOC -<100 grams/liter or <0.83#/gal
 Meets:
- US EPA AIM - Waterproofing Sealers and Treatments
- OTC - Waterproofing Concrete/Masonry Sealers
- LADCO/MRPO - Waterproofing Concrete/Masonry Sealers
- CEPA/EC - Waterproofing Concrete/Masonry Sealers
- CARB - Waterproofing Concrete/Masonry Sealers
- SCAQMD - Rule 1113-Waterproofing Concrete/Masonry
Sealers
 LEED NC category/points: For detailed information visit
vexcon.com/green
 Specification SS·W-11OC-Federal Specification for Water
Repellency.
 CSI Reference: 07 19 16
WARRANTY
LIMITED WARRANTY: Vexcon warrants for a period of one (1) year from the date of manufacture that the goods supplied hereunder shall be of its standard quality and free of defects, and conforms to (a) Vexcon's published specifications in force on the date of acceptance by Vexcon of
the order and (b) the sample which has been made available for testing by buyer prior to sale. Any claim under this warranty must be made in writing to Vexcon Chemicals within sixty (60) days after such non-conformity is first discovered. As the EXCLUSIVE REMEDY for any breach of
this Limited Warranty, Vexcon at its option shall replace nonconforming goods or refund the purchase price. Since methods of use and application are beyond Vexcon's control, this Limited Warranty IS IN LIEU OF ALL OTHER WARRANTIES EXPRESSED OR IMPLIED,
INCLUDING, BUT NOT LIMITED TO, THOSE CONCERNING MERCHANTABILITY OR FITNESS FOR A PARTICULAR PURPOSE. THIS LIMITED WARRANTY IS ALSO IN LIEU OF ANY OTHER POSSIBLE LIABILITIES OF VEXCON, WHETHER ALLEGED TO
ARISE BY AGREEMENT OR BY OPERATION OF LAW, RESPECTING THE SALE, APPLICATION, USE OR FUNCTION OF VEXCON'S PRODUCTS, INCLUDING BUT NOT LIMITED TO CLAIMS OF NEGLIGENCE, GROSS NEGLIGENCE, MISUSE, STORAGE
DAMAGE, MISAPPLICATION, ACCIDENT, STRICT LIABILITY OR ANY OTHER TORT. No person is authorized by Vexcon to assume for it any other liability of any kind in connection with the sale or use of products manufactured and sold by it, and there are no oral agreements or
warranties collateral to or affecting any sale or use. All of the foregoing arises under the substantive law of Pennsylvania without regard to principles of conflicts of laws.
LIMITATION OF LIABILITY: IN ALL EVENTS VEXCONS LIABILITY SHALL BE LIMITED TO THE PURCASHE PRICE OF PURCHASED PRODUCTS. IN NO EVENT SHALL VEXCON BE LIABLE FOR PERSONAL INJURY OR PROPERTY DAMAGE, REAL OR
PERSONAL, ATTRIBUTED TO ITS PRODUCTS, NOR FOR ANY EXCAVATION, REMOVAL, REAPPLICATION, DOWN TIMES, CLEANUP, LOSS OF USE, LOSS OF OPPORTUNITY, LOSS OF MARKET VALUE, LOSS OF RENTAL VALUE OR FOR ANY LOSS OF
PROFITS OR OTHER SPECIAL, INCIDENTAL, RESULTING, CONSEQUENTIAL OR EXEMPLARY DAMAGES.