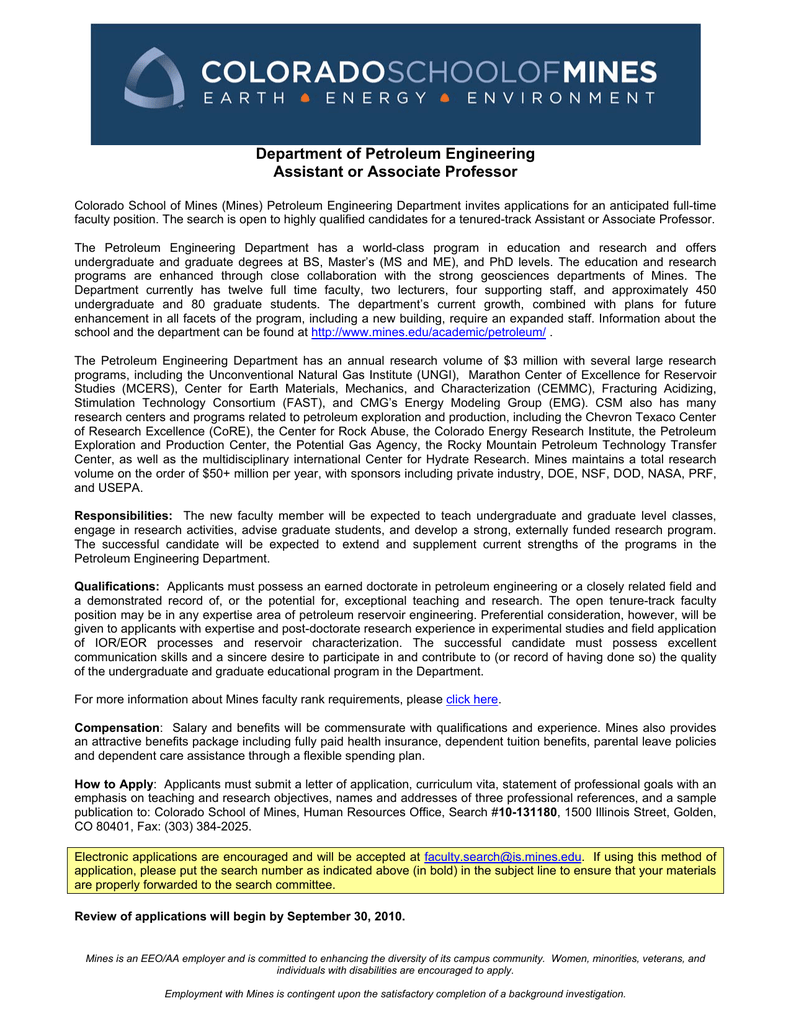 Department of Petroleum Engineering
Assistant or Associate Professor
Colorado School of Mines (Mines) Petroleum Engineering Department invites applications for an anticipated full-time
faculty position. The search is open to highly qualified candidates for a tenured-track Assistant or Associate Professor.
The Petroleum Engineering Department has a world-class program in education and research and offers
undergraduate and graduate degrees at BS, Master's (MS and ME), and PhD levels. The education and research
programs are enhanced through close collaboration with the strong geosciences departments of Mines. The
Department currently has twelve full time faculty, two lecturers, four supporting staff, and approximately 450
undergraduate and 80 graduate students. The department's current growth, combined with plans for future
enhancement in all facets of the program, including a new building, require an expanded staff. Information about the
school and the department can be found at http://www.mines.edu/academic/petroleum/ .
The Petroleum Engineering Department has an annual research volume of $3 million with several large research
programs, including the Unconventional Natural Gas Institute (UNGI), Marathon Center of Excellence for Reservoir
Studies (MCERS), Center for Earth Materials, Mechanics, and Characterization (CEMMC), Fracturing Acidizing,
Stimulation Technology Consortium (FAST), and CMG's Energy Modeling Group (EMG). CSM also has many
research centers and programs related to petroleum exploration and production, including the Chevron Texaco Center
of Research Excellence (CoRE), the Center for Rock Abuse, the Colorado Energy Research Institute, the Petroleum
Exploration and Production Center, the Potential Gas Agency, the Rocky Mountain Petroleum Technology Transfer
Center, as well as the multidisciplinary international Center for Hydrate Research. Mines maintains a total research
volume on the order of $50+ million per year, with sponsors including private industry, DOE, NSF, DOD, NASA, PRF,
and USEPA.
Responsibilities: The new faculty member will be expected to teach undergraduate and graduate level classes,
engage in research activities, advise graduate students, and develop a strong, externally funded research program.
The successful candidate will be expected to extend and supplement current strengths of the programs in the
Petroleum Engineering Department.
Qualifications: Applicants must possess an earned doctorate in petroleum engineering or a closely related field and
a demonstrated record of, or the potential for, exceptional teaching and research. The open tenure-track faculty
position may be in any expertise area of petroleum reservoir engineering. Preferential consideration, however, will be
given to applicants with expertise and post-doctorate research experience in experimental studies and field application
of IOR/EOR processes and reservoir characterization. The successful candidate must possess excellent
communication skills and a sincere desire to participate in and contribute to (or record of having done so) the quality
of the undergraduate and graduate educational program in the Department.
For more information about Mines faculty rank requirements, please click here.
Compensation: Salary and benefits will be commensurate with qualifications and experience. Mines also provides
an attractive benefits package including fully paid health insurance, dependent tuition benefits, parental leave policies
and dependent care assistance through a flexible spending plan.
How to Apply: Applicants must submit a letter of application, curriculum vita, statement of professional goals with an
emphasis on teaching and research objectives, names and addresses of three professional references, and a sample
publication to: Colorado School of Mines, Human Resources Office, Search #10-131180, 1500 Illinois Street, Golden,
CO 80401, Fax: (303) 384-2025.
Electronic applications are encouraged and will be accepted at [email protected] If using this method of
application, please put the search number as indicated above (in bold) in the subject line to ensure that your materials
are properly forwarded to the search committee.
Review of applications will begin by September 30, 2010.
Mines is an EEO/AA employer and is committed to enhancing the diversity of its campus community. Women, minorities, veterans, and
individuals with disabilities are encouraged to apply.
Employment with Mines is contingent upon the satisfactory completion of a background investigation.