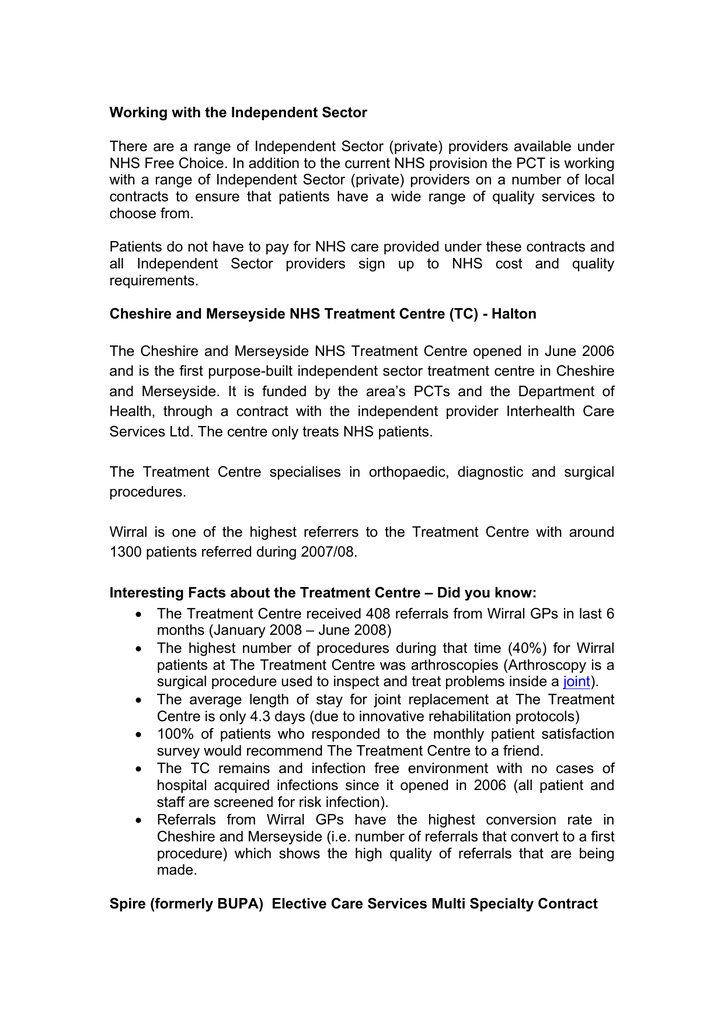 Working with the Independent Sector
There are a range of Independent Sector (private) providers available under
NHS Free Choice. In addition to the current NHS provision the PCT is working
with a range of Independent Sector (private) providers on a number of local
contracts to ensure that patients have a wide range of quality services to
choose from.
Patients do not have to pay for NHS care provided under these contracts and
all Independent Sector providers sign up to NHS cost and quality
requirements.
Cheshire and Merseyside NHS Treatment Centre (TC) - Halton
The Cheshire and Merseyside NHS Treatment Centre opened in June 2006
and is the first purpose-built independent sector treatment centre in Cheshire
and Merseyside. It is funded by the area's PCTs and the Department of
Health, through a contract with the independent provider Interhealth Care
Services Ltd. The centre only treats NHS patients.
The Treatment Centre specialises in orthopaedic, diagnostic and surgical
procedures.
Wirral is one of the highest referrers to the Treatment Centre with around
1300 patients referred during 2007/08.
Interesting Facts about the Treatment Centre – Did you know:
• The Treatment Centre received 408 referrals from Wirral GPs in last 6
months (January 2008 – June 2008)
• The highest number of procedures during that time (40%) for Wirral
patients at The Treatment Centre was arthroscopies (Arthroscopy is a
surgical procedure used to inspect and treat problems inside a joint).
• The average length of stay for joint replacement at The Treatment
Centre is only 4.3 days (due to innovative rehabilitation protocols)
• 100% of patients who responded to the monthly patient satisfaction
survey would recommend The Treatment Centre to a friend.
• The TC remains and infection free environment with no cases of
hospital acquired infections since it opened in 2006 (all patient and
staff are screened for risk infection).
• Referrals from Wirral GPs have the highest conversion rate in
Cheshire and Merseyside (i.e. number of referrals that convert to a first
procedure) which shows the high quality of referrals that are being
made.
Spire (formerly BUPA) Elective Care Services Multi Specialty Contract
Wirral PCT continues to be one of the highest referrers to the Multi Specialty
Contract with Spire, which offers additional choice/capacity in the specialties
of ENT, Urology, Gynaecology, Gastroenterology, Minor Surgery and
Orthopaedics.
Classic Hospitals – Bariatric (weight loss) Surgery Contract
A Bariatric (weight loss) Surgery contract set up by NW Specialist
Commissioning Team with Classic Hospitals commenced on schedule in
October 2007. Surgery will now be available at hospitals in Liverpool,
Macclesfield and Hull (complex procedures).
Access to the service is via the PCT Complex Case Team following
successful completion of the PCTs approved pathway, including attending the
Lifestyle and Weight Management Service for 12 week course.
Fresenius – Renal Services Contract
The Renal National Service Framework (NSF) highlighted the fact that renal
failure affects 5-10% of the general population and the patient choice
regarding the renal replacement therapy they receive is paramount.
It is known that the number of patients requiring dialysis is increasing by
around 8% per annum and that robust plans need to be established in order
to meet this growing need.
Cheshire and Merseyside Renal Strategy Group (RSG) produced a 5 year
strategic framework based upon a thorough review of existing local services
and a projection of need that principally focussed on establishing new facilities
in areas with no existing dialysis capacity but recognised that some existing
facilities would benefit from modernisation and expansion.
Following a competitive tendering exercise the contract was awarded to
Fresenius and achieved financial close on 20 December 07.
Developments in Wirral:
Arrowe Park is one of 3 specialist renal centres in Cheshire and Merseyside.
There are currently 7 haemodialysis stations at Clatterbridge dialysis unit
caring for around 28 patients.
The unit transferred over to the management of Fresenius Medical care on
Monday 4th February 2008 and on transfer new machines, new dialysis chairs
and facilities were established in the existing facility.
The existing NHS staff working at Clatterbridge will continue to work in the
unit which will be expanded to 12 stations and will move to a new location on
the Clatterbridge hospital site. This new unit will be open in early August
2008.
Improving Access to Diagnostics
The PCT Commissioning Department has been working to source additional
capacity to enable Wirral GPs to directly access diagnostic services (such at
MRI, CT scans, ultrasound etc) with a view to supporting the PCTs strategy to
treat more patients outside of hospital, prevent avoidable hospital referrals
and where a patient does require referral to secondary care – ensuring that
they are more fully "worked up" in primary care before they attend the hospital
to help facilitate 18 weeks Referral to Treatment.
In order to introduce an element of choice and plurality of provision the PCT
has successfully commissioned capacity from a range of local providers,
including Wirral University Hospital NHS Foundation Trust (WUTH),
Clatterbridge Centre for Oncology (CCO) and Countess of Chester NHS
Foundation Trust (CoC) and Peninsula Health (new provider)
In addition, the PCT has also negotiated improved accessibility to diagnostic
services access for patients in terms of shorter waiting times for appointments
and reporting and in the future, access to evening and weekend appointments
in some modalities.
Press Release
7 July, 2008
£2 million invested so that Wirral residents can have diagnostic tests faster
Wirral patients can have diagnostic tests such as an MRI or CAT scan much faster
now thanks to an investment of more than £2 million by Wirral Primary Care Trust.
Under a new system called GP Direct Access, patients can avoid being referred
through the hospital system for the tests. Instead GPs can refer directly in just two
weeks and the results are returned within a week. If a hospital referral is needed,
patients can choose where they want to go for treatment.
Wirral PCT has invested more than £2 million over the next three years to fund GP
Direct Access. Dr. Abhi Mantgani, Medical Director and Lead for Diagnostics, said
the new system would remove the worry of waiting for patients living with an
undiagnosed condition. "Direct access means exactly that. GPs in Wirral can now
refer patients directly for tests that can rule out or recognise problems such as
tumours or bleeding within the brain, disc problems in the spine, ligament injuries in
joints or tumours within the chest or abdomen. It makes a range of diagnostic
services available easily and faster than ever through a choice of providers," said Dr.
Mantgani.
These providers include Arrowe Park Hospital, Clatterbridge Centre for Oncology, the
Countess of Chester and a new provider, Peninsula Health, for patients'
convenience. ,
The extra funding has also paid for increased capacity in local hospitals for faster
access to ultrasound tests and scanning for osteoprosis. Many of these services will
be offered in evening or Saturday morning sessions at convenient locations.
Kathy Doran, Wirral PCT's Chief Executive, said "A great deal is being done in Wirral
to increase patient choice and improve access to services. Giving patients more say
in how, when and where they receive their hospital treatment is what patients tell us
they want.We have taken this forward by investing an additional two million pounds
over three years to increase the range of diagnostic services that GPs can access
directly."
Alan McFerran from Upton was referred by his GP for an MRI scan at Arrowe Park
Hospital after developing sciatica. Alan had his test within a week of referral which
pinpointed multiple disc prolapses and a compression on his spinal cord which is now
being treated Said Alan: "I had my test on the Sunday and my results were back
within forty-eight hours. The difference in the NHS today is just amazing."
Community physiotherapist Jane Harris (pictured) consulted her GP in March after
several months of pain and tingling in her fingers. Within three weeks Jane became
one of the first patients in Wirral to have a nerve conduction test carried out by
Peninsula Health in a medical centre in Birkenhead.
The test measures the electrical activity of muscles and enables early detection or
rules out nerve compression and muscle weakness disorders which can be chronic
and very debilitating. This confirmed that Jane was suffering from carpal tunnel
syndrome (caused by pressure on the nerve that passes through the wrist) and
would need an operation.
Said Jane: "I was very impressed by GP direct access. Without it, it would have
been a lengthy process between referrals and treatment. The test results were back
within a week, ruling out any other problems which was very reassuring. For people
without medical training it must be a big relief to have the results back so quickly."
For more information about GP Direct Access or any other developments in Wirral
PCT services visit www.wirralpct.nhs.uk or call Wirral PCT's Have Your Say helpline
free on 0800 085 1547.
Reducing Audiology Waiting Times
Over the last year hundreds of Wirral residents have benefited from the latest
hearing aid technology and an improved patient journey, under a new contract
with the independent sector and new ways of working at Wirral Hospital Trust.
The Modernising Hearing Aids Service programme (MHAS) was designed to
improve and update the audiology services available to its patients in the
NHS. This initiative included increased investment in hearing aid services,
through the provision of digital hearing aids, the introduction of information
technology based assessment and fitting procedures together with increased
rehabilitation time and follow up arrangements.
Like many areas across the Country Wirral saw waiting list for Audiology climb
causing long delays for patients due to the large number of people who
needed to be changed over from their old analogue hearing aids to the new
digital hearing aids. This was compounded by shortages in Audiologists which
has gradually been addressed through increases in the number of people
being trained.
As part of the Wirral Primary Care Trust (PCT) plans to deliver a patient-led
NHS and to meet targets to cut waiting times by 2008, the PCT invested in a
contract with Spire Murrayfield (formerly BUPA Hospitals) to provide
Audiology assessments for patients referred by their GP and currently on the
audiology waiting list. During 2007/08 all 780 patients on that list were treated.
As a consequence of this contract and a major redesign of how Audiology
Services are delivered at Wirral University Teaching Hospital NHS Foundation
Trust, waiting list for audiology assessment are now down to 6 weeks.
The PCT is working with a range of providers to introduce a shorter pathway
for patients and more choice in where their care is delivered.
Choice of Hospital Leaflet
Here is the Wirral version of the leaflet. Can you ask WHIS to do a page for
each of our providers and a page showing "where can I have my treatment"
table.