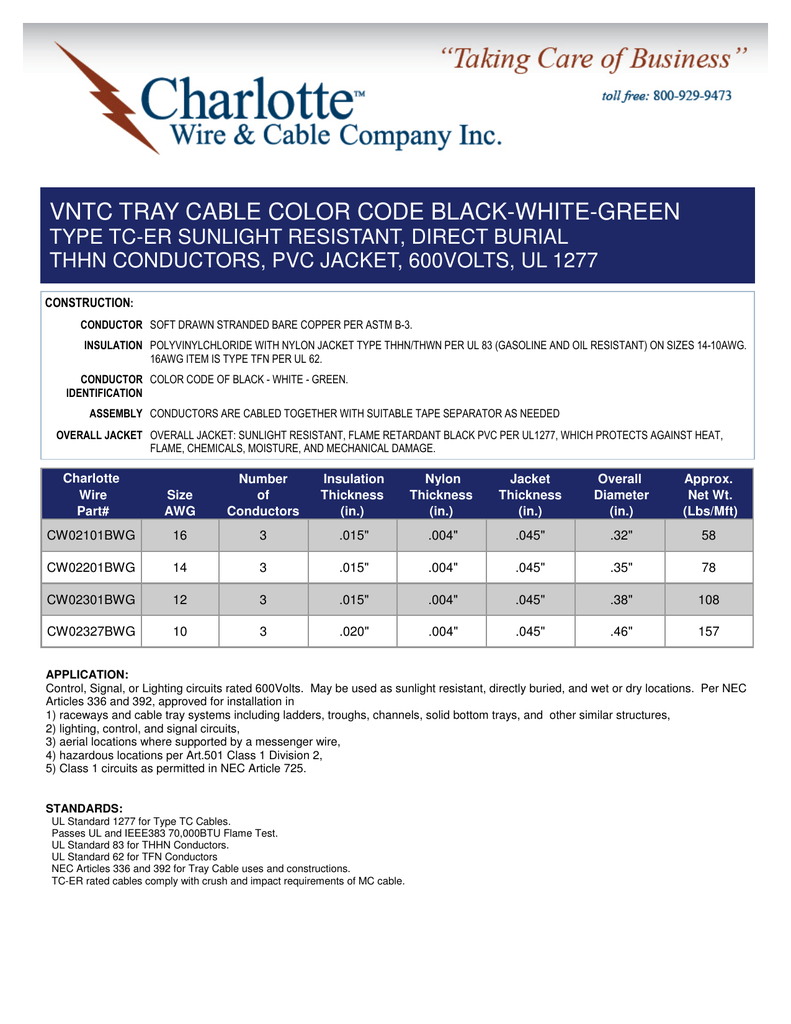 VNTC TRAY CABLE COLOR CODE BLACK-WHITE-GREEN
TYPE TC-ER SUNLIGHT RESISTANT, DIRECT BURIAL
THHN CONDUCTORS, PVC JACKET, 600VOLTS, UL 1277
CONSTRUCTION:
CONDUCTOR SOFT DRAWN STRANDED BARE COPPER PER ASTM B-3.
INSULATION POLYVINYLCHLORIDE WITH NYLON JACKET TYPE THHN/THWN PER UL 83 (GASOLINE AND OIL RESISTANT) ON SIZES 14-10AWG.
16AWG ITEM IS TYPE TFN PER UL 62.
CONDUCTOR COLOR CODE OF BLACK - WHITE - GREEN.
IDENTIFICATION
ASSEMBLY CONDUCTORS ARE CABLED TOGETHER WITH SUITABLE TAPE SEPARATOR AS NEEDED
OVERALL JACKET OVERALL JACKET: SUNLIGHT RESISTANT, FLAME RETARDANT BLACK PVC PER UL1277, WHICH PROTECTS AGAINST HEAT,
FLAME, CHEMICALS, MOISTURE, AND MECHANICAL DAMAGE.
Charlotte
Wire
Part#
Size
AWG
Number
of
Conductors
Insulation
Thickness
(in.)
Nylon
Thickness
(in.)
Jacket
Thickness
(in.)
Overall
Diameter
(in.)
Approx.
Net Wt.
(Lbs/Mft)
CW02101BWG
16
3
.015"
.004"
.045"
.32"
58
CW02201BWG
14
3
.015"
.004"
.045"
.35"
78
CW02301BWG
12
3
.015"
.004"
.045"
.38"
108
CW02327BWG
10
3
.020"
.004"
.045"
.46"
157
APPLICATION:
Control, Signal, or Lighting circuits rated 600Volts. May be used as sunlight resistant, directly buried, and wet or dry locations. Per NEC
Articles 336 and 392, approved for installation in
1) raceways and cable tray systems including ladders, troughs, channels, solid bottom trays, and other similar structures,
2) lighting, control, and signal circuits,
3) aerial locations where supported by a messenger wire,
4) hazardous locations per Art.501 Class 1 Division 2,
5) Class 1 circuits as permitted in NEC Article 725.
STANDARDS:
UL Standard 1277 for Type TC Cables.
Passes UL and IEEE383 70,000BTU Flame Test.
UL Standard 83 for THHN Conductors.
UL Standard 62 for TFN Conductors
NEC Articles 336 and 392 for Tray Cable uses and constructions.
TC-ER rated cables comply with crush and impact requirements of MC cable.