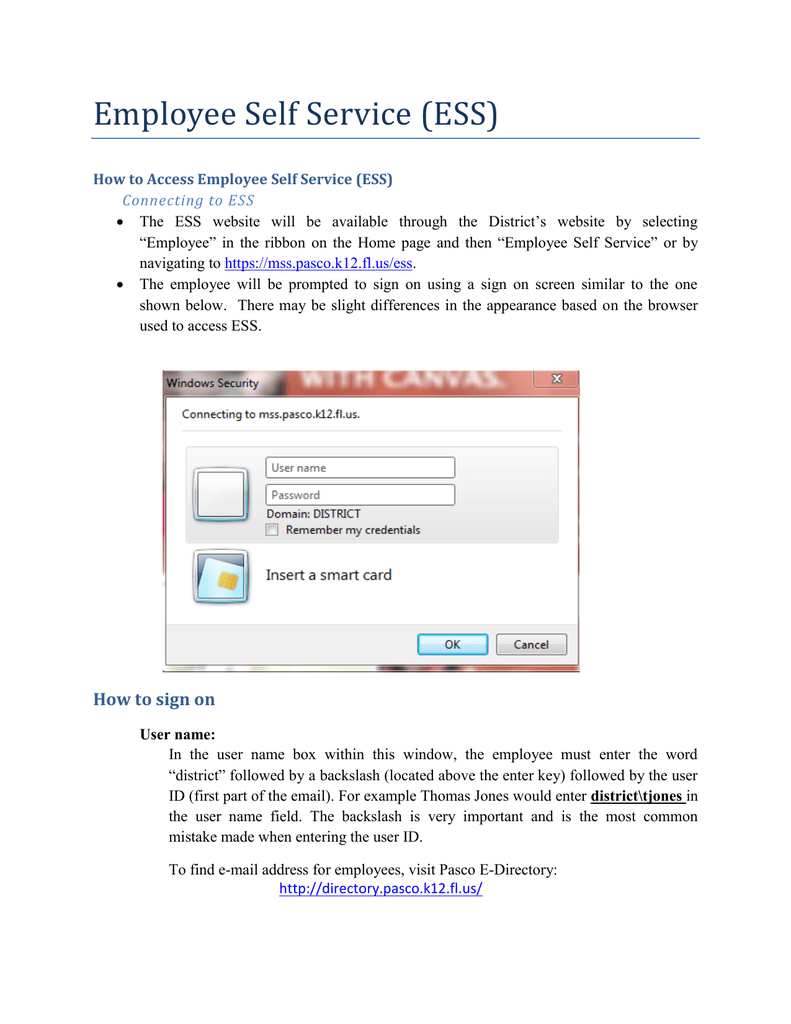 Employee Self Service (ESS)
How to Access Employee Self Service (ESS)
Connecting to ESS
 The ESS website will be available through the District's website by selecting
"Employee" in the ribbon on the Home page and then "Employee Self Service" or by
navigating to https://mss.pasco.k12.fl.us/ess.
 The employee will be prompted to sign on using a sign on screen similar to the one
shown below. There may be slight differences in the appearance based on the browser
used to access ESS.
How to sign on
User name:
In the user name box within this window, the employee must enter the word
"district" followed by a backslash (located above the enter key) followed by the user
ID (first part of the email). For example Thomas Jones would enter district\tjones in
the user name field. The backslash is very important and is the most common
mistake made when entering the user ID.
To find e-mail address for employees, visit Pasco E-Directory:
http://directory.pasco.k12.fl.us/
Press tab to move to the password field.
ESS Password:
Enter the password. Passwords are case sensitive.
 For employees that have access to Munis online system (Financials, HR/Payroll,
etc.). The password for ESS will be the same as the Munis password.
 ESS Password for employees that use Esembler - the ESS password will be the
same as their Esembler password.
 ESS Password for employees without Munis or Esembler access –the ESS
password should be the same as their email password.
What does the employee do if they cannot remember their password?
Email [email protected] Employee needs to include a phone number where
they can be reached.
Navigating within ESS:
At the Home screen, select Employee Self Service to access the Welcome screen. The
Welcome screen contains summary information as well as announcements and access to
side menu options.
Side Menu Options:
 Benefits: provides a summary of your current year elections
 Open Enrollment: select to make 2014 Benefit elections.
NOTE: Benefits open enrollment will be processed
through ESS. The 2014 benefit choices will be
available on October 7, 2013.



Certifications: view certification details
Expense Reports: For future use.
Pay/Tax Information: shows payroll information, year to date
totals, W-4 election details, access to W-2, salary notification,
paycheck simulator, and direct deposit information.
NOTE: ESS will feature paycheck information
for payrolls from October 11, 2013 forward.
EZSTUB will still be available for all check stubs
or deposit advises for payrolls prior to October
11, 2013.




Performance Evaluation: For future use.
Personal Information: contains address, telephone number, alternate e-mail,
dependent information, and emergency contacts. Employees may view and
change personal information through ESS.
Substitute Teaching: Not in use at this time.
Training Opportunities: Not in use at this time.
SIGNING OUT OF ESS
How to sign out of ESS

*******VERY IMPORTANT******
TO LOG OUT OF ESS, YOU MUST COMPLETELY EXIT/QUIT THE
WEB BROWSER (i.e., FIREFOX, CHROME, SAFARI, INTERNET
EXPLORER).
 ON A MAC: YOU MUST GO TO THE SAFARI TAB (OR THE
BROWSER YOU ARE USING) AND SELECT "QUIT SAFARI" TO
COMPLETELY EXIT/QUIT THE WEB BROWSER.