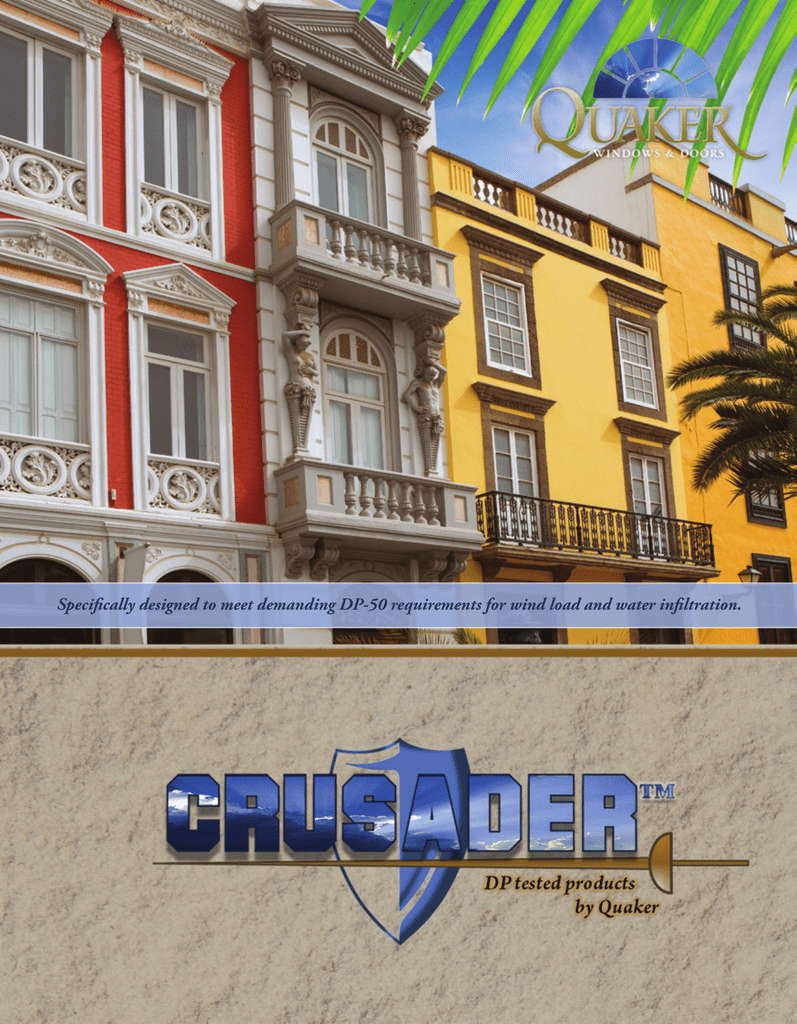 Specifically designed to meet demanding DP-50 requirements for wind load and water infiltration.
STANDARD FEATURES
NOT JUST STRONG...IT'S DP-50 STRONG
Special reinforcements are added throughout the window to
achieve the strength and rigidity.
• Minimum DP-50 structural rating.
• Cost effective alternative to aluminum or wood clad products with
better thermal efficiencies too.
• Structurally sound construction is well disguised by clean,
contemporary designs which include pure-brite vinyl, simulated
brickmold exterior and BetterVue® screen mesh (screens available
on operating units only).
• Extruded J-Channel, fusion welded corners and top-of-the-line
hardware add value from head to sill.
Styles
Test Sizes
Single Hung
Double Hung
Casement
Horizontal Slider
Picture Window Patio Door
36" x 84" or 40" x 63"
36" x 84"
36" x 72"
63" x 44"
72" x 72"
72" x 82"
No vinyl upgrade necessary. The .062 gauge vinyl, as thick as
you'll find in the industry, is standard thickness for all Crusader
vinyl windows.
Quaker's standard I.G. package includes DSB glass for both panes.
Optional thicknesses are available. Glass stays intact thanks to
super-strong glazing sealant, specially formulated to stand up
to high winds and/or heavy rains.
DP-50 doesn't mean single units only. It's required for ganged
units too. To get there, Quaker uses an enhanced mulling system
specifically designed to withstand harsh elements. This sturdy
t-mull system works on Crusader Single Hungs, Double Hungs,
Horizontal Sliders and Picture Windows.
A 2" post mull system is also available. It's the requisite mull for
the Crusader Casement, but if needed, can also be used with all
other operating and fixed styles.
VINYL COLORS
Crusader Series windows and doors showcase an unmatched glossy appearance
in 3 vinyl colors. Our vinyl carries a 20-year warranty against peeling, rotting,
flaking, blistering or corroding.
5
Extruded
J-Channel
White
1
Structural Reinforcements
Sandstone
Beige
OPTIONAL PAINTED EXTERIOR VINYL COLORS
Quaker's superb painted exterior option adds some flair and color in the
demanding DP-50 world. But this is no ordinary paint. Like the Crusader
Series itself, our vinyl exterior paint is tough and durable. Heat reflective
exterior paint finish carries a 10-year warranty against fading or
significant discoloration.
6
White
Toffee
Earthtone
3
Simulated
Brickmold
Exterior
3/4" I.G. with
DSB Glass
Structural
Reinforcements
4
1
Fusion Welded
Corners on
Frame & Sash
2
.062 Thick Vinyl
Satin Creme
Chestnut
Dark Bronze
Beige
Holly
Black
Sandstone
Redwood
Metallic Grey
ADDITIONAL OPTIONS TO ENHANCE
APPEARANCE AND/OR FUNCTIONALITY
· Grids between the glass (single color or two-tone)
· Contoured grids between the glass
(single color or two-tone)
· Simulated divided lites
· Limited travel device
· Aluminum mesh screen
· Extension jambs
GLASS OPTIONS
· Energy 3S
· Energy Max
· Energy Plus
· Energy Bronze, Energy Grey, etc.
Performance rating applies to
single and twin units only.
Jan 2015
quakerwindows.com
Contact your local Quaker Window dealer.
Call 1-800-347-0438 or visit our
website for the dealer near you.