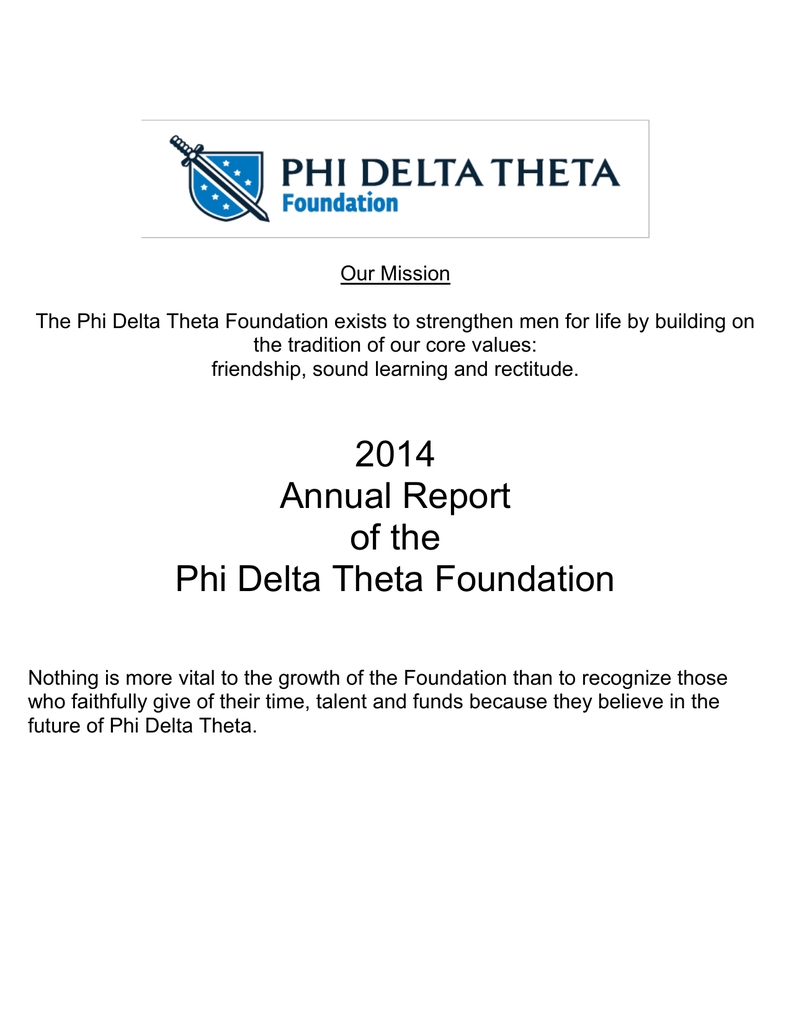 Our Mission
The Phi Delta Theta Foundation exists to strengthen men for life by building on
the tradition of our core values:
friendship, sound learning and rectitude.
2014
Annual Report
of the
Phi Delta Theta Foundation
Nothing is more vital to the growth of the Foundation than to recognize those
who faithfully give of their time, talent and funds because they believe in the
future of Phi Delta Theta.
The Living Bond Society
The Living Bond Society acknowledges those who have informed the Phi Delta Theta Foundation of a
planned gift or bequest in their will which directs a gift to the Foundation. Gifts to the Foundation are
deductible for estate tax purposes and are an effective, lasting way to provide for the future of Phi Delta
Theta. Members of the Living Bond Society are presented with a lapel pin and certificate recognizing their
generosity.
Living Bond Society gifts include, but are not limited to:
 A bequest in a will or trust
 A charitable gift annuity
 A charitable remainder trust
 An individual retirement account
 A gift of personal property or securities
 A gift of real estate
 An insurance policy naming the Foundation as beneficiary or policy owner
Members of the Living Bond Society as of December 31, 2014
Rollin & Virginia Child, Ohio Wesleyan '37
Pierce Abernethy, Texas Tech '70
Howell E. Adams Jr., Vanderbilt '53
James G. Clarke, Washburn '97
Norman E. Allen, Pacific '88
Bruce & Julie Clayton, Colgate '89*
Thomas N. Arnett Jr., Utah '69
W. Andrew Cole, Hanover 2011*
Hughes A. Bagley, Washington (St. Louis) '45
R. Lynn Cole, Franklin '50
James R. Ballard, Colorada State '59
John C. & Bernadine B. Cooper, UCLA '58
Larry G. Baratta, Tampa '81
Nicholas R. Cordt, Wichita State 2004
Jon R. Barbee, Kansas State '68
Charles G. Crawley, North Carolina '48
Kevin J. Bazner, Robert Morris 2006
Roy H. Cunningham, West Virginia '93
Charles B. Bechtold, Pennsylvania '41
Amy K. & Mark A. Dagitz, Drake '86
Robert J. Behnke, Washington '43
Winthrop G. Dale, Idaho, '46
J.M. Anthony Danby, North Carolina State '50
Jay Bennett, San Diego State '92
Paul H. Bennett, Ohio Wesleyan '38
Larry Y. Dann, Northwestern '67*
Michael P. Benvenuto, Eastern Washington '97
Joseph T. Darden, CA State-Sacramento '96
Robert A. Biggs, Georgia Southern '76
Jeffrey N. Davis, Southeast Missouri State '94
Paul D. Davis, Union '27
Louis S. Binder, Minnesota '76
Donald A.W. Blaney Sr., Chicago '45
Leon R. DeLieto, Syracuse '64
Ford A. Dickerhoff, Akron '44
Gary J. Brookins, Kent State '57*
Stanley D. Brown, Nebraska '36
John W. Doolittle, Wisconsin '34
James P. Burra, CA State-Northridge '67
Kevin R. Dreiling, Wichita State '90
Roland D. Carlson, Cornell '54
C. Michael Dunn, Dalhousie '88
John B. & Helen C. Dunn, Colgate '17
James V. Carlton Jr., Cincinnati '71
John C. Durance, Kent State '46
W. Timothy Cashin, Santa Barbara '59
Adam D. Cegavske, Nevada 2004
Eugene M. Eckel, Nebraska '94
Joseph Edward, New Mexico '91
Michael D. Eikenberry, Butler '94
Eisaman Family
Charles W. Elliott, Kansas '43
Mr. and Mrs. Charles W. Ellis III, MIT '48
David & Robin Ente, Washington & Jefferson
2001
Donald N. Ewan, SMU '53
Rich & Heather Fabritius, Kent State '94
James R. Favor
Col. Jerry J. Felmley, USAF (Ret) Illinois '54
Franklin W. Fietsch, Amherst '29
Michael J. Fimiani, South Florida '89
Robert F. Fitzpatrick, Maryland '58
Archibald Fletcher, Case '54
William & Greta Flory, Chicago '48
J. Terry & Carolyn A. Frey, Franklin '67
Sam Furrow, Tennessee '65
W. Roland Galvin, Richmond '26
Henry & Lois Gannon, Arizona '38
Ronald J. Garon, Tampa '80
Paul L. Garver, UCLA '48
Neil R. Gazel, Wisconsin '43
George Geiger, Wisconsin '22
Albert J. Geis, Purdue '53
Harold D. Gibson, Ohio State '44*
Russell G. Gillard, Kettering '73
Stanley W. & Phyllis Gilson, California State '70
Lonnie W. Glen III, Wichita State '81
Jeff D. Gragg, Southwestern Oklahoma State '86*
William D. Grasse, New Mexico '62
W. L. & Lynn Gray, TCU '70
Mark D. Haden, Richmond '74*
Geoffrey H. Halliday, Missouri '77
Kenneth D. Hansen, New Mexico '55
Dennis W. Harrington, South Carolina '67
John G. Hazlett, Miami '49
Shane P. Heiman, Emporia 2006
Geoff C. Hicks, Texas Tech '93
Chris & Jennifer Hill, Washburn '94
Henry L. Hilton-Green Jr., Auburn '43
Arthur F. Hoge III, Westminster '75
James E. Hoover, Purdue '49
James E. A. Hopkins, Chicago '28
Harvey Hubbell Trust
Thorn C. Huffman, Louisiana State '69*
J. Kevin Hughes, Southern California '50
Peter Ezekiel Ippel, Cornell 2002
Moreland R. Irby, Richmond '43
Archibald K. Jean, Gettysburg '34
Edward L. Jenkins, Missouri '34
Bryan Scott Johnson, Clemson '81
F. Ross Johnson, Manitoba '52
John H. Jory, Colorado '32
Joseph M. Kacena, Chicago '36
John G. Kapp, Pennsylvania '25
Earl Keim, Michigan '50
Robert D. & Dorine D. Kelly, Eastern Kentucky '72
James M. Kidd Jr., Alabama '41
Stephen J. Kleberg, Texas Tech '69
David W. Klinke, Iowa Wesleyan '64
Joseph D. & Victoria J. Kohout, Creighton '98
Victor W. Kramer, Arizona State '61
Robert H. Larsen, Maryland '52
Nelson Hall Layman, Illinois '35
Nathaniel J. & Marcia Love, Michigan '81
Frederic B. Lowrie, Butler '71
Donald P. Luboski, Missouri '58*
Luby R. Lynch Jr., Duke '49
Brian & Susannah Malison, Tampa '94
Curtis W. Mann, Idaho '35
Paul J. Marin, UCLA '51
Wells Martin Jr., Miami – Ohio '42
Adrien A. Maught, Pennsylvania '33
C. Thomas McClintic, Butler '96
James & Frances McCool, CO College '21
Neill M. McCown, Oklahoma '52
Paul N. McDaniel, Westminster '43
Kelly Michael McFarland, Ohio 2001
John S. McGavic, Iowa '32
Ryan E. Meador, Westminster 2000
Donald H. Melchiorre, Cincinnati '59
John W. Mendenhall, Whitman '20
Donald L. Miller, Cincinnati '49
Harbaugh Miller, Pittsburgh '23
Plez V. Miller III, Kansas '75
Rene J. Miller, UCLA '55
David P. Millett, Denison '63
Forrest C. Mischler, Allegheny '61
Joseph W. Moore, Pittsburgh '50
William M. Moran, Tennessee Tech '71
Marc & Jennifer Mores, Iowa State '95
Charles G. D. Morgan, Georgia Tech '37
Robert A. Morgan, Auburn '37
Gaylon D. Morris, Southwestern '88
Jesse & Courtnee Moyer, South Dakota 2003
Diego Munoz-Flores, Southern California '80*
Phillip C. Murray, Purdue '42
Malcolm & Anna Myers, Penn State '21
John R. Naum, Akron '58
Walker A. Nicholson, Baylor '59
S. George Notaras, Lawrence '53
Gerard L. Novario, Ohio U. '43
Jason O'Rourke, New Mexico '98
James D. Oatts Jr., Akron '26
Gerald M. Ober, Arizona '52
Eugene M. Olander, Kansas State '60
Mario Osuna, San Jose State '81
Woody Owen, South Florida '67
Paul G. Palmer, Colorado State '33
Robert S. Pasquinucci, Ashland '93
Joseph & Jennifer Passanise, Southwest Missouri
'91
Allan W. Paul, Manitoba '74
D. B. Peck Jr., Ohio '42
Marvin J. Perry, Maryland '53
John A. Poole, North Carolina '65
C. W. "Chuck" Poore Jr., South Dakota '61
Rudy Porchivina, San Jose State '89
Leslie O. Pouch, Vermont '29
Raymond Leonard Randall, Ohio '66
Kenneth T. Ransby, Manitoba '68
Spencer W. W. & Zorena W. Ravel, Colgate '33
L. Michael Ream, Franklin '52
J. David Reams, UCLA '32
Joe A. Reynolds, Oregon State '21
William R. Richardson, Tampa '80
Robert P. Roberts Jr., Ball State '74
James B. Robinson, Richmond '48
Kenneth A. Robinson, Colorado State '72
Kern G. Rodeberg, Minnesota '64
Herbert G. Rogers III, Mississippi '64
Jonathan Rogowski, Miami - Ohio 2011*
Jonathan K. Ross, South Carolina '97
Jonathan & Jennifer Routh, North Carolina State
'97
James & Margaret Rowan, Washington (St.
Louis) '40
Ralston Russell Jr., Ohio State '32
Ronald G. Saffer, Iowa State '63
Jeremy P. Sale, Mercer 2002
Michael G. Scarlatelli, Kettering '76
George H. Scatterday, Idaho '31
William C. Schaefer, Cincinnati '53
Roger E. Schanzle, Cincinnati '55
Robert B. Schuemann, Valparaiso '71
Albert R. Schuette, Denison'56
Steven H. Scott, Berkeley '88
Maurice and Dorothea Shaffer, Dickinson '30
James S. & Shirley V. Shilson, Virginia '31
Benoit Simoneau, McGill '99
Tamblin C. Smith, Pennsylvania '49
Raymond H. Steben Jr., Iowa State '60
George W. Sugden, Iowa State '46
Mr. & Mrs. Warren B. Swift, Dickinson '57
Robert C. Taggart, Washburn '51
Vernon R. "Rod" Tate, Maryland '61
Ralph O. Taylor, Missouri '40
Conrad Foster Thiede, Colgate '90
Nathan P. Thomas, Southeast Missouri '95
Don A. Thompson, Butler '66
Paul V. Troup, Purdue '63
Robert J. Turning, Akron '96
Christopher M. Uglanica, Alberta '92
Marc P. Ugo, Butler '92
Thomas W. Van Dyke, Kansas '60
Lothar A. Vasholz, Colorado '52
Marco A. Villa, Cal Riverside '96
Mario A. Villa, Texas 2003
Gary R. Wade, Tennessee '70
Frederick M. Warren Jr., Cincinnati '49
Tim Watkins, Ashland '77
Travis Webb, Missouri State '93
Jeremy R. Weber, Western Ontario'62
Christopher J. R. Weedon, La Verne 2009*
Edward G. Whipple, Hanover '74
Ralph W. Williams Jr., Georgia '55
Robert E. Wilson, Ohio Wesleyan '48
Wells & Joy Wohlwend, UCLA '52
Edward W. Wuest, Cincinnati '44
David S. Ziegler, Drake '77
Members of the Living Bond Society in the Chapter Grand are noted in italics.
The asterisk (*) denotes those who became a part of the Living Bond Society in 2014.