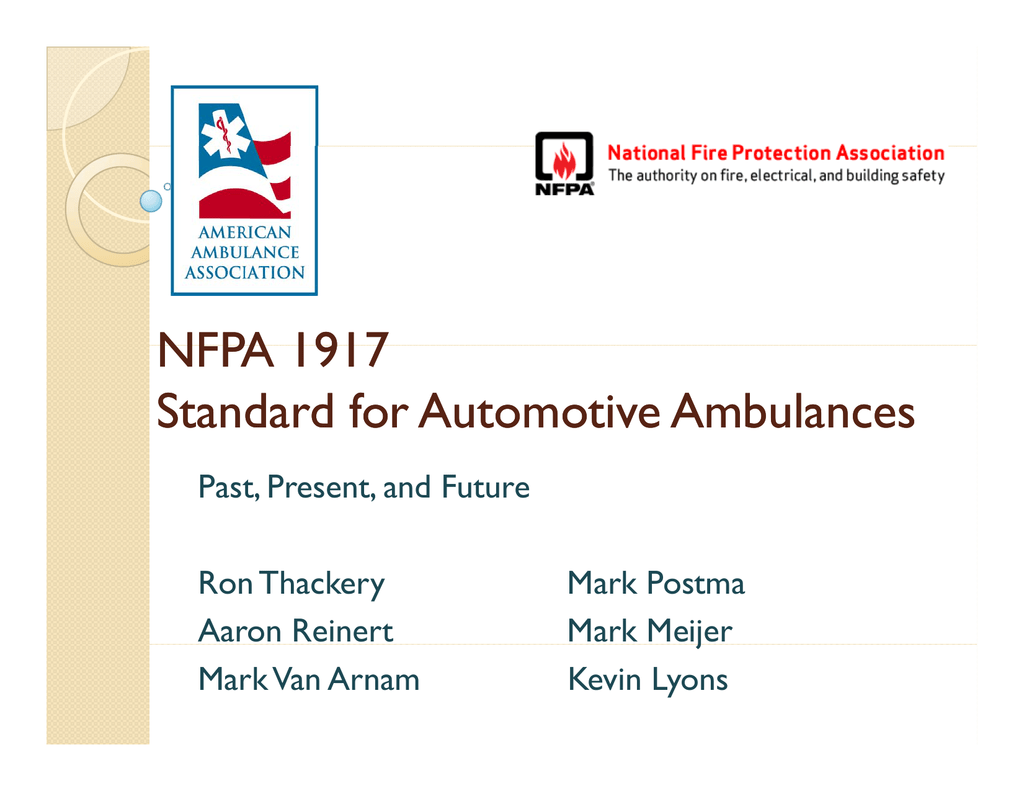 NFPA 1917
Standard for Automotive Ambulances
Past, Present, and Future
Ron Thackery
Aaron Reinert
Mark Van Arnam
Mark Postma
j
Mark Meijer
Kevin Lyons
History – KKK A
A--F
Government Services Administration
GSA
GSA
GSA
GSA
• A Purchasingg standard for Feds
• Early requirement for federal block grants
• Only standard available
• Adopted
p
byy manyy states to allow for grant
g
compliance
Why NFPA
GSA no longer wanted to develop
and
d maintain a nationall standard
d d
GSA looked for a EMS standard
setting body
NFPA has a history of developing
"consensus" or industry standards
The FEAR……
FEAR
All ambulances
will be red
All ambulances
will have a
water tank
All ambulances
will be
medium duty
Fire is taking
over
We won't be
able to afford
the result
Non-fire won
won'tt
have a voice
The Reality….
Technical Committee Membership
Enforcer 9%
(NASEMSO)
Insurance 3% (VFIS)
Installer Maintainer
3% (EVT)
Labor 12%
Manufacturer 30%
(AEV)
Research Testing 9%
Special Expert 6%
(Jim Green NIOSH)
User 27% (Aaron
Reinert, Mark Meijer,
Mark Postma, Ron
Th k )
Thackery)
Process
Technical Committee met first in June 2009
Committee charged to convert GSA KKK to
NFPA low hanging fruit only
NFPA,
Subject matter committees: Chassis, Electrical,
Exterior, Testing, Admin, Patient Function
Line by line approval by full committee
Simple Majority - approval
Process
Committee met
October 2011
August 2011,
public comment
p
period ends
Public
comment on
committee's
responses
June 2011,
committee
publishes
responses
t public
to
bli
comments
Report
published Feb
2012
Process
Technical Committee votes
on final standard
If passes would be published
May 2012
Final vote of NFPA
Association June 2012
Effective January 2013
Process
2013 – NASEMSO response to GSA
GSA recently indicated it would
essentially abandon KKK in 2013
State Regulatory Agencies will need to
act to designate applicable Standard
AAA Strategies
What to know…
know
New
Standard
• Will be a re-write of KKK
• Will continue to require certified lab testing of new
models and certain steps of customer units (not
New
everyone does this now)
Standard
New
Standard
• Requires an attendant to be able to reach all controls
from a seated position
What to know…
NIOSH Testing
NIOSH
Testing
NIOSH
Testing
NIOSH
Testing
• Partnership between NIOSH, National Institutes for
Standards and Technology and Homeland Security
• Looking at human factors for seating, equipment
placement, and patient care flow
• Some items already making it into new trucks
What will be Different?
Load capacity – 171 lbs per seated
position
ii
Seatbelt monitoringg system
y
Determine whether a seat is occupied and
seat belt attached after being occupied
Audible and visible warning device – for
cabb and
d patient compartment
Provided that pparkingg brake released and
unit not in Park
What will be Different?
Tire pressure monitors
Designate Health Care Provider seating positions
• Adjustable
Adj
bl to within
i hi 6" off patient
i
on cot
What will be Different?
AMD testing standards
Speed
p
– ggoverned for maximum speed
p
of 77 MPH
Chevrons – red and fluorescent yellow or green
Underbody lighting (Side-3 or 4) (Rear-1 or 2)
Establishes "lighting zones" in which all areas of the truck must display certain warning light.
Additional emergency
g y lights
g on the sides of the vehicle,, at the rear wheels and the rear side
quarter panels.
Interior cabinets marked with max weight rating
What will be Different?
Items > 3 lbs secured in compartment or by device to
withstand
h
d 10
10g force
f
Carbon monoxide detector
Mud flaps
Additional hand rails at every point of ingress
Certificate of compliance – exceptions to be corrected
before placing in service
What will be Different?
DO NOT MOVE – light connected to
doors, stowage racks and deployed
d i
devices
NFPA 1917 doesn't apply to Remounts or Bariatric units
Modifications
Hub Caps – easily removable for lug nut view
Vehicle Stability Control – not available on all chassis
Use of science in next version
171 lbs.
Back up
p alarm – can't be unarmed
What'ss Next?
What
NFPA Specs
p
have alreadyy shown up
p in Vehicle Bids to
Manufacturers
Will your state need to change state statue and or
administrative rules?
• VT and CT preparing specifications other than NFPA
NFPA 1917 Committee to begin review of published
standard
d d immediately
d l after
f issuance Release
R l
revised
d
Standard in 2015
• Committee members – old and new
What'ss Next?
What
NIOSH Testing (not currently
included)
• SSeating
i and
d restraints
i for
f attendants
d
rated to 30 MPH frontal and side
impacts
p
• Stretchers that will stay attached to the
floor and the patients will stay on them
• Testing
T i underway
d
• Roll testing of box and corner impacts
• Full scale testing (already funded)
What Can You Do?
Vehicle Design Standard
Implementation
•
•
•
•
•
Engage in the process
Talk to vendors
Investigate
Talk to your State EMS office
Provide input
How Much?