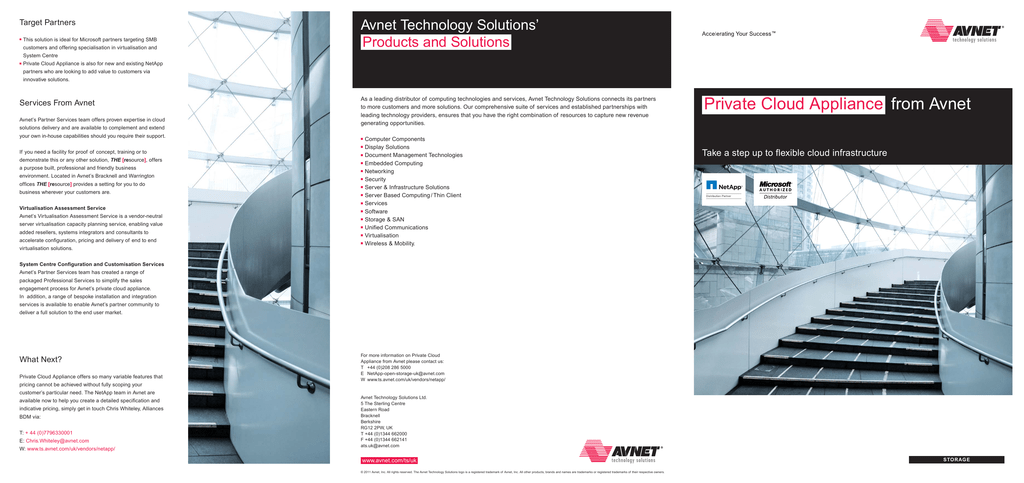 Target Partners
■
This solution is ideal for Microsoft partners targeting SMB
customers and offering specialisation in virtualisation and
Avnet Technology Solutions'
Products and Solutions
System Centre
■
Private Cloud Appliance is also for new and existing NetApp
partners who are looking to add value to customers via
innovative solutions.
Services From Avnet
Avnet's Partner Services team offers proven expertise in cloud
solutions delivery and are available to complement and extend
your own in-house capabilities should you require their support.
As a leading distributor of computing technologies and services, Avnet Technology Solutions connects its partners
to more customers and more solutions. Our comprehensive suite of services and established partnerships with
leading technology providers, ensures that you have the right combination of resources to capture new revenue
generating opportunities.
■
■
If you need a facility for proof of concept, training or to
demonstrate this or any other solution, THE [resource], offers
a purpose built, professional and friendly business
environment. Located in Avnet's Bracknell and Warrington
offices THE [resource] provides a setting for you to do
business wherever your customers are.
■
■
■
■
■
■
■
Virtualisation Assessment Service
Avnet's Virtualisation Assessment Service is a vendor-neutral
server virtualisation capacity planning service, enabling value
added resellers, systems integrators and consultants to
accelerate configuration, pricing and delivery of end to end
virtualisation solutions.
■
■
■
■
■
Computer Components
Display Solutions
Document Management Technologies
Embedded Computing
Networking
Security
Server & Infrastructure Solutions
Server Based Computing / Thin Client
Services
Software
Storage & SAN
Unified Communications
Virtualisation
Wireless & Mobility.
Private Cloud Appliance from Avnet
Take a step up to flexible cloud infrastructure
System Centre Configuration and Customisation Services
Avnet's Partner Services team has created a range of
packaged Professional Services to simplify the sales
engagement process for Avnet's private cloud appliance.
In addition, a range of bespoke installation and integration
services is available to enable Avnet's partner community to
deliver a full solution to the end user market.
What Next?
Private Cloud Appliance offers so many variable features that
For more information on Private Cloud
Appliance from Avnet please contact us:
T +44 (0)208 286 5000
E [email protected]
W www.ts.avnet.com/uk/vendors/netapp/
pricing cannot be achieved without fully scoping your
customer's particular need. The NetApp team in Avnet are
available now to help you create a detailed specification and
indicative pricing, simply get in touch Chris Whiteley, Alliances
BDM via:
T: + 44 (0)7796330001
E: [email protected]
W: www.ts.avnet.com/uk/vendors/netapp/
Avnet Technology Solutions Ltd.
5 The Sterling Centre
Eastern Road
Bracknell
Berkshire
RG12 2PW, UK
T +44 (0)1344 662000
F +44 (0)1344 662141
[email protected]
www.avnet.com/ts/uk
© 2011 Avnet, Inc. All rights reserved. The Avnet Technology Solutions logo is a registered trademark of Avnet, Inc. All other products, brands and names are trademarks or registered trademarks of their respective owners.
STORAGE
The Solution
Value Proposition
Elevator Pitch
Private Cloud Appliance from Avnet is an integrated solution providing a flexible, expandable and automated platform for
Private Cloud Appliance is an integrated solution from Avnet
delivering the latest Microsoft applications. It allows mid-sized enterprises to take advantage of private cloud technologies without
that allows SMBs to take advantage of NetApp storage within
having to invest in major new skill sets.
Microsoft private cloud solutions.
This platform-ready solution for Microsoft Virtual Infrastructure takes advantage of the unique integration between NetApp's
storage platform and Microsoft's System Centre, delivering all management tasks and workflows from a single management
Customer Benefits
interface. NetApp is the storage vendor of choice for Microsoft private cloud solutions, providing Microsoft applications with
advanced levels of automation and self-service.
■
Evolve from virtualisation to private cloud to: reduce costs,
accelerate the delivery of new applications and improve IT
Private Cloud Appliance is aimed at SMB customers upgrading a major application such as Exchange 2010, who want to take
advantages of the flexibility and automation provided by the latest cloud architectures. The solution is flexible and expandable for
efficiency
■
future applications and upgrades. Since the solution is based on a scalable architecture, customers with larger or more complex
initial requirements can be accommodated by scaling the hardware components.
Automate application delivery through a centralised,
simplified private cloud
■
Manage all tasks and workflows through a single console –
Microsoft System Centre
Microsoft Private Cloud and NetApp Integration
■
Common workflows are pre-configured
■
Take advantage of a reference architecture including:
management, hypervisor, compute and storage components
The unique value proposition from Microsoft and NetApp is the degree of integration between NetApp's advanced virtualisation
■
expandable via extra storage capacity and/or compute power
feature set, and the Microsoft Private Cloud solution. Comprehensive integration is provided at hardware, hypervisor, automation,
management and orchestration levels. Regardless of the compute layer chosen, the integration story with NetApp and Microsoft
The basic system is sized for current needs, yet is
■
Private Cloud Appliance simplifies the existing infrastructure.
remains the same and is outlined in the diagram shown.
Target Customers
■
The Integration Stack
Mid-sized enterprises, typically with employee counts of
200 – 750
Administration
Microsoft System Centre
Service Manager
Sample Scripts
Dynamic Data Center Toolkit for Hosters
Configuration
Management Database:
Fabric state
User Interface: Initiate
workflows
■
Customers looking to migrate to the latest version of
Microsoft applications such as Exchange 2010
■
Customers looking to implement a VDI solution
■
Customers looking for a simpler IT infrastructure that will
allow them to grow and add applications.
Orchestration
Opalis™
Opalis Integration Packs
End-to-end
workflows
Partner Benefits
■
Tap into a private cloud market that Forrester (2010) predicts will grow to $241 billion
Management
by 2020 with Avnet's Private Cloud Appliance. Private Cloud Appliance provides
Microsoft System Centre
Operations Manager
Microsoft System Centre
Vitual Machine Manger
MPs, PRO Tips,
SSP 2.0 Scripts
Manage processes
and operations
solutions customers really want
■
enterprises
■
services from NetApp, Microsoft and Avnet. The solution brings together:
Automation
NetApp
■
X86 Server x 2
■
Ethernet switch x 2
■
MS System Centre suite
■
A workflow pack
■
The hardware build – with gold image
■
Customer ready configuration (optional extra).
Take advantage of a private cloud solution that's aimed at the
mid-market when most of the offerings available target
affordable access to private cloud technologies, combining technology, software and
■
Move on from product only deals to offer the integrated
Windows PowerShell 2.0
PowerShell Toolkit
Centralised automation
and configuration
Priced for the mid-market, Private Cloud Appliance
challenges the perception that NetApp is expensive
■
With some versions of Microsoft Exchange now going out of
support your customers will be compelled to look at entire
infrastructure upgrades, not simply software
■
Virtualisation
Larger configurations are available on request.
Hardware
Windows Server ® 2008R2
Hyper-V™
SnapDrive® for Windows
SnapManager ® for Hyper-V
Virtualisation and
Resource Pools
WS-Man, PowerShell,
SMI-S Interfaces
Data ONTAP®, SDKs
Management and
Provisioning
Microsoft and NetApp are actively promoting their private
cloud synergies, creating market momentum that you can
leverage for new business purposes.