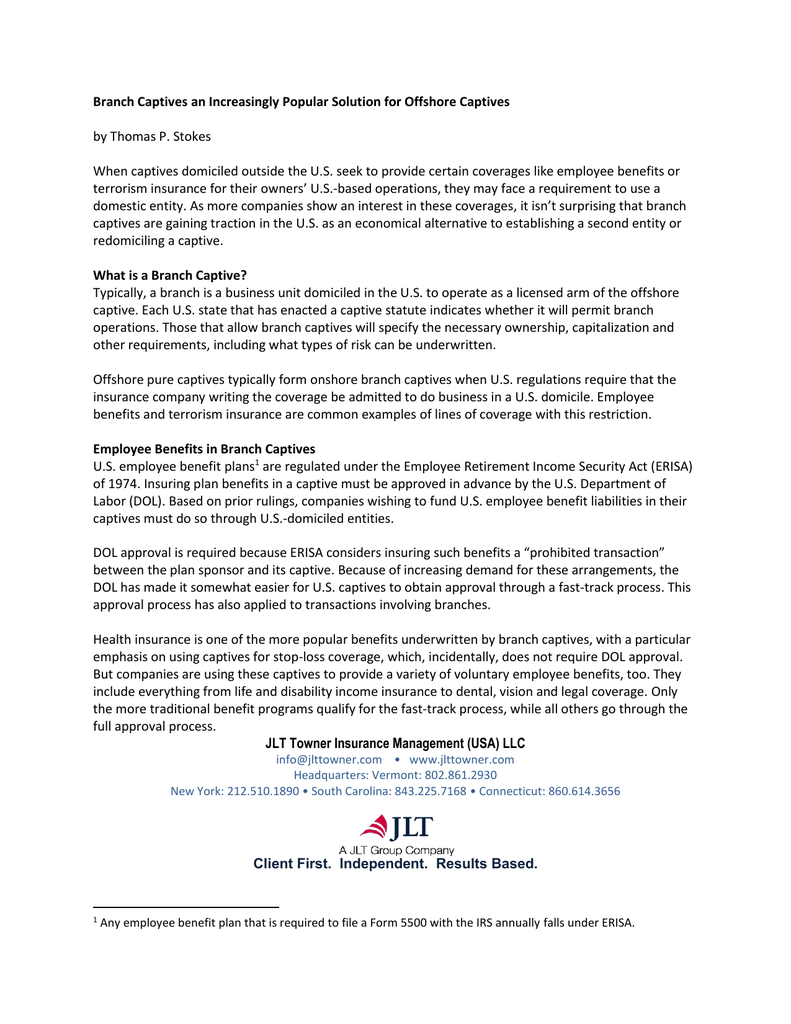 Branch Captives an Increasingly Popular Solution for Offshore Captives
by Thomas P. Stokes
When captives domiciled outside the U.S. seek to provide certain coverages like employee benefits or
terrorism insurance for their owners' U.S.-based operations, they may face a requirement to use a
domestic entity. As more companies show an interest in these coverages, it isn't surprising that branch
captives are gaining traction in the U.S. as an economical alternative to establishing a second entity or
redomiciling a captive.
What is a Branch Captive?
Typically, a branch is a business unit domiciled in the U.S. to operate as a licensed arm of the offshore
captive. Each U.S. state that has enacted a captive statute indicates whether it will permit branch
operations. Those that allow branch captives will specify the necessary ownership, capitalization and
other requirements, including what types of risk can be underwritten.
Offshore pure captives typically form onshore branch captives when U.S. regulations require that the
insurance company writing the coverage be admitted to do business in a U.S. domicile. Employee
benefits and terrorism insurance are common examples of lines of coverage with this restriction.
Employee Benefits in Branch Captives
U.S. employee benefit plans1 are regulated under the Employee Retirement Income Security Act (ERISA)
of 1974. Insuring plan benefits in a captive must be approved in advance by the U.S. Department of
Labor (DOL). Based on prior rulings, companies wishing to fund U.S. employee benefit liabilities in their
captives must do so through U.S.-domiciled entities.
DOL approval is required because ERISA considers insuring such benefits a "prohibited transaction"
between the plan sponsor and its captive. Because of increasing demand for these arrangements, the
DOL has made it somewhat easier for U.S. captives to obtain approval through a fast-track process. This
approval process has also applied to transactions involving branches.
Health insurance is one of the more popular benefits underwritten by branch captives, with a particular
emphasis on using captives for stop-loss coverage, which, incidentally, does not require DOL approval.
But companies are using these captives to provide a variety of voluntary employee benefits, too. They
include everything from life and disability income insurance to dental, vision and legal coverage. Only
the more traditional benefit programs qualify for the fast-track process, while all others go through the
full approval process.
JLT Towner Insurance Management (USA) LLC
[email protected] • www.jlttowner.com
Headquarters: Vermont: 802.861.2930
New York: 212.510.1890 • South Carolina: 843.225.7168 • Connecticut: 860.614.3656
Client First. Independent. Results Based.
1
Any employee benefit plan that is required to file a Form 5500 with the IRS annually falls under ERISA.
ERISA's requirements may drive the formation of a branch captive, but companies can expect many of
the advantages inherent in most captives. In the case of employee benefits, risk and claim management
are two reasons a branch captive is an attractive option.
Terrorism Coverage in Branch Captives
Companies are also using onshore captives to insure a portion of terrorism risk. To qualify for the federal
insurance backstop, this coverage must be underwritten by a domestic insurer. The latest details are
contained in the Terrorism Risk Insurance Program Reauthorization Act (TRIPRA) of 2015, which amends
the expiration of the original Terrorism Risk Insurance Act of 2002 and its successors to December 31,
2020 and changes other provisions.
These changes include a gradual rise in the backstop trigger from $100 million in insured losses in 2015
to $200 million by 2020. The amended law also increases insurers' copayments gradually from 15% to
20%.
TRIA commits the federal government to share risk with the private insurance market. Even with
increased limits and deductibles, TRIA remains a valuable component of many companies' risk
management strategies. U.S.-domiciled captives and branches qualify as domestic insurers for the
Department of the Treasury and can access the recoupment provisions of the federal backstop.
This coverage is indispensable to any enterprise with significant property, inventory or other facilities in
the U.S., as it provides property, business interruption, workers' compensation and other coverage.
Another important component of the TRIA backstop is that it includes recoupment provisions for
qualified losses caused by nuclear, chemical, biological or radiological (NCBR) events. Most commercial
terrorism policies either exclude or severely limit such coverage.
Other Benefits
Some foreign-domiciled captive owners use U.S. branches even when not required by law. They may
consider this an economical way to separate U.S.-sourced business from operations elsewhere, while
also achieving capital and operating efficiencies.
To learn more about branch captives and how they might apply to your U.S.-based risk, please feel free
to contact us by phone or email.
Tom Stokes is Managing Principal for JLT Towner and its U.S. Consulting Practice Leader.
JLT Towner Insurance Management (USA) LLC
[email protected] • www.jlttowner.com
Headquarters: Vermont: 802.861.2930
New York: 212.510.1890 • South Carolina: 843.225.7168 • Connecticut: 860.614.3656
Client First. Independent. Results Based.