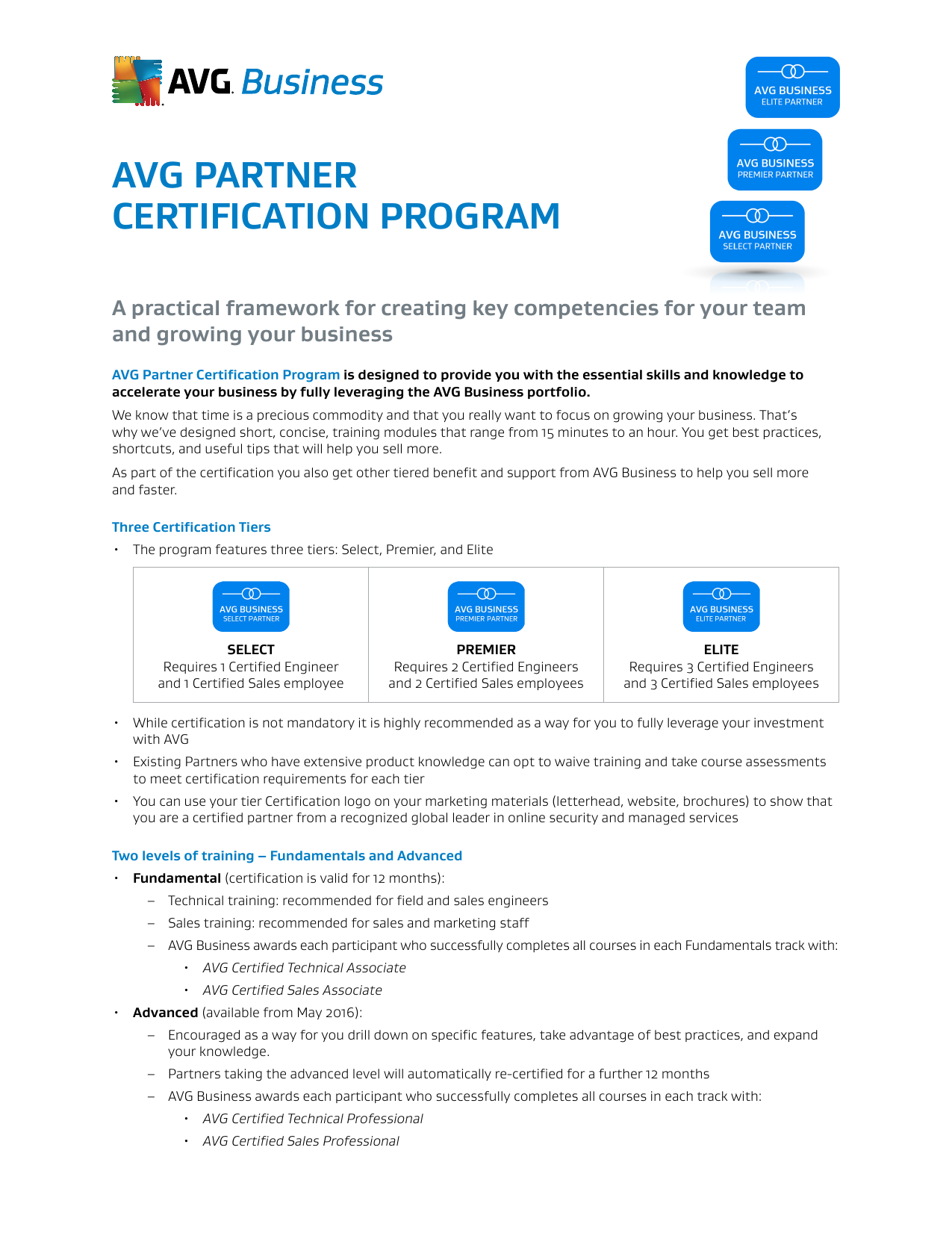 AVG Partner
Certification Program
A practical framework for creating key competencies for your team
and growing your business
AVG Partner Certification Program is designed to provide you with the essential skills and knowledge to
accelerate your business by fully leveraging the AVG Business portfolio.
We know that time is a precious commodity and that you really want to focus on growing your business. That's
why we've designed short, concise, training modules that range from 15 minutes to an hour. You get best practices,
shortcuts, and useful tips that will help you sell more.
As part of the certification you also get other tiered benefit and support from AVG Business to help you sell more
and faster.
Three Certification Tiers
• The program features three tiers: Select, Premier, and Elite
Select
Requires 1 Certified Engineer
and 1 Certified Sales employee
Premier
Requires 2 Certified Engineers
and 2 Certified Sales employees
Elite
Requires 3 Certified Engineers
and 3 Certified Sales employees
• While certification is not mandatory it is highly recommended as a way for you to fully leverage your investment
with AVG
• Existing Partners who have extensive product knowledge can opt to waive training and take course assessments
to meet certification requirements for each tier
• You can use your tier Certification logo on your marketing materials (letterhead, website, brochures) to show that
you are a certified partner from a recognized global leader in online security and managed services
Two levels of training – Fundamentals and Advanced
• Fundamental (certification is valid for 12 months):
– Technical training: recommended for field and sales engineers
– Sales training: recommended for sales and marketing staff
– AVG Business awards each participant who successfully completes all courses in each Fundamentals track with:
• AVG Certified Technical Associate
• AVG Certified Sales Associate
• Advanced (available from May 2016):
– Encouraged as a way for you drill down on specific features, take advantage of best practices, and expand
your knowledge.
– Partners taking the advanced level will automatically re-certified for a further 12 months
– AVG Business awards each participant who successfully completes all courses in each track with:
• AVG Certified Technical Professional
• AVG Certified Sales Professional
AVG products covered
Two training tracks are provided for both Technical and Sales training:
• Track 1: designed for Partners using or buying AVG Business Security Products and/or AVG CloudCare
• Track 2: designed for Partners using or buying our full solution set AVG Business Security Products, AVG
CloudCare and AVG Managed Workplace
Availability
• On-demand 24/7 from the AVG Partner Portals or directly from our learning platform
Languages
• Track 1: English, German, French, Portuguese and Spanish (available in English only at launch)
• Track 2: English and German (available in English only at launch)
Why Certify?
• Get recognition for your skills and knowledge with your customers
• Enhance the knowledge of your teams to upsell and maximize the full feature set of AVG portfolio • Go to market confidently with competitive, well priced solutions
Partner Certification Requirements at-a-Glance
Tier
Training requirements:
Fundamental and Advanced Courses
Annual re-certification
Select
Premier
Elite
1 Engineer Certified
1 Sales Certified
2 Engineer Certified
2 Sales Certified
3 Engineer Certified
3 Sales Certified
x
x
x
Select
Premier
Elite
x
x
x
x
x
x
x
Partner Certification Benefits at a Glance
Tier
Free Fundamental and Advanced training courses
Dedicated Partner Account Manager (PAM)
Access to Partner Portal
x
x
Solution selling support from PAM and Engineers
x
Exclusive invitations at special events
x
x
Early inclusion on BETA product enhancements
x
Yearly Business Plan with your Partner Account Manager
x
x
Lead referral
60 day Free Trials for all products
x
x
x
Demonstrations for all products
x
x
x
Invitations to Hot Topics webinars
x
x
x
For more information on certification and its benefits, contact your AVG Partner Account Manager
© 2016 AVG Netherlands BV. All Rights Reserved.
AVG is a registered trademark of AVG Netherlands BV. All trademarks are the property of their respective owners.