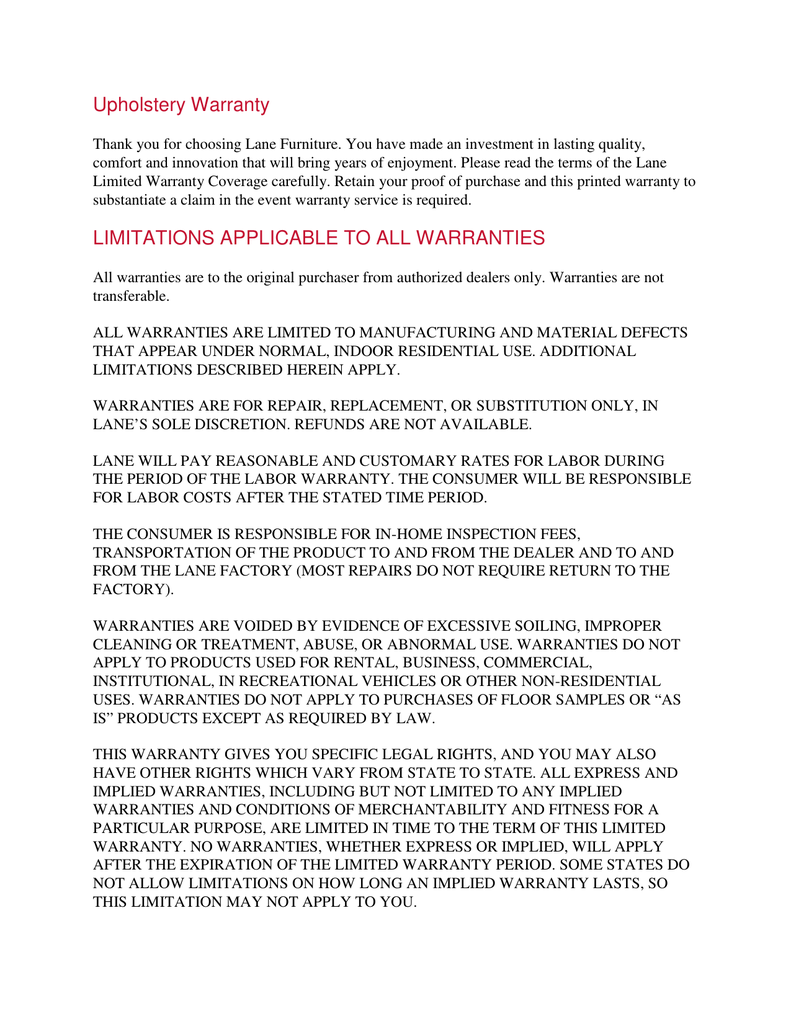 Upholstery Warranty
Thank you for choosing Lane Furniture. You have made an investment in lasting quality,
comfort and innovation that will bring years of enjoyment. Please read the terms of the Lane
Limited Warranty Coverage carefully. Retain your proof of purchase and this printed warranty to
substantiate a claim in the event warranty service is required.
LIMITATIONS APPLICABLE TO ALL WARRANTIES
All warranties are to the original purchaser from authorized dealers only. Warranties are not
transferable.
ALL WARRANTIES ARE LIMITED TO MANUFACTURING AND MATERIAL DEFECTS
THAT APPEAR UNDER NORMAL, INDOOR RESIDENTIAL USE. ADDITIONAL
LIMITATIONS DESCRIBED HEREIN APPLY.
WARRANTIES ARE FOR REPAIR, REPLACEMENT, OR SUBSTITUTION ONLY, IN
LANE'S SOLE DISCRETION. REFUNDS ARE NOT AVAILABLE.
LANE WILL PAY REASONABLE AND CUSTOMARY RATES FOR LABOR DURING
THE PERIOD OF THE LABOR WARRANTY. THE CONSUMER WILL BE RESPONSIBLE
FOR LABOR COSTS AFTER THE STATED TIME PERIOD.
THE CONSUMER IS RESPONSIBLE FOR IN-HOME INSPECTION FEES,
TRANSPORTATION OF THE PRODUCT TO AND FROM THE DEALER AND TO AND
FROM THE LANE FACTORY (MOST REPAIRS DO NOT REQUIRE RETURN TO THE
FACTORY).
WARRANTIES ARE VOIDED BY EVIDENCE OF EXCESSIVE SOILING, IMPROPER
CLEANING OR TREATMENT, ABUSE, OR ABNORMAL USE. WARRANTIES DO NOT
APPLY TO PRODUCTS USED FOR RENTAL, BUSINESS, COMMERCIAL,
INSTITUTIONAL, IN RECREATIONAL VEHICLES OR OTHER NON-RESIDENTIAL
USES. WARRANTIES DO NOT APPLY TO PURCHASES OF FLOOR SAMPLES OR "AS
IS" PRODUCTS EXCEPT AS REQUIRED BY LAW.
THIS WARRANTY GIVES YOU SPECIFIC LEGAL RIGHTS, AND YOU MAY ALSO
HAVE OTHER RIGHTS WHICH VARY FROM STATE TO STATE. ALL EXPRESS AND
IMPLIED WARRANTIES, INCLUDING BUT NOT LIMITED TO ANY IMPLIED
WARRANTIES AND CONDITIONS OF MERCHANTABILITY AND FITNESS FOR A
PARTICULAR PURPOSE, ARE LIMITED IN TIME TO THE TERM OF THIS LIMITED
WARRANTY. NO WARRANTIES, WHETHER EXPRESS OR IMPLIED, WILL APPLY
AFTER THE EXPIRATION OF THE LIMITED WARRANTY PERIOD. SOME STATES DO
NOT ALLOW LIMITATIONS ON HOW LONG AN IMPLIED WARRANTY LASTS, SO
THIS LIMITATION MAY NOT APPLY TO YOU.
EXCEPT AS SET FORTH IN THIS WARRANTY AND TO THE EXTENT PROVIDED BY
LAW, IN NO EVENT WILL LANE BE LIABLE FOR INCIDENTAL OR CONSEQUENTIAL
DAMAGES, EVEN IF IT HAD REASON TO KNOW IN ADVANCE THAT SUCH
DAMAGES WERE POSSIBLE. SOME STATES DO NOT ALLOW THE EXCLUSION OR
LIMITATION OF INCIDENTAL OR CONSEQUENTIAL DAMAGES, SO THE ABOVE
LIMITATION MAY NOT APPLY TO YOU. No Lane dealer or employee is authorized to make
any modification, extension, or addition to this warranty. If any term is held to be illegal or
unenforceable, the legality or enforceability of the remaining terms shall not be affected or
impaired.
WARRANTY SERVICE
All claims for service must be accompanied by proof of purchase (Bill of Sale). Contact the
dealer from whom the furniture was purchased to request warranty service under this warranty. If
the original dealer is not accessible, contact a local Lane dealer for assistance. Lane will not be
responsible for transportation or packing charges without prior approval. Repair, replacement or
substitution, as determined by Lane, will be made as soon as practical.
Limited Warranty Information, (for upholstery products purchased on or after February 13,
2013).
Descriptions
Frame and Spring System
Wood Frame and Parts
Springs and Spring Systems
Wood and Metal Bases
Decorative Wood Parts and Finish
Cushions and Pillows
Seat Cushions
Back Cushions
Accent Pillows
Fabric and Leather**
Fabrics (excludes Customer Own
Material)
Leathers (excludes Customer Own
Leather)
Arm Cap and Headrest Covers
Parts Coverage
Labor Coverage
Five Years
Five Years
Three Years
One Year
One Year
One Year
One Year
One Year
Three Years
One Year
One Year
One Year
One Year
No Coverage
One Year
One Year
One Year
One Year
No Coverage
No Coverage
*Lifetime is defined as seven years, the expected lifetime of the product.
**Fabric and Leather. Fabric fading, pilling, shrinkage, stretching, wearing quality and color
fastness are not covered by this warranty. FABRIC DAMAGE OR FAILURE DUE TO
CHEMICAL TREATMENTS APPLIED BY THE RETAILER OR CONSUMER, HEAVY
SOILING OR IMPROPER CLEANING WILL VOID THIS WARRANTY. Leather coverage
does not include natural markings, shrinkage, stretching, or variations in grain or color, which
occur naturally and prove the authenticity of the leather.