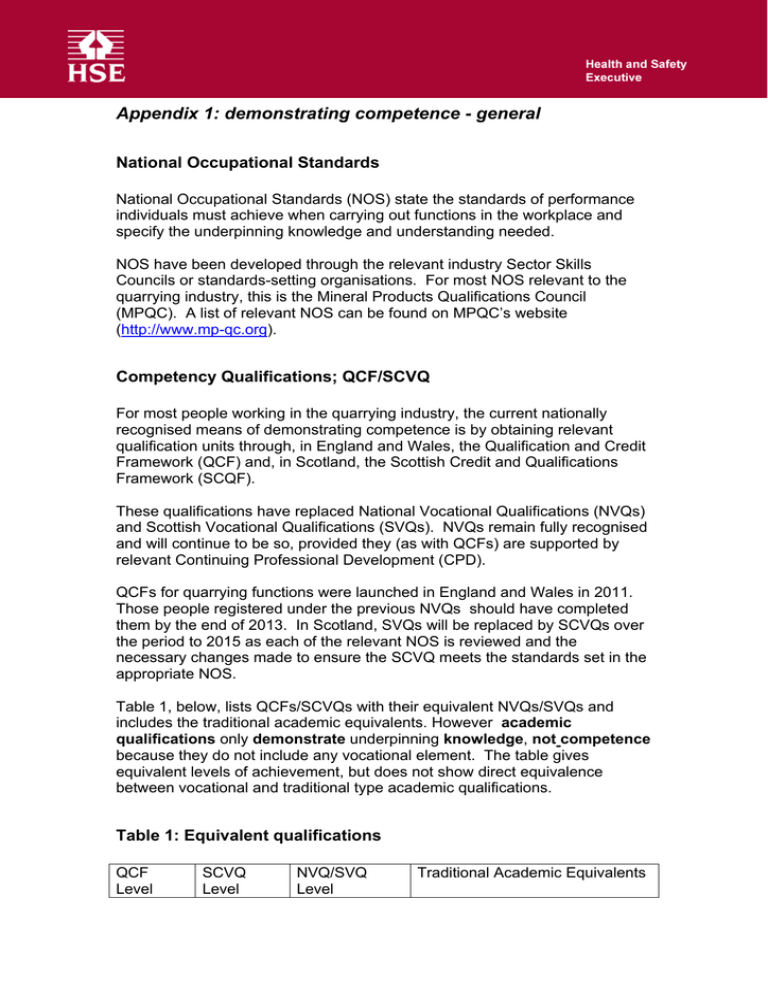 Appendix 1: demonstrating competence - general
National Occupational Standards
National Occupational Standards (NOS) state the standards of performance
individuals must achieve when carrying out functions in the workplace and
specify the underpinning knowledge and understanding needed.
NOS have been developed through the relevant industry Sector Skills
Councils or standards-setting organisations. For most NOS relevant to the
quarrying industry, this is the Mineral Products Qualifications Council
(MPQC). A list of relevant NOS can be found on MPQC's website
(http://www.mp-qc.org).
Competency Qualifications; QCF/SCVQ
For most people working in the quarrying industry, the current nationally
recognised means of demonstrating competence is by obtaining relevant
qualification units through, in England and Wales, the Qualification and Credit
Framework (QCF) and, in Scotland, the Scottish Credit and Qualifications
Framework (SCQF).
These qualifications have replaced National Vocational Qualifications (NVQs)
and Scottish Vocational Qualifications (SVQs). NVQs remain fully recognised
and will continue to be so, provided they (as with QCFs) are supported by
relevant Continuing Professional Development (CPD).
QCFs for quarrying functions were launched in England and Wales in 2011.
Those people registered under the previous NVQs should have completed
them by the end of 2013. In Scotland, SVQs will be replaced by SCVQs over
the period to 2015 as each of the relevant NOS is reviewed and the
necessary changes made to ensure the SCVQ meets the standards set in the
appropriate NOS.
Table 1, below, lists QCFs/SCVQs with their equivalent NVQs/SVQs and
includes the traditional academic equivalents. However academic
qualifications only demonstrate underpinning knowledge, not competence
because they do not include any vocational element. The table gives
equivalent levels of achievement, but does not show direct equivalence
between vocational and traditional type academic qualifications.
Table 1: Equivalent qualifications
QCF
Level
SCVQ
Level
NVQ/SVQ
Level
Traditional Academic Equivalents
QCF
Level
8
7
6
5
4
SCVQ
Level
12
11
10
9
8
NVQ/SVQ
Level
3
7
6
5
4
3
2
1
3
2
1
Entry 3
Entry 2
Entry 1
Traditional Academic Equivalents
2
1
PhD
Masters
Honours Degree
Ordinary Degree
HND, Diploma in Higher
Education
HNC
3 'A' Levels
3 GCSE Grades A-C
3 GCSE Grades D-F
Entry
Basic Skills
5
4
Other Competency Qualifications
For Engineers, the alternative nationally recognised system for the
demonstration of competence is via the Engineering Council's staged
membership scheme, which, for the extractive industry is administered
through the Institute of Materials, Minerals and Mining (IOMMM).
These qualifications must be achieved in a discipline relevant to the tasks
being undertaken. Members can progress through the grades of Engineering
Technician, Incorporated Engineer and Chartered Engineer, with an
assessment of their competence against the Engineering Council's standards
at each stage
Formal professional qualifications are also required for some specialist
activities. For example, geotechnical engineers must be either Chartered
Engineers or Chartered Geologists, both with 3 years relevant experience
(see QR 1999 regulation 2(1)) and be competent to perform a geotechnical
analysis to determine the hazards and risks from the excavation or tip.
Continuing professional development (CPD)
CPD is a key element in demonstrating continuing competence. An
appropriate QCF/NVQ/SCVQ/SVQ for particular work (or an equivalent or
higher qualification) only demonstrates competence at the time of the
assessment. Undertaking and recording CPD is necessary to demonstrate
continuing competence. Keeping suitable records, such as those suggested
by the Institute of Quarrying and other bodies' CPD schemes, is a
demonstration of commitment to maintaining and developing competence.