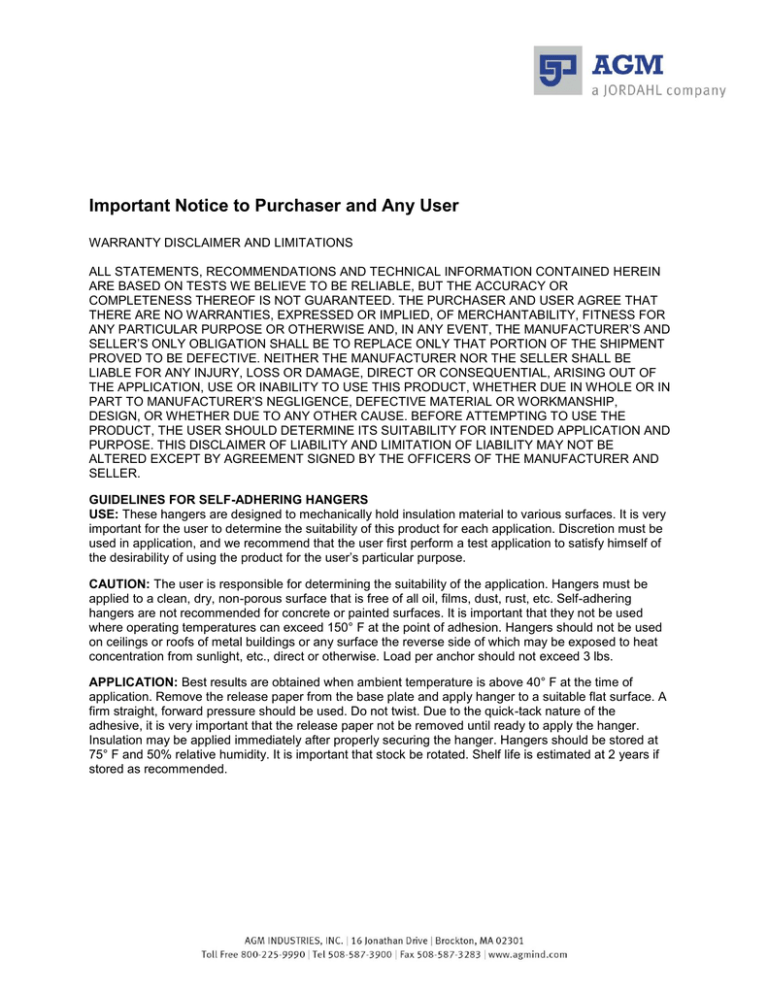 Important Notice to Purchaser and Any User
WARRANTY DISCLAIMER AND LIMITATIONS
ALL STATEMENTS, RECOMMENDATIONS AND TECHNICAL INFORMATION CONTAINED HEREIN
ARE BASED ON TESTS WE BELIEVE TO BE RELIABLE, BUT THE ACCURACY OR
COMPLETENESS THEREOF IS NOT GUARANTEED. THE PURCHASER AND USER AGREE THAT
THERE ARE NO WARRANTIES, EXPRESSED OR IMPLIED, OF MERCHANTABILITY, FITNESS FOR
ANY PARTICULAR PURPOSE OR OTHERWISE AND, IN ANY EVENT, THE MANUFACTURER'S AND
SELLER'S ONLY OBLIGATION SHALL BE TO REPLACE ONLY THAT PORTION OF THE SHIPMENT
PROVED TO BE DEFECTIVE. NEITHER THE MANUFACTURER NOR THE SELLER SHALL BE
LIABLE FOR ANY INJURY, LOSS OR DAMAGE, DIRECT OR CONSEQUENTIAL, ARISING OUT OF
THE APPLICATION, USE OR INABILITY TO USE THIS PRODUCT, WHETHER DUE IN WHOLE OR IN
PART TO MANUFACTURER'S NEGLIGENCE, DEFECTIVE MATERIAL OR WORKMANSHIP,
DESIGN, OR WHETHER DUE TO ANY OTHER CAUSE. BEFORE ATTEMPTING TO USE THE
PRODUCT, THE USER SHOULD DETERMINE ITS SUITABILITY FOR INTENDED APPLICATION AND
PURPOSE. THIS DISCLAIMER OF LIABILITY AND LIMITATION OF LIABILITY MAY NOT BE
ALTERED EXCEPT BY AGREEMENT SIGNED BY THE OFFICERS OF THE MANUFACTURER AND
SELLER.
GUIDELINES FOR SELF-ADHERING HANGERS
USE: These hangers are designed to mechanically hold insulation material to various surfaces. It is very
important for the user to determine the suitability of this product for each application. Discretion must be
used in application, and we recommend that the user first perform a test application to satisfy himself of
the desirability of using the product for the user's particular purpose.
CAUTION: The user is responsible for determining the suitability of the application. Hangers must be
applied to a clean, dry, non-porous surface that is free of all oil, films, dust, rust, etc. Self-adhering
hangers are not recommended for concrete or painted surfaces. It is important that they not be used
where operating temperatures can exceed 150° F at the point of adhesion. Hangers should not be used
on ceilings or roofs of metal buildings or any surface the reverse side of which may be exposed to heat
concentration from sunlight, etc., direct or otherwise. Load per anchor should not exceed 3 lbs.
APPLICATION: Best results are obtained when ambient temperature is above 40° F at the time of
application. Remove the release paper from the base plate and apply hanger to a suitable flat surface. A
firm straight, forward pressure should be used. Do not twist. Due to the quick-tack nature of the
adhesive, it is very important that the release paper not be removed until ready to apply the hanger.
Insulation may be applied immediately after properly securing the hanger. Hangers should be stored at
75° F and 50% relative humidity. It is important that stock be rotated. Shelf life is estimated at 2 years if
stored as recommended.