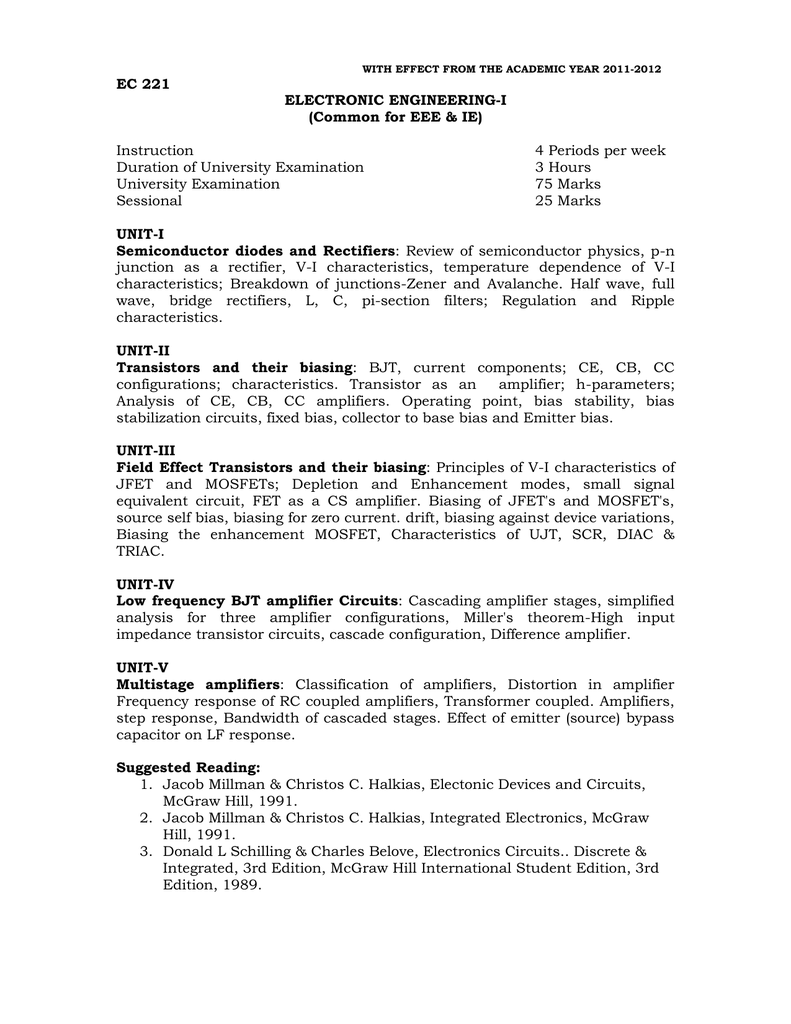 EC 221
WITH EFFECT FROM THE ACADEMIC YEAR 2011-2012
ELECTRONIC ENGINEERING-I
(Common for EEE & IE)
Instruction
Duration of University Examination
University Examination
Sessional
4 Periods per week
3 Hours
75 Marks
25 Marks
UNIT-I
Semiconductor diodes and Rectifiers: Review of semiconductor physics, p-n
junction as a rectifier, V-I characteristics, temperature dependence of V-I
characteristics; Breakdown of junctions-Zener and Avalanche. Half wave, full
wave, bridge rectifiers, L, C, pi-section filters; Regulation and Ripple
characteristics.
UNIT-II
Transistors and their biasing: BJT, current components; CE, CB, CC
configurations; characteristics. Transistor as an
amplifier; h-parameters;
Analysis of CE, CB, CC amplifiers. Operating point, bias stability, bias
stabilization circuits, fixed bias, collector to base bias and Emitter bias.
UNIT-III
Field Effect Transistors and their biasing: Principles of V-I characteristics of
JFET and MOSFETs; Depletion and Enhancement modes, small signal
equivalent circuit, FET as a CS amplifier. Biasing of JFET's and MOSFET's,
source self bias, biasing for zero current. drift, biasing against device variations,
Biasing the enhancement MOSFET, Characteristics of UJT, SCR, DIAC &
TRIAC.
UNIT-IV
Low frequency BJT amplifier Circuits: Cascading amplifier stages, simplified
analysis for three amplifier configurations, Miller's theorem-High input
impedance transistor circuits, cascade configuration, Difference amplifier.
UNIT-V
Multistage amplifiers: Classification of amplifiers, Distortion in amplifier
Frequency response of RC coupled amplifiers, Transformer coupled. Amplifiers,
step response, Bandwidth of cascaded stages. Effect of emitter (source) bypass
capacitor on LF response.
Suggested Reading:
1. Jacob Millman & Christos C. Halkias, Electonic Devices and Circuits,
McGraw Hill, 1991.
2. Jacob Millman & Christos C. Halkias, Integrated Electronics, McGraw
Hill, 1991.
3. Donald L Schilling & Charles Belove, Electronics Circuits.. Discrete &
Integrated, 3rd Edition, McGraw Hill International Student Edition, 3rd
Edition, 1989.