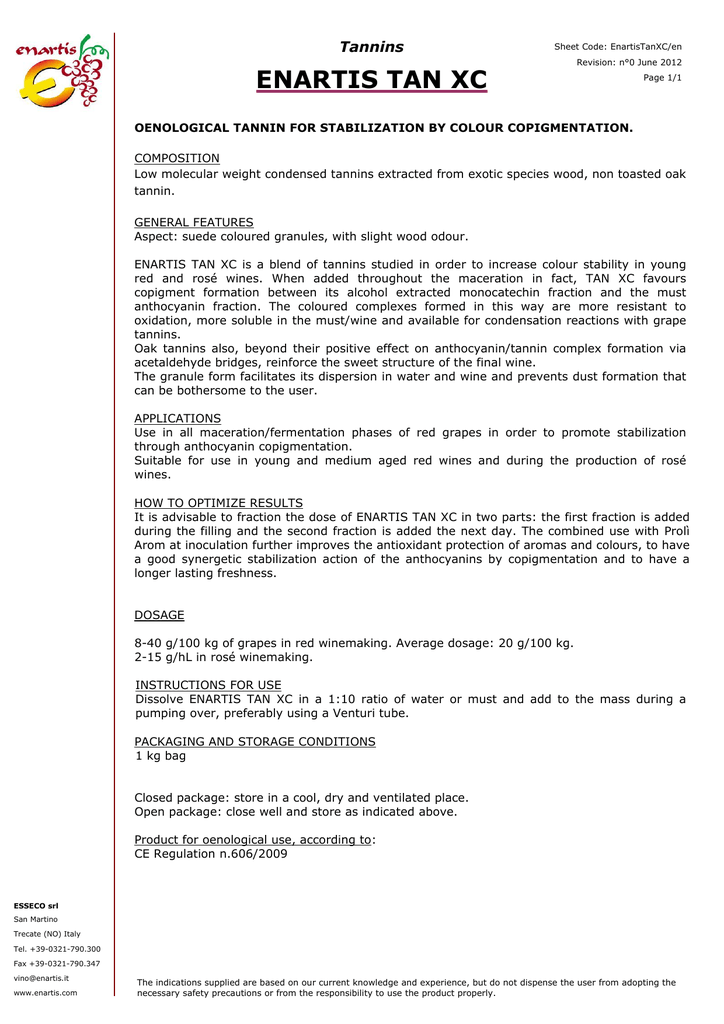 Tannins
Sheet Code: EnartisTanXC/en
ENARTIS TAN XC
Revision: n°0 June 2012
Page 1/1
OENOLOGICAL TANNIN FOR STABILIZATION BY COLOUR COPIGMENTATION.
COMPOSITION
Low molecular weight condensed tannins extracted from exotic species wood, non toasted oak
tannin.
GENERAL FEATURES
Aspect: suede coloured granules, with slight wood odour.
ENARTIS TAN XC is a blend of tannins studied in order to increase colour stability in young
red and rosé wines. When added throughout the maceration in fact, TAN XC favours
copigment formation between its alcohol extracted monocatechin fraction and the must
anthocyanin fraction. The coloured complexes formed in this way are more resistant to
oxidation, more soluble in the must/wine and available for condensation reactions with grape
tannins.
Oak tannins also, beyond their positive effect on anthocyanin/tannin complex formation via
acetaldehyde bridges, reinforce the sweet structure of the final wine.
The granule form facilitates its dispersion in water and wine and prevents dust formation that
can be bothersome to the user.
APPLICATIONS
Use in all maceration/fermentation phases of red grapes in order to promote stabilization
through anthocyanin copigmentation.
Suitable for use in young and medium aged red wines and during the production of rosé
wines.
HOW TO OPTIMIZE RESULTS
It is advisable to fraction the dose of ENARTIS TAN XC in two parts: the first fraction is added
during the filling and the second fraction is added the next day. The combined use with Prolì
Arom at inoculation further improves the antioxidant protection of aromas and colours, to have
a good synergetic stabilization action of the anthocyanins by copigmentation and to have a
longer lasting freshness.
DOSAGE
8-40 g/100 kg of grapes in red winemaking. Average dosage: 20 g/100 kg.
2-15 g/hL in rosé winemaking.
INSTRUCTIONS FOR USE
Dissolve ENARTIS TAN XC in a 1:10 ratio of water or must and add to the mass during a
pumping over, preferably using a Venturi tube.
PACKAGING AND STORAGE CONDITIONS
1 kg bag
Closed package: store in a cool, dry and ventilated place.
Open package: close well and store as indicated above.
Product for oenological use, according to:
CE Regulation n.606/2009
ESSECO srl
San Martino
Trecate (NO) Italy
Tel. +39-0321-790.300
Fax +39-0321-790.347
[email protected]
www.enartis.com
The indications supplied are based on our current knowledge and experience, but do not dispense the user from adopting the
necessary safety precautions or from the responsibility to use the product properly.