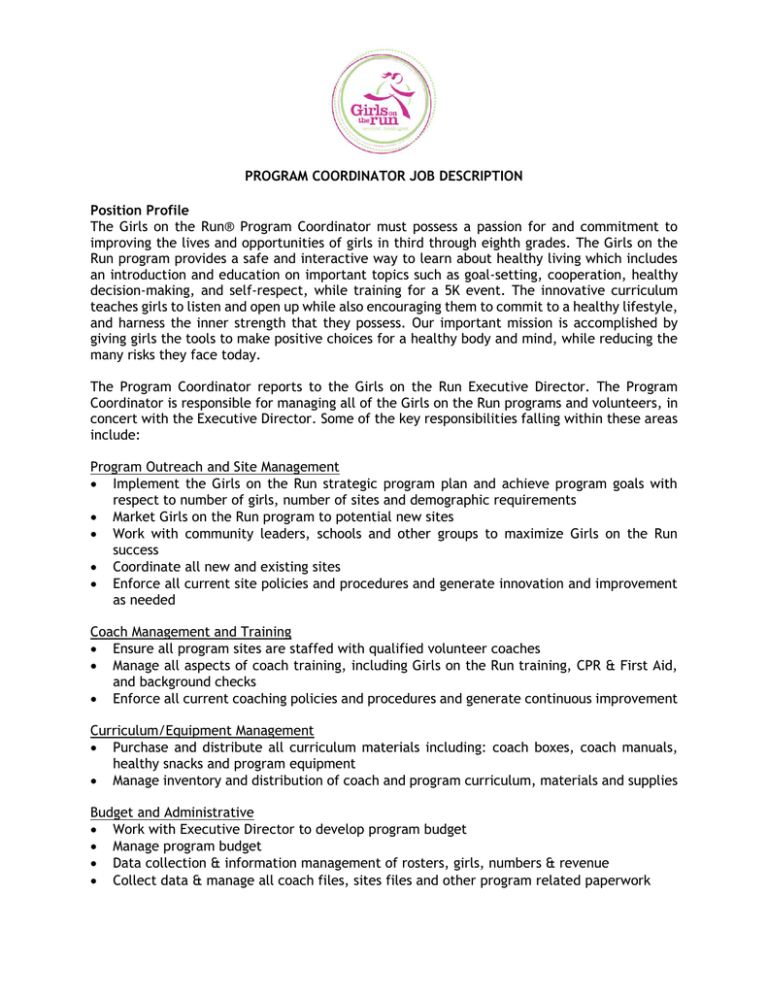 PROGRAM COORDINATOR JOB DESCRIPTION
Position Profile
The Girls on the Run® Program Coordinator must possess a passion for and commitment to
improving the lives and opportunities of girls in third through eighth grades. The Girls on the
Run program provides a safe and interactive way to learn about healthy living which includes
an introduction and education on important topics such as goal-setting, cooperation, healthy
decision-making, and self-respect, while training for a 5K event. The innovative curriculum
teaches girls to listen and open up while also encouraging them to commit to a healthy lifestyle,
and harness the inner strength that they possess. Our important mission is accomplished by
giving girls the tools to make positive choices for a healthy body and mind, while reducing the
many risks they face today.
The Program Coordinator reports to the Girls on the Run Executive Director. The Program
Coordinator is responsible for managing all of the Girls on the Run programs and volunteers, in
concert with the Executive Director. Some of the key responsibilities falling within these areas
include:
Program Outreach and Site Management
 Implement the Girls on the Run strategic program plan and achieve program goals with
respect to number of girls, number of sites and demographic requirements
 Market Girls on the Run program to potential new sites
 Work with community leaders, schools and other groups to maximize Girls on the Run
success
 Coordinate all new and existing sites
 Enforce all current site policies and procedures and generate innovation and improvement
as needed
Coach Management and Training
 Ensure all program sites are staffed with qualified volunteer coaches
 Manage all aspects of coach training, including Girls on the Run training, CPR & First Aid,
and background checks
 Enforce all current coaching policies and procedures and generate continuous improvement
Curriculum/Equipment Management
 Purchase and distribute all curriculum materials including: coach boxes, coach manuals,
healthy snacks and program equipment
 Manage inventory and distribution of coach and program curriculum, materials and supplies
Budget and Administrative
 Work with Executive Director to develop program budget
 Manage program budget
 Data collection & information management of rosters, girls, numbers & revenue
 Collect data & manage all coach files, sites files and other program related paperwork
Required Qualifications
 Passion for Girls on the Run mission and the ability to comprehend and effectively
communicate issues surrounding empowerment, self-esteem, body image and whole-person
health
 Outstanding communication skills in multiple environments and with a range of audiences
(internal and external)
 Ability to multitask, prioritize and make efficient decisions
 Flexible and adaptable
Preferred Qualifications
 Experience with Girls on the Run (or other similar youth or wellness programs)
 Bachelor's degree
 Non-profit management experience
 Experience working with a Board of Directors
 Connections to the local community
Hours: 10-20/week
Wage: $10/hour
Please submit cover letter & resume, by email or mail to:
Samantha Jones, Executive Director
Girls on the Run of Central Michigan
Email:
director@gotrcentralmichigan.org
Mailing address:
Girls on the Run of Central Michigan
PO Box 310
Shepherd, MI 48883
Application materials must be received no later than August 24, 2015 at 4:00 PM.