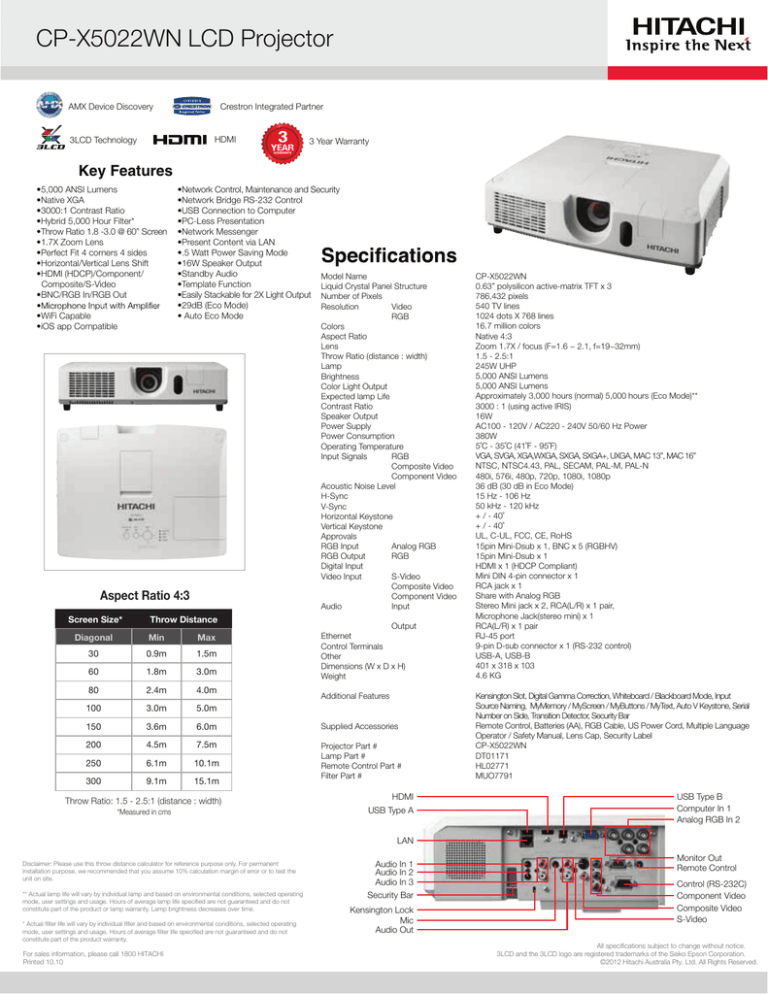 CP-X5022WN LCD Projector
AMX Device Discovery
Crestron Integrated Partner
HDMI
3LCD Technology
3 Year Warranty
Key Features
•5,000 ANSI Lumens
•Native XGA
•3000:1 Contrast Ratio
•Hybrid 5,000 Hour Filter*
•Throw Ratio 1.8 -3.0 @ 60" Screen
•1.7X Zoom Lens
•Perfect Fit 4 corners 4 sides
•Horizontal/Vertical Lens Shift
•HDMI (HDCP)/Component/
Composite/S-Video
•BNC/RGB In/RGB Out
•WiFi Capable
•iOS app Compatible
•Network Control, Maintenance and Security
•Network Bridge RS-232 Control
•USB Connection to Computer
•PC-Less Presentation
•Network Messenger
•Present Content via LAN
•.5 Watt Power Saving Mode
•16W Speaker Output
•Standby Audio
Model Name
•Template Function
Liquid Crystal Panel Structure
•Easily Stackable for 2X Light Output Number of Pixels
•29dB (Eco Mode)
Resolution
Video
• Auto Eco Mode
RGB
Aspect Ratio 4:3
Aspect Ratio 4:3
Screen Size*
Screen Size*
Diagonal*
Width*
Diagonal
30
60
80
100
120
150
200
300
30
60
80
100
150
200
250
24
48
64
80
96
120
160
240
Throw Distance*
Throw Distance
Min*
Max*
Colors
Aspect Ratio
Lens
Throw Ratio (distance : width)
Lamp
Brightness
Color Light Output
Expected lamp Life
Contrast Ratio
Speaker Output
Power Supply
Power Consumption
Operating Temperature
Input Signals
RGB
Composite Video
Component Video
Acoustic Noise Level
H-Sync
V-Sync
Horizontal Keystone
Vertical Keystone
Approvals
RGB Input
Analog RGB
RGB Output
RGB
Digital Input
Video Input
S-Video
Composite Video
Component Video
Audio
Input
Output
Ethernet
Control Terminals
Other
Dimensions (W x D x H)
Weight
Min
Max
0.9m
1.5m
1.8m
3.0m
2.4m
4.0m
3.0m
5.0m
3.6m
6.0m
Supplied Accessories
4.5m
7.5m
6.1m
10.1m
Projector Part #
Lamp Part #
Remote Control Part #
Filter Part #
35
71
95
119
143
180
240
361
58
118
158
198
238
Additional Features
298
398
597
300
9.1m
15.1m
Throw Ratio: 1.5 - 2.5:1 (distance : width)
Throw Ratio:
1.5
2.5:1
(distance
:
width)
*Measured in inches
*Measured in cms
HDMI
USB Type A
CP-X5022WN
0.63" polysilicon active-matrix TFT x 3
786,432 pixels
540 TV lines
1024 dots X 768 lines
16.7 million colors
Native 4:3
Zoom 1.7X / focus (F=1.6 ~ 2.1, f=19~32mm)
1.5 - 2.5:1
245W UHP
5,000 ANSI Lumens
5,000 ANSI Lumens
Approximately 3,000 hours (normal) 5,000 hours (Eco Mode)**
3000 : 1 (using active IRIS)
16W
AC100 - 120V / AC220 - 240V 50/60 Hz Power
380W
5˚C - 35˚C (41˚F - 95˚F)
VGA, SVGA, XGA,WXGA, SXGA, SXGA+, UXGA, MAC 13", MAC 16"
NTSC, NTSC4.43, PAL, SECAM, PAL-M, PAL-N
480i, 576i, 480p, 720p, 1080i, 1080p
36 dB (30 dB in Eco Mode)
15 Hz - 106 Hz
50 kHz - 120 kHz
+ / - 40˚
+ / - 40˚
UL, C-UL, FCC, CE, RoHS
15pin Mini-Dsub x 1, BNC x 5 (RGBHV)
15pin Mini-Dsub x 1
HDMI x 1 (HDCP Compliant)
Mini DIN 4-pin connector x 1
RCA jack x 1
Share with Analog RGB
Stereo Mini jack x 2, RCA(L/R) x 1 pair,
Microphone Jack(stereo mini) x 1
RCA(L/R) x 1 pair
RJ-45 port
9-pin D-sub connector x 1 (RS-232 control)
USB-A, USB-B
401 x 318 x 103
4.6 KG
Kensington Slot, Digital Gamma Correction, Whiteboard / Blackboard Mode, Input
Source Naming, MyMemory / MyScreen / MyButtons / MyText, Auto V Keystone, Serial
Number on Side, Transition Detector, Security Bar
Remote Control, Batteries (AA), RGB Cable, US Power Cord, Multiple Language
Operator / Safety Manual, Lens Cap, Security Label
CP-X5022WN
DT01171
HL02771
MUO7791
USB Type B
Computer In 1
Analog RGB In 2
LAN
Disclaimer: Please use this throw distance calculator for reference purpose only. For permanent
installation purpose, we recommended that you assume 10% calculation margin of error or to test the
unit on site.
** Actual lamp life will vary by individual lamp and based on environmental conditions, selected operating
mode, user settings and usage. Hours of average lamp life specified are not guaranteed and do not
constitute part of the product or lamp warranty. Lamp brightness decreases over time.
* Actual filter life will vary by individual filter and based on environmental conditions, selected operating
mode, user settings and usage. Hours of average filter life specified are not guaranteed and do not
constitute part of the product warranty.
For sales information, please call 1800 HITACHI
Printed 10.10
Audio In 1
Audio In 2
Audio In 3
Security Bar
Kensington Lock
Mic
Audio Out
Monitor Out
Remote Control
Control (RS-232C)
Component Video
Composite Video
S-Video
All specifications subject to change without notice.
3LCD and the 3LCD logo are registered trademarks of the Seiko Epson Corporation.
©2012 Hitachi Australia Pty. Ltd. All Rights Reserved.