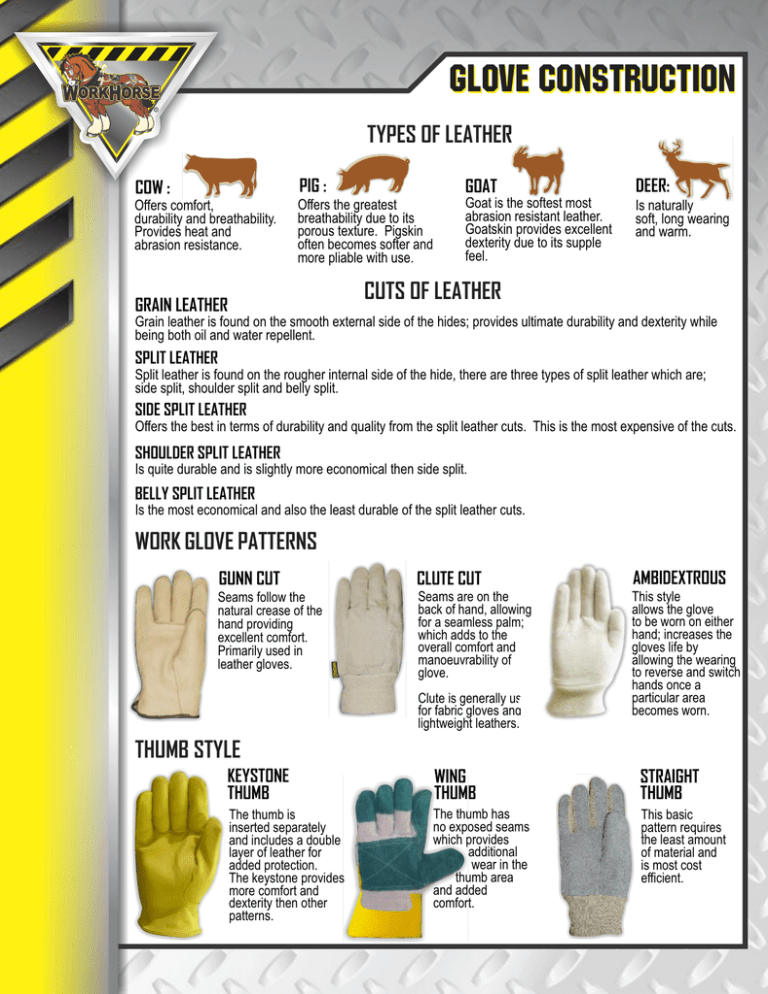 GLOVE CONSTRUCTION
TYPES OF LEATHER
COW :
Offers comfort,
durability and breathability.
Provides heat and
abrasion resistance.
PIG :
GOAT
DEER:
Offers the greatest
breathability due to its
porous texture. Pigskin
often becomes softer and
more pliable with use.
Goat is the softest most
abrasion resistant leather.
Goatskin provides excellent
dexterity due to its supple
feel.
Is naturally
soft, long wearing
and warm.
CUTS OF LEATHER
GRAIN LEATHER
Grain leather is found on the smooth external side of the hides; provides ultimate durability and dexterity while
being both oil and water repellent.
SPLIT LEATHER
Split leather is found on the rougher internal side of the hide, there are three types of split leather which are;
side split, shoulder split and belly split.
SIDE SPLIT LEATHER
Offers the best in terms of durability and quality from the split leather cuts. This is the most expensive of the cuts.
SHOULDER SPLIT LEATHER
Is quite durable and is slightly more economical then side split.
BELLY SPLIT LEATHER
Is the most economical and also the least durable of the split leather cuts.
WORK GLOVE PATTERNS
GUNN CUT
CLUTE CUT
AMBIDEXTROUS
Seams follow the
natural crease of the
hand providing
excellent comfort.
Primarily used in
leather gloves.
Seams are on the
back of hand, allowing
for a seamless palm;
which adds to the
overall comfort and
manoeuvrability of
glove.
This style
allows the glove
to be worn on either
hand; increases the
gloves life by
allowing the wearing
to reverse and switch
hands once a
particular area
becomes worn.
Clute is generally used
for fabric gloves and
lightweight leathers.
THUMB STYLE
KEYSTONE
THUMB
WING
THUMB
STRAIGHT
THUMB
The thumb is
inserted separately
and includes a double
layer of leather for
added protection.
The keystone provides
more comfort and
dexterity then other
patterns.
The thumb has
no exposed seams
which provides
additional
wear in the
thumb area
and added
comfort.
This basic
pattern requires
the least amount
of material and
is most cost
efficient.
GLOVE CONSTRUCTION
KNIT WRIST
SLIP ON
The wrist is
designed to hold
glove in place and
prevents debris
from entering
glove.
This style
is designed
specifically for
easy on/off.
GAUNTLET
SAFETY CUFF
BAND TOP
The gauntlet
style provides
similar protection
as the safety cuff
with additional
length for added
wrist and forearm
protection.
The safety
cuff is designed
to protect the
wrist area.
Opened cuff area
allows for quick
removable when
required.
The band top
is cooler then
a knit wrist and
is easier to
remove.
CUFF STYLES
(Used with machinery)
SYNTHETIC AND OTHER MATERIALS
NITRILE
NATURAL RUBBER LATEX
Nitrile offers good protection against oils, bases,
many solvents, esters, grease and animal fats; while
providing excellent resistance to snags, abrasions,
punctures and cuts.
Natural rubber latex provides high resistance
to cuts; resists bases, acids, alcohols and diluted aqueous
solutions of most types of chemicals. Latex may cause
allergic reactions In some individuals, if you have sensitivity
to latex we recommend switching to P.V.C, nitrile or neoprene.
NEOPRENE
PVC (POLYVINYL CHLORIDE)
Neoprene provides resistance to a wide range of oils,
acids, caustics and solvents. Not as resistant to snags,
abrasions, cuts as Nitrile and Natural Rubber.
PVC provides good resistance to abrasions and cuts; good
protection against many acids, caustics, bases and alcohols.
PVC is not recommended for ketones and many other types
of solvents.
PVA (POLYVINYL ALCOHOL)
POLYURETHANE
PVA has very high resistance to aliphatics,
aromatics, chlorinated solvents, esters and most
ketones. Resistant to snags, punctures and cuts.
When exposed to water and light alcohols PVA
breaks down quickly.
Polyurethane resists bases, acids, alcohols, grease and
animal fat. Not recommended for most types of organic
solvents. Excellent protection against snag, punctures,
abrasion and cuts.
POLYETHYLENE
KEVLAR
Polyethylene provides economical protection from
chemicals, oils, fats, punctures and abrasion. Material
complies with FDA regulations for food contact.
Kevlar is 5 times stronger then steel by weight and can
provide protection up to 900°F with a liner. Kevlar is known
for its high strength but is not recommended for use in
abrasive applications.
SPECTRA
TWARON
Spectra is a polyolefin fibre and is known for its
strength and cut resistance. Also offers excellent
abrasion resistance and can be repeatedly laundered.
Twaron is made from an extremely strong synthetic
lightweight fibre that provides excellent heat and cut
resistance.
SUPPORTED VS UNSUPPORTED GLOVES
A supported glove is made by dipping a knit or woven cloth liner into a glove compound such as latex. The liner supports the
compound and adds strength. An unsupported glove is dipped directly into the glove compound with no supporting lining.
Unsupported gloves are better to use for dexterity while supported gloves provide better cut resistance.