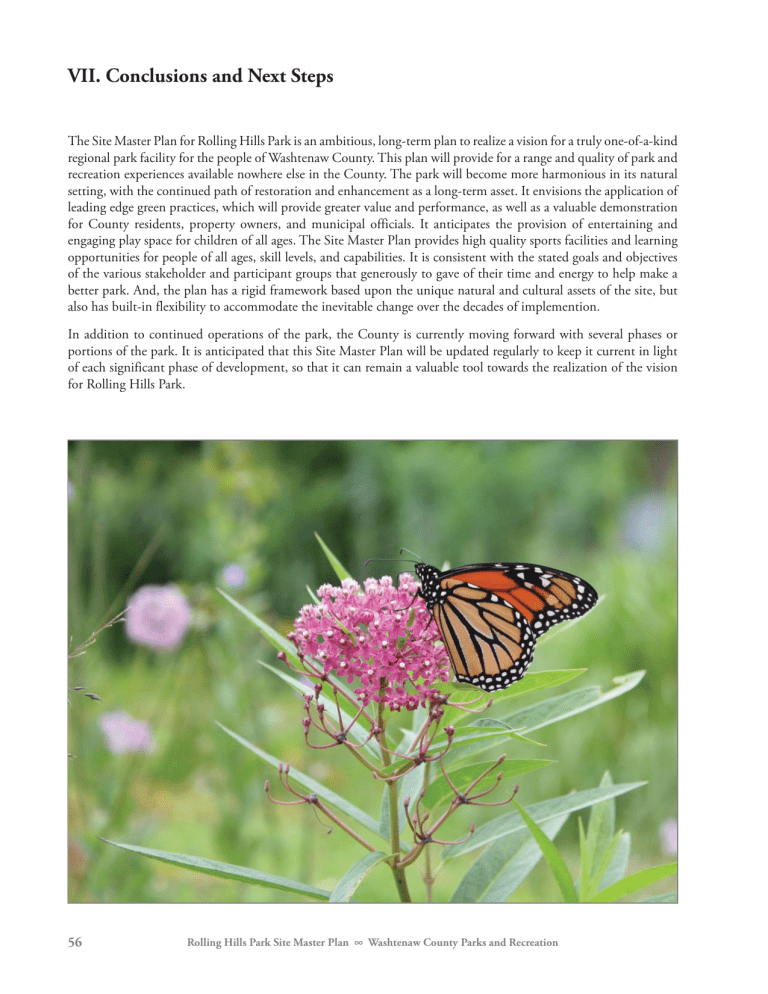 VII. Conclusions and Next Steps
The Site Master Plan for Rolling Hills Park is an ambitious, long-term plan to realize a vision for a truly one-of-a-kind regional park facility for the people of Washtenaw County. This plan will provide for a range and quality of park and recreation experiences available nowhere else in the County. The park will become more harmonious in its natural setting, with the continued path of restoration and enhancement as a long-term asset. It envisions the application of leading edge green practices, which will provide greater value and performance, as well as a valuable demonstration for County residents, property owners, and municipal officials. It anticipates the provision of entertaining and engaging play space for children of all ages. The Site Master Plan provides high quality sports facilities and learning opportunities for people of all ages, skill levels, and capabilities. It is consistent with the stated goals and objectives of the various stakeholder and participant groups that generously to gave of their time and energy to help make a better park. And, the plan has a rigid framework based upon the unique natural and cultural assets of the site, but also has built-in flexibility to accommodate the inevitable change over the decades of implemention.
In addition to continued operations of the park, the County is currently moving forward with several phases or portions of the park. It is anticipated that this Site Master Plan will be updated regularly to keep it current in light of each significant phase of development, so that it can remain a valuable tool towards the realization of the vision for Rolling Hills Park.
56 Rolling Hills Park Site Master Plan ∞ Washtenaw County Parks and Recreation