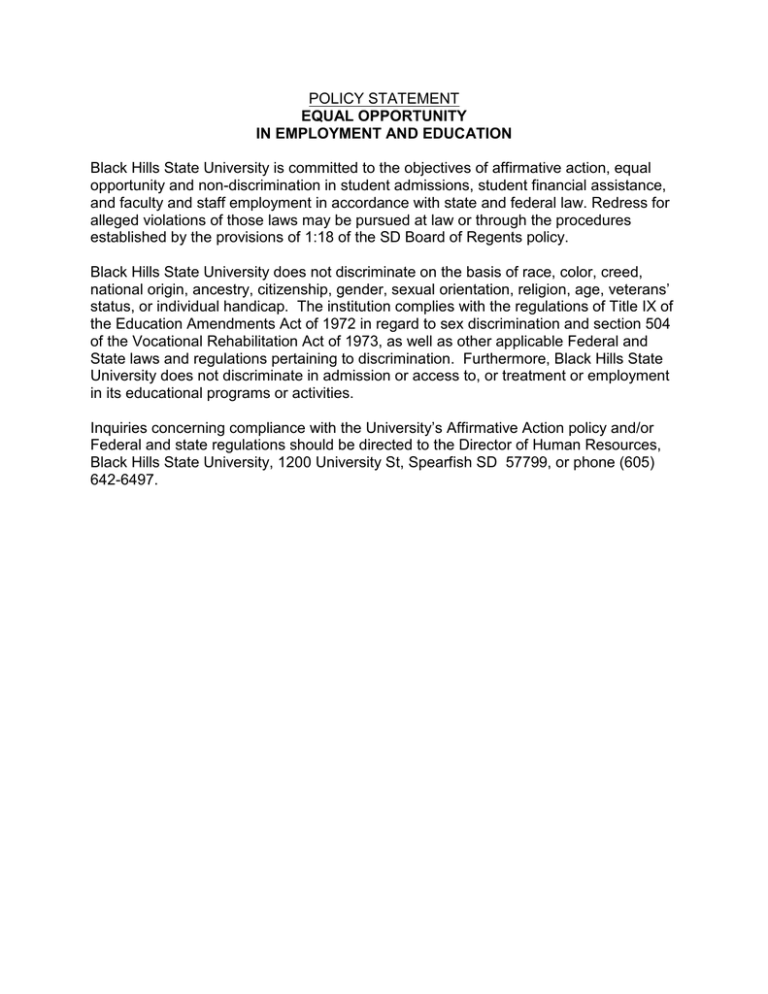 POLICY STATEMENT
EQUAL OPPORTUNITY
IN EMPLOYMENT AND EDUCATION
Black Hills State University is committed to the objectives of affirmative action, equal
opportunity and non-discrimination in student admissions, student financial assistance,
and faculty and staff employment in accordance with state and federal law. Redress for
alleged violations of those laws may be pursued at law or through the procedures
established by the provisions of 1:18 of the SD Board of Regents policy.
Black Hills State University does not discriminate on the basis of race, color, creed,
national origin, ancestry, citizenship, gender, sexual orientation, religion, age, veterans'
status, or individual handicap. The institution complies with the regulations of Title IX of
the Education Amendments Act of 1972 in regard to sex discrimination and section 504
of the Vocational Rehabilitation Act of 1973, as well as other applicable Federal and
State laws and regulations pertaining to discrimination. Furthermore, Black Hills State
University does not discriminate in admission or access to, or treatment or employment
in its educational programs or activities.
Inquiries concerning compliance with the University's Affirmative Action policy and/or
Federal and state regulations should be directed to the Director of Human Resources,
Black Hills State University, 1200 University St, Spearfish SD 57799, or phone (605)
642-6497.