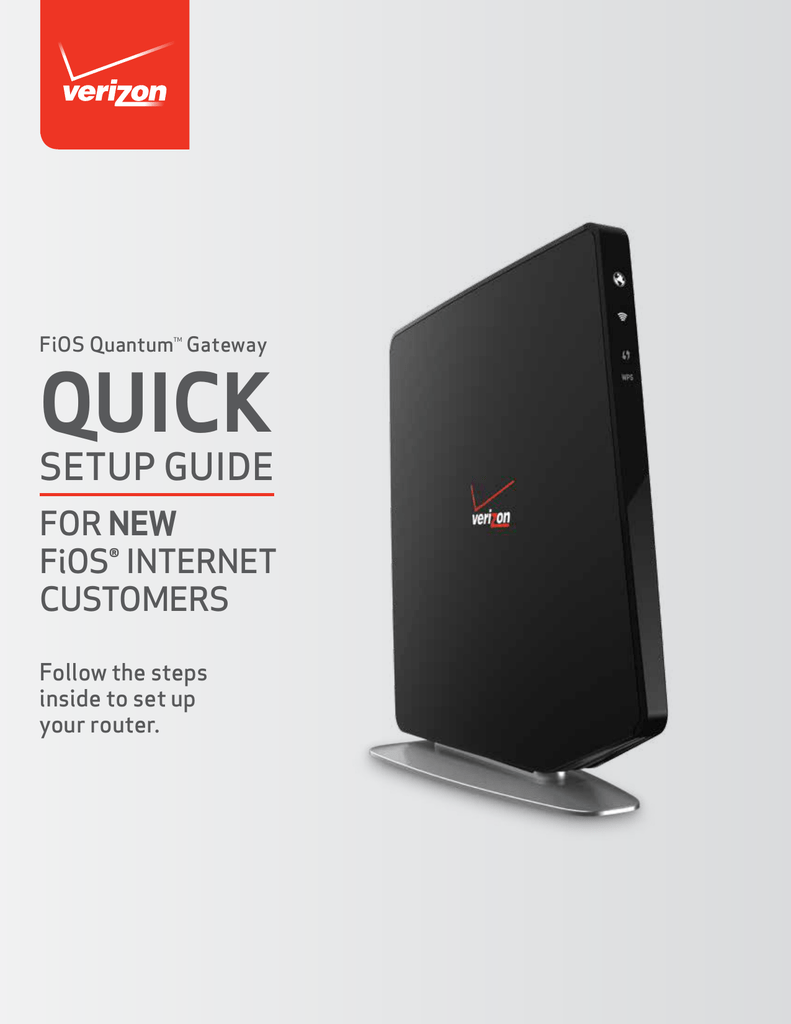 FiOS Quantum Gateway
TM
QUICK
SETUP GUIDE
FOR NEW
FiOS® INTERNET
CUSTOMERS
Follow the steps
inside to set up
your router.
1
STEP
CONNECT DEVICES TO THE ROUTER
WIRED:
Connect one end of the yellow Ethernet cable
to any YELLOW Ethernet port on the router and
the other end to your computer.
WIRELESS:
A. On the router, you will see a label that
lists the router's default Wi-Fi login
credentials:
Wireless Network Name (ESSID)
Wireless Password (WPA2)
B. Launch your device's application to
view available wireless networks. Select
your router's name (ESSID) from the list
of networks and then Connect
C. Enter your Wireless Password
2
3
STEP
STEP
Then select Connect again.
ACTIVATING YOUR SERVICE
Visit activatemyfios.verizon.net
to complete activation and registration
of your FiOS Quantum Gateway router.
SPECIAL FEATURES
Your FiOS Quantum Gateway comes with a WPS button that allows for connection
to your Wi-Fi network without manually entering a password. If your wireless device
supports WPS, follow your device's instructions.
You can also personalize your router by going to myfiosgateway.com.
Locate Administrator Password
on the router sticker and enter it into the
box on the Web site. Follow the on-screen
directions that follow.
TROUBLESHOOTING
PROBLEM: POWER/INTERNET LIGHT DOES NOT BECOME SOLID.
•
SOLUTION: If WAN is using coax, make sure the coax cable is securely connected to
the coax connector on the Gateway.
•
SOLUTION: If WAN is using Ethernet, make sure the white Ethernet cable is
connected to the white Ethernet port on the Gateway (not to the yellow LAN Ethernet
connectors).
PROBLEM: UNABLE TO CONNECT TO THE Wi-Fi NETWORK.
•
SOLUTION: Make sure you are selecting the Wi-Fi network (SSID) printed on the
sticker on the back of the Gateway.
•
SOLUTION: Make sure you are correctly entering your Wi-Fi password (password is
case sensitive, make sure Caps Lock is off).
PROBLEM: CANNOT ACCESS MYFiOSGATEWAY.COM
•SOLUTION: Make sure the PC is connected to one of the four LAN Ethernet ports, or
wirelessly to the Gateway.
•
SOLUTION: Close and reopen the browser to make sure the browser is not caching an
old page. Also, try clearing the browser cache via the browser settings menu.
•
SOLUTION: Ensure the computer you are connecting to the Gateway is set up to
dynamically receive an IP address. Open your computer's network properties and
make sure "Obtain an IP address automatically" is selected.
• SOLUTION: Make sure that TCP/IP protocol is set up properly on your computer.
Open your computer's network properties and make sure "Internet Protocol (TCP/IP)"
is turned on.
SUPPORT
Visit verizon.com/bizfiosquantumgateway for helpful User Guides.
Or call 1.800.VERIZON (1.800.837.4966) for technical support.
©2015 Verizon. All rights reserved.