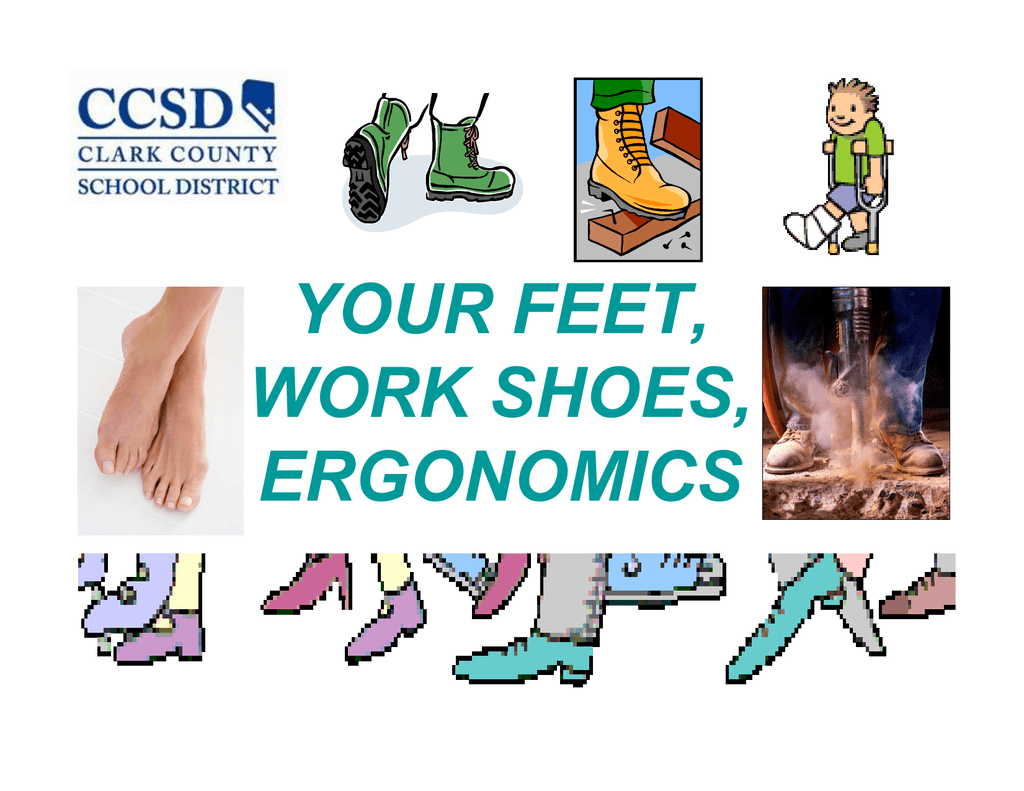 YOUR FEET,
WORK SHOES,
ERGONOMICS
OSHA REQUIREMENTS
General requirements:
29 CFR 1910.136(a)
• The employer shall ensure
that each affected employee uses protective
footwear when working in areas where there is a
danger of foot injuries due to falling or rolling
objects, or objects piercing the sole, and where
such employee's feet are exposed to electrical
hazards.
OSHA REQUIREMENTS
• 1910.132 - Personal Protective Equipment
• 1910.132(h)(2)
The employer is not required
to pay for non-specialty safety-toe
protective footwear
(including steel-toe shoes or
steel-toe boots) and non-specialty
prescription safety eyewear,
provided that the employer permits such items to
be worn off the job-site.
FOOTWEAR TESTING STANDARDS
Protective footwear must meet the
requirements of:
• ANSI Z41-1999, "American National Standard for
Personal Protection -- Protective Footwear"
• ASTM F-2412-2005, "Standard Test Methods for
Foot Protection"
• ASTM F-2413-2005, "Standard Specification for
Performance Requirements for Protective
Footwear"
ergonomics (ur-go-NOM-ix):
The science of fitting the job to the employee
Have you ever bought a pair of shoes that did not fit?
• Most likely, they made your feet
hurt, and you ended up throwing them away,
giving them away, returning them, or putting
them in the back of the closet.
• Your shoes need to fit your feet. In the same
way, your work station, tools, and job need to be
designed to to fit you and the way you work.
• If they do not fit, they can keep you from
doing your best work, and can even hurt you.
ERGONOMICS
• Ergonomics, also known as human factors, is
the scientific discipline that we use to seek
understanding and improve the human
interaction with products, equipment,
environments and systems. Drawing upon
human biology, psychology, engineering and
design, ergonomics aims to develop and apply
knowledge and techniques to optimize system
performance, while protecting the health, safety
and well-being of individuals involved. The
attention of ergonomics extends across work,
leisure, and other aspects of our lives.
HEAVY, HEAVY WORK SHOES
• Heavy shoes localize the
weight near the bottom of
your foot. That puts the
weight on the end of the
longest lever of the body,
meaning you have to exert
even more force. More force
equals more strain.
• Would you do 3,000 ankle
lifts? That is what you would
be doing by walking a mile in
weighted shoes. Does that
put it into perspective? The
body is not designed for that
additional stress. It will wear
down and you could develop
a serious repetitive stress
injury from it.
PREVENTING BACK INJURIES
WITH FOOTWEAR
• Back injuries account for one-fourth of all
compensation indemnity claims, costing
employers billions of dollars per year,
according to the Bureau of Labor Statistics
• 270,890 back injuries
among workers in 2006,
accounting for more than
22% of all work-related
injuries that year
FOOT AILMENTS…..
• Corns and Calluses
Ill fitting shoes usually cause these common foot ailments. The best
treatment is to wear well fitting, roomy shoes. If corns are especially
painful there are pads available that will ease the pain. Never cut or
shave corns. If they are unbearable your should see a physician for
care.
• Bunion
This is an enlargement of the bone at the base of the big toes. It
causes pain especially when walking. Wider shoes often help, but
more aggressive treatment such as orthotics or even surgery may
be necessary.
• Plantar Fasciitis
This heel pain is caused by irritation of the ligament running along
the bottom of the foot. Additional cushioning of the heel often
relieves it, or with an arch insert that takes pressure off the heel.
Running and walking shoes are often ideal for this condition.
Consider potential risks:
• Before making the
investment in work
footwear, as an
employee, examine the
specific job and what that
worker needs to be safe,
successful and
comfortable.
• Beyond just comfort, look
for footwear that offers
"standing tolerance".
FEET………
• ……as problems that begin here often spread to
other areas – including the back. For those in
manufacturing, warehousing and construction,
the constant pressure of working long hours on
a hard, unforgiving surface can contribute to a
variety of problems – most notably, fatigue. The
body needs to work harder to compensate for
the lack of support, which makes the muscles
tired and the body more exhausted. The effects
are exacerbated when the worker has to exert
force or complete a repetitive motion over a long
period of time.
ANTI FATIGUE MATS
• Mats can reduce some of
the foot, knee and back
strain associated with
long standing periods,
especially if your flooring
does not have a vinyl
cushion floor, but has
ceramic tile, cement or
wood
• Don't get a mat that is too
soft, it may look good, but
you will be constantly
balancing on the mat, like
the feeling of walking on
sand for hours.
Look for…..Before you buy…
• Anti-Fatigue Technology absorbs
shock and returns energy for all-day
comfort
• A Flexible Steel-Flex puncture-resistant
plate that protects your foot
• Rubber outsole that is slip-, heat-, oiland abrasion-resistant
• 30 day comfort guarantee
SLIPS…..
• Slips and falls are common causes of injury in
the workplace.
• Footwear choice can help minimize this risk with
anti-slip soles and specific sole tread designs
and compounds, which determine the shoe's
ability to maximize the coefficient of friction and
expel fluids or contaminants.
• Micro-lug patterns (tiny lugs) with
multiple leading edges can provide
good slip resistance on smooth
surfaces, while a "toothy" lug pattern
is best for rugged outdoor conditions.
STRIPPING FLOORS…….
• Stripping Boots &
Replacement Soles
• These stripping boots
reduce your risk of
slipping while keeping
your feet dry and
away from harsh
chemicals
WHATS THE BEST FOOTWEAR
CHOICE???
• ARE YOU IN COLD OR HOT WEATHER
CLIMATES??
• DO YOU NEED PROTECTIVE TOE??
• ARE THERE NAILS & OTHER DEBRIS OFTEN
SCATTERED ACROSS THE GROUND??
• WHATS YOUR ENVIRONMENT….
• THE FIELD IS NARROWED ONCE
QUESTIONS ARE POSED.
• BE PROTECTED FROM THE VERY START.
DATA………
• 2010- 43,970 INJURIES WERE
REPORTED FOR THE FOOT (EXCEPT
TOE) CATEGORY
• 11,630 INJURIES FOR THE "TOE"
• MORE KNOWLEDGE LEADS TO
BETTER SAFETY
TYPES OF WORK SHOES…..
• ICE/SNOW TRACTION AID
• INDUSTRIAL FOOTWEAR: (WATERPROOF, ALLOWS SWEAT
INSIDE TO EVAPORATE, STEEL TOES, SLIP RESISTANT,
REFLECTIVE)
• WORK BOOTS: (100% WATERPROOF, PROTECTS FROM
CHEMICALS, STEEL TOE)
• HIGH VISIBILTY BOOTS: (HEEL & FOREFOOT RETRO
REFLECTIVE LEATHER, LIGHTS UP WHEN IN CONTACT WITH
HEADLIGHT BEAMS)
• SLIP RESISTANT BOOTS: HOSPITALITY, LIGHT INDUSTRIAL,
WET/CHEMICAL & HEAVY INDUSTRIAL
• PROTECTIVE TOE-CAP SHOES: 572F HEAT RESISTANT, SLIP
RESISTANT, SHOCK ABSORBERS, GEL PAD IN HEELS, SWEAT
MANAGEMENT THRU ANTIBACTERIAL COVERINGS
• SERVICE FOOTWEAR: SLIP RESISTANT, DURABLE, GEL
SETTINGS THAT PROVIDE CUSHION, ENERGY RETURN,
INNER & OUTER SUPPORT
(CLOGS, LACE UPS, SLIP ONS).
SHOPPING CHEAT SHEET:
• ERGONOMIC FOOTWEAR (ANATOMIC DESIGN): COMFORT FIT,
LOWER INJURIES RISK, LESS FATIGUE, MORE PRODUCTIVITY.
• WATERPROOF FULL - GRAIN LEATHER: BREATHABLE, FLEXIBLE
AND DURABLE. EASY CARE, WATER AND STAIN RESISTANT.
• DRILEX LININGS: COMPLETELY BREATHABLE, SUPERIOR FOOT
COOLING SYSTEM, QUICK DRYING, KNIT FOR BETTER FIT AND
COMFORT, NON WRINKLING, ODOR AND MILDEW RESISTANT.
• AIR TECHNOLOGY:SHOCK ABSORBING, REDUCES IMPACT AND
SPINAL COLUMN, WALKING ENERGY RETURN.
• COMPOSITE TOE CAP: 50% LIGHTER THAN STEEL,
COMFORTABLE, THERMAL INSULATING, NON MAGNETIC, TOP
RETURN.
• NITRILE RUBBER OUTSOLE: SLIP RESISTANT, OIL/GAS
RESISTANT, ABRASION RESISTANT, DURABLE.
• 100% METAL FREE: ON MAGNETIC, LOWER
ELECTRICAL RISK, SOFT AND LIGHT
CONSTRUCTION, ELECTRICAL HAZARD RATED
ASTM F-2413-05.
ILL-FITTING SHOES…..
• As one grows older the shoe
size changes. The foot
becomes longer and wider,
and the fat pads on the heels
and balls of the feet decrease
in size. It is important that
whenever buying new shoes,
you have your feet measured
to ensure proper sizing and fit.
The best shoe to wear is one
with a wide boxy, toe and low
heel. Shoes that lace can
adapt to changes in the feet
from swelling during the day.
Shoes made of leather breath
better and help wick moisture
away from the feet.
SHOE BUYING TIP
• Buy your shoes late in the day when your
feet may be slightly larger. If your shoes fit
properly, there will be 3/8" to 1/2" of space
between the end of your longest toe and
the tip of your shoe when you are standing
up. Don't expect a tight pair of shoes to
stretch to fit your foot, if you do--you are
asking for foot pain later on. Shoes should
have rounded toes that allow your toes
room to 'wiggle.
WORK GREAT… FEEL GREAT
8, 9, 10 even
12-Hours
on your feet
never felt
so good!!!!