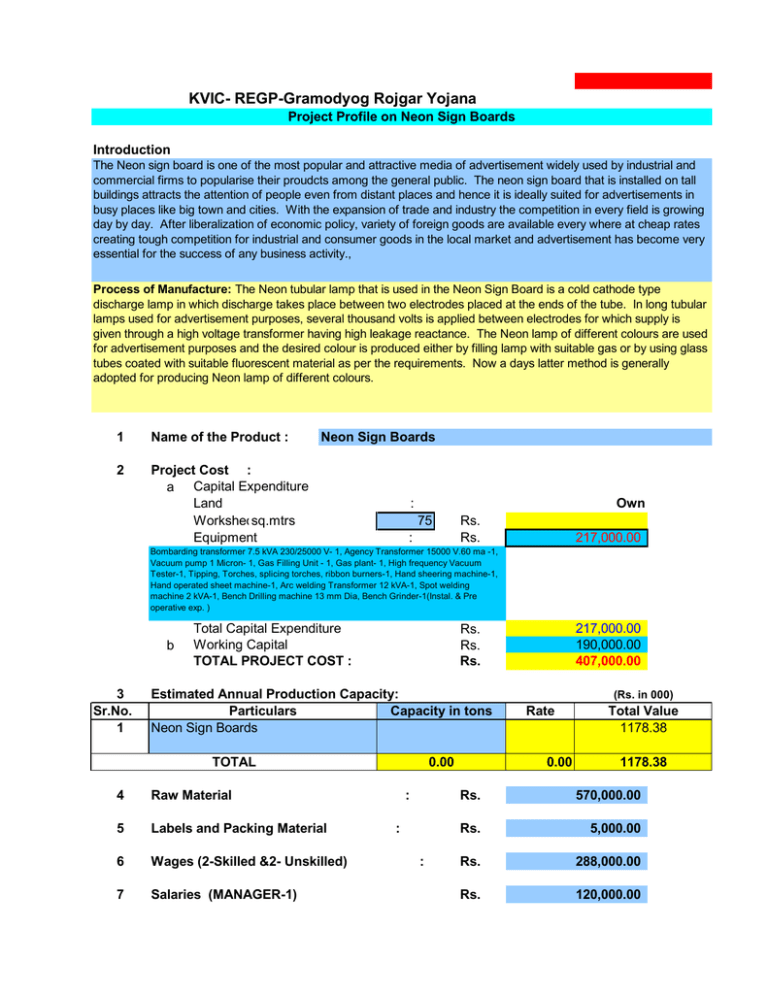 KVIC- REGP-Gramodyog Rojgar Yojana
Project Profile on Neon Sign Boards
Introduction
:
The Neon sign board is one of the most popular and attractive media of advertisement widely used by industrial and
commercial firms to popularise their proudcts among the general public. The neon sign board that is installed on tall
buildings attracts the attention of people even from distant places and hence it is ideally suited for advertisements in
busy places like big town and cities. With the expansion of trade and industry the competition in every field is growing
day by day. After liberalization of economic policy, variety of foreign goods are available every where at cheap rates
creating tough competition for industrial and consumer goods in the local market and advertisement has become very
essential for the success of any business activity.,
Process of Manufacture: The Neon tubular lamp that is used in the Neon Sign Board is a cold cathode type
discharge lamp in which discharge takes place between two electrodes placed at the ends of the tube. In long tubular
lamps used for advertisement purposes, several thousand volts is applied between electrodes for which supply is
given through a high voltage transformer having high leakage reactance. The Neon lamp of different colours are used
for advertisement purposes and the desired colour is produced either by filling lamp with suitable gas or by using glass
tubes coated with suitable fluorescent material as per the requirements. Now a days latter method is generally
adopted for producing Neon lamp of different colours.
1
Name of the Product :
2
Project Cost :
a Capital Expenditure
Land
Workshedsq.mtrs
in sq.ft
Equipment
Neon Sign Boards
:
Own
75
:
Rs.
Rs.
217,000.00
Bombarding transformer 7.5 kVA 230/25000 V- 1, Agency Transformer 15000 V.60 ma -1,
Vacuum pump 1 Micron- 1, Gas Filling Unit - 1, Gas plant- 1, High frequency Vacuum
Tester-1, Tipping, Torches, splicing torches, ribbon burners-1, Hand sheering machine-1,
Hand operated sheet machine-1, Arc welding Transformer 12 kVA-1, Spot welding
machine 2 kVA-1, Bench Drilling machine 13 mm Dia, Bench Grinder-1(Instal. & Pre
operative exp. )
b
3
Sr.No.
1
Total Capital Expenditure
Working Capital
TOTAL PROJECT COST :
217,000.00
190,000.00
407,000.00
Rs.
Rs.
Rs.
Estimated Annual Production Capacity:
Particulars
Capacity in tons
Neon Sign Boards
TOTAL
4
Raw Material
5
Labels and Packing Material
6
Wages (2-Skilled &2- Unskilled)
7
Salaries (MANAGER-1)
(Rs. in 000)
Rate
0.00
:
:
:
0.00
Total Value
1178.38
1178.38
Rs.
570,000.00
Rs.
5,000.00
Rs.
288,000.00
Rs.
:
120,000.00
PAGE ( 2 )
8
Administrative Expenses
9
Overheads
10
Miscellaneous Expenses
11
Depreciation
12
Insurance
13
Interest (As per the PLR)
a. C.E.Loan
b.
:
Rs.
40,000.00
Rs.
60,000.00
Rs.
40,000.00
:
Rs.
21,700.00
:
Rs.
2,170.00
:
Rs.
28,210.00
:
Rs.
24,700.00
Rs.
52,910.00
Rs.
230,380.00
Variable Cost
Rs.
947,700.00
Requirement of WC per Cycle
Rs.
196,347.00
:
:
W.C.Loan
Total Interest
14
Working Capital Requirement
Fixed Cost
Cost Analysis
15
Sr.No.
1
2
3
4
5
6
Note
Particulars
:
Capacity Utilization(Rs in '000)
100%
60%
70%
80%
Fixed Cost
230.38
138.23
161.27
184.30
Variable Cost
948.00
568.80
663.60
758.40
Cost of Production
1178.38
707.03
824.87
847.90
Projected Sales
1400.00
840.00
980.00
1120.00
Gross Surplus
221.62
132.97
155.13
177.30
Expected Net Surplus
200.00
111.00
133.00
156.00
All figures mentioned above are only indicative.
: 1.
2.
If the investment on Building is replaced by Rental then
a.
Total Cost of Project will be reduced.
b.
Profitability will be increased.
c.
Interest on C.E.will be reduced.