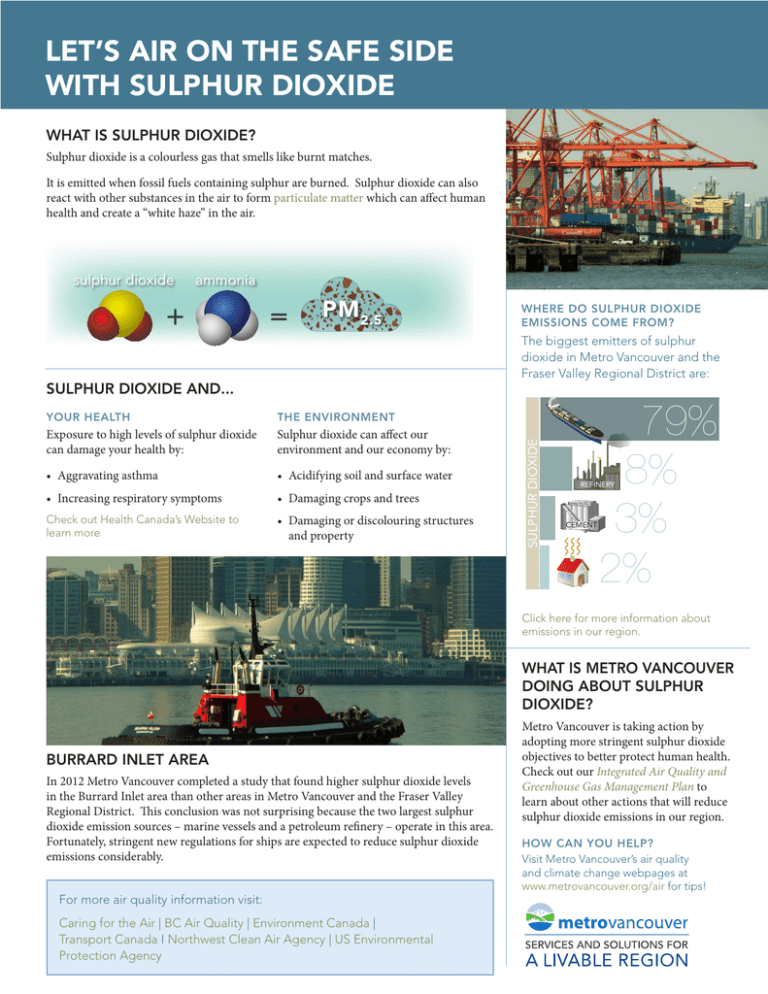 LET'S AIR ON THE SAFE SIDE
WITH SULPHUR DIOXIDE
WHAT IS SULPHUR DIOXIDE?
Sulphur dioxide is a colourless gas that smells like burnt matches.
It is emitted when fossil fuels containing sulphur are burned. Sulphur dioxide can also
react with other substances in the air to form particulate matter which can affect human
health and create a "white haze" in the air.
ammonia
+
=
SULPHUR DIOXIDE AND...
YOUR HEALTH
THE ENVIRONMENT
Exposure to high levels of sulphur dioxide
can damage your health by:
Sulphur dioxide can affect our
environment and our economy by:
• Aggravating asthma
• Acidifying soil and surface water
• Increasing respiratory symptoms
• Damaging crops and trees
Check out Health Canada's Website to
learn more
• Damaging or discolouring structures
and property
WHERE DO SULPHUR DIOXIDE
EMISSIONS COME FROM?
The biggest emitters of sulphur
dioxide in Metro Vancouver and the
Fraser Valley Regional District are:
SULPHUR DIOXIDE
sulphur dioxide
79%
8%
3%
2%
REFINERY
CEMENT
Click here for more information about
emissions in our region.
WHAT IS METRO VANCOUVER
DOING ABOUT SULPHUR
DIOXIDE?
BURRARD INLET AREA
In 2012 Metro Vancouver completed a study that found higher sulphur dioxide levels
in the Burrard Inlet area than other areas in Metro Vancouver and the Fraser Valley
Regional District. This conclusion was not surprising because the two largest sulphur
dioxide emission sources – marine vessels and a petroleum refinery – operate in this area.
Fortunately, stringent new regulations for ships are expected to reduce sulphur dioxide
emissions considerably.
For more air quality information visit:
Caring for the Air | BC Air Quality | Environment Canada |
Transport Canada I Northwest Clean Air Agency | US Environmental
Protection Agency
Metro Vancouver is taking action by
adopting more stringent sulphur dioxide
objectives to better protect human health.
Check out our Integrated Air Quality and
Greenhouse Gas Management Plan to
learn about other actions that will reduce
sulphur dioxide emissions in our region.
HOW CAN YOU HELP?
Visit Metro Vancouver's air quality
and climate change webpages at
www.metrovancouver.org/air for tips!