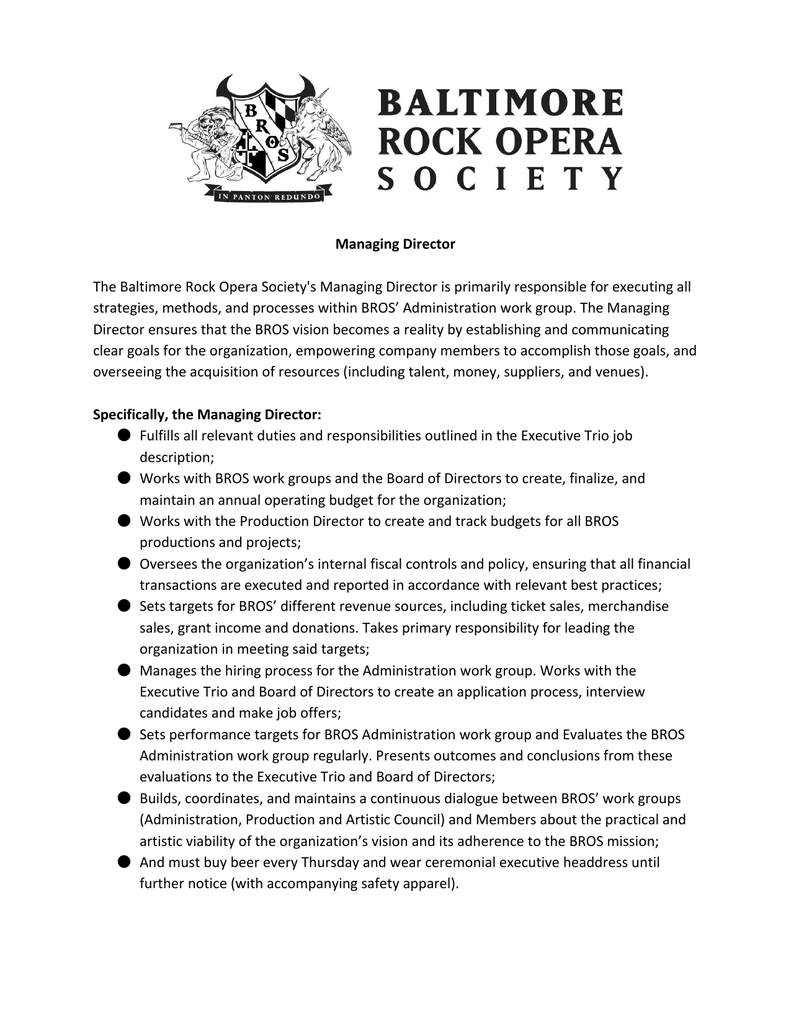 Managing Director
The Baltimore Rock Opera Society's Managing Director is primarily responsible for executing all
strategies, methods, and processes within BROS' Administration work group. The Managing
Director ensures that the BROS vision becomes a reality by establishing and communicating
clear goals for the organization, empowering company members to accomplish those goals, and
overseeing the acquisition of resources (including talent, money, suppliers, and venues).
Specifically, the Managing Director:
● Fulfills all relevant duties and responsibilities outlined in the Executive Trio job
description;
● Works with BROS work groups and the Board of Directors to create, finalize, and
maintain an annual operating budget for the organization;
● Works with the Production Director to create and track budgets for all BROS
productions and projects;
● Oversees the organization's internal fiscal controls and policy, ensuring that all financial
transactions are executed and reported in accordance with relevant best practices;
● Sets targets for BROS' different revenue sources, including ticket sales, merchandise
sales, grant income and donations. Takes primary responsibility for leading the
organization in meeting said targets;
● Manages the hiring process for the Administration work group. Works with the
Executive Trio and Board of Directors to create an application process, interview
candidates and make job offers;
● Sets performance targets for BROS Administration work group and Evaluates the BROS
Administration work group regularly. Presents outcomes and conclusions from these
evaluations to the Executive Trio and Board of Directors;
● Builds, coordinates, and maintains a continuous dialogue between BROS' work groups
(Administration, Production and Artistic Council) and Members about the practical and
artistic viability of the organization's vision and its adherence to the BROS mission;
● And must buy beer every Thursday and wear ceremonial executive headdress until
further notice (with accompanying safety apparel).
Qualifications and Experience
In order to be considered for the Managing Director position, candidates should possess all of
the following:
● Excellent communication skills, including the ability to deliver concise and persuasive
written messages, verbally articulate problems, and lead effective meetings.
● Confidence while interfacing with all levels of stakeholders (volunteers, board, staff,
audience, funders, etc.) in addressing organizational challenges and advancing a clear
mission and vision.
● Experience in organizing and leading large groups, preferably in a volunteer setting.
● Experience in fundraising or sales, with a track record of meeting revenue targets.
● Familiarity with computers including email, word processing, spreadsheet, and
calendaring software. Experience using Google Apps is preferable but not necessary.
● Knowledge of accounting, including ability to read nonprofit financial statements and
accurately enter transactions in accounting software. Experience using Xero is
preferable but not necessary.
● A bachelor's degree and/or higher level of education, preferably with focus or
coursework in business or arts administration.
● Passion for working in a dynamic and exciting community-powered arts environment!
Working for BROS
The Baltimore Rock Opera Society is a passionate community of artists who create
unforgettable experiences through live, original rock theater. BROS hires talented and
enthusiastic individuals committed to serving this community of artists and the audiences who
attend BROS performances.
BROS does not currently offer medical or retirement benefits to employees. Transportation to
and from work-related meetings and events, as well as a cellular phone plan, are to be provided
at the employee's expense.
The expectations of the Managing Director position are based on full-time employment (40
hours per week). Actual working hours can be flexible and will vary due to the seasonal nature
of working with a production company. This position will frequently be required to attend
mandatory evening and weekend meetings as well as to be available for extended hours during
peak production times. Staying in close email and phone contact is essential to any BROS
position. Employees are expected to respond to all communication within 24 hours.
BROS is an ​
equal employment opportunity employer​
. All qualified applicants will receive
consideration for employment and will not be discriminated against on the basis of race, color,
religion, sex, sexual orientation, gender identity, national origin, veteran status, or disability.
Ready to Apply?
In order to be considered for an interview, please submit a current resumé and cover letter,
each in .pdf or .docx format, to ​
[email protected]​
. Include your name and
"Managing Director" in the subject line. Responses will be sent no later than July 10, 2015.