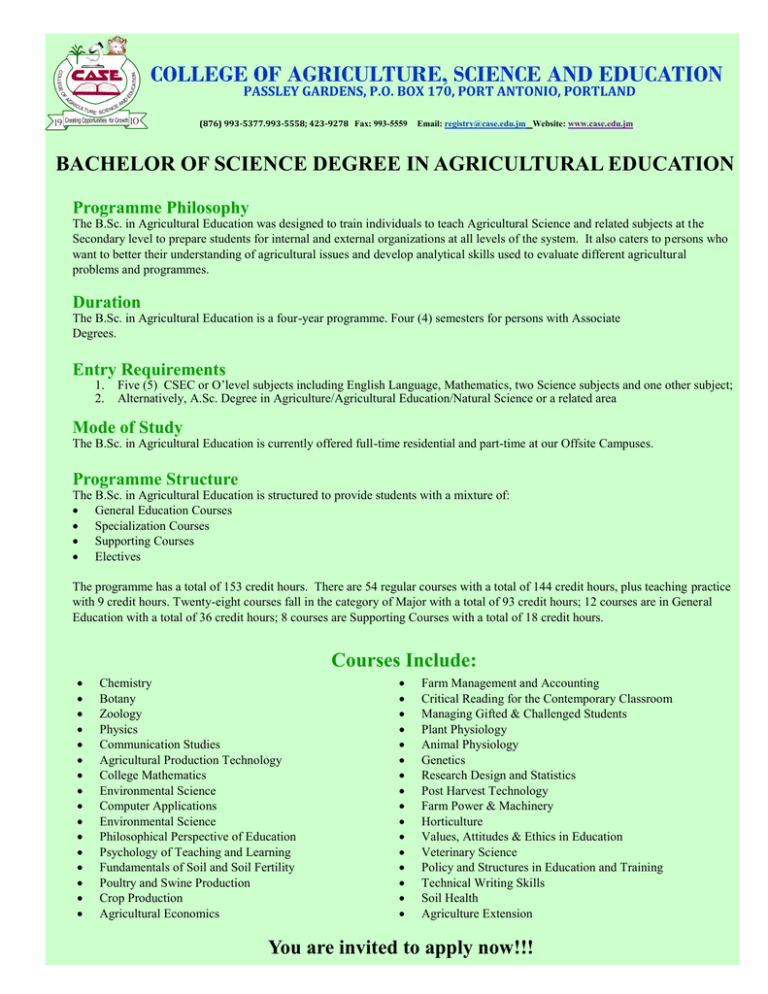 COLLEGE OF AGRICULTURE, SCIENCE AND EDUCATION
PASSLEY GARDENS, P.O. BOX 170, PORT ANTONIO, PORTLAND
(876) 993-5377.993-5558; 423-9278 Fax: 993-5559
Email: registry@case.edu.jm Website: www.case.edu.jm
BACHELOR OF SCIENCE DEGREE IN AGRICULTURAL EDUCATION
Programme Philosophy
The B.Sc. in Agricultural Education was designed to train individuals to teach Agricultural Science and related subjects at the
Secondary level to prepare students for internal and external organizations at all levels of the system. It also caters to persons who
want to better their understanding of agricultural issues and develop analytical skills used to evaluate different agricultural
problems and programmes.
Duration
The B.Sc. in Agricultural Education is a four-year programme. Four (4) semesters for persons with Associate
Degrees.
Entry Requirements
1.
2.
Five (5) CSEC or O'level subjects including English Language, Mathematics, two Science subjects and one other subject;
Alternatively, A.Sc. Degree in Agriculture/Agricultural Education/Natural Science or a related area
Mode of Study
The B.Sc. in Agricultural Education is currently offered full-time residential and part-time at our Offsite Campuses.
Programme Structure
The B.Sc. in Agricultural Education is structured to provide students with a mixture of:
 General Education Courses
 Specialization Courses
 Supporting Courses
 Electives
The programme has a total of 153 credit hours. There are 54 regular courses with a total of 144 credit hours, plus teaching practice
with 9 credit hours. Twenty-eight courses fall in the category of Major with a total of 93 credit hours; 12 courses are in General
Education with a total of 36 credit hours; 8 courses are Supporting Courses with a total of 18 credit hours.
Courses Include:
















Chemistry
Botany
Zoology
Physics
Communication Studies
Agricultural Production Technology
College Mathematics
Environmental Science
Computer Applications
Environmental Science
Philosophical Perspective of Education
Psychology of Teaching and Learning
Fundamentals of Soil and Soil Fertility
Poultry and Swine Production
Crop Production
Agricultural Economics
















Farm Management and Accounting
Critical Reading for the Contemporary Classroom
Managing Gifted & Challenged Students
Plant Physiology
Animal Physiology
Genetics
Research Design and Statistics
Post Harvest Technology
Farm Power & Machinery
Horticulture
Values, Attitudes & Ethics in Education
Veterinary Science
Policy and Structures in Education and Training
Technical Writing Skills
Soil Health
Agriculture Extension
You are invited to apply now!!!