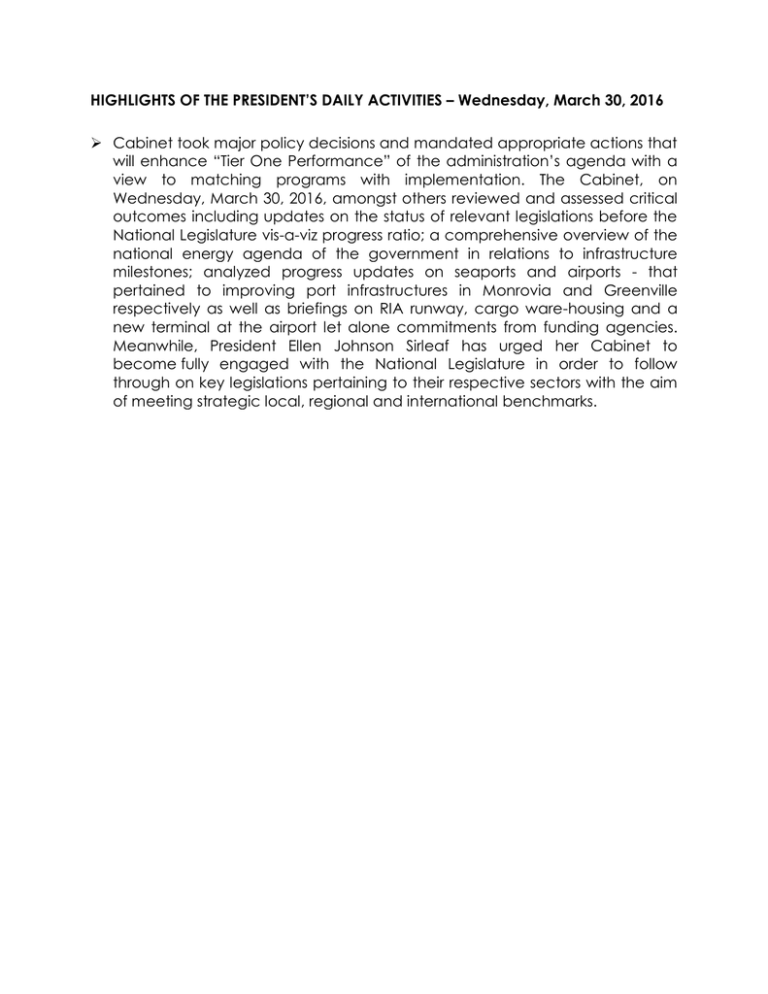 HIGHLIGHTS OF THE PRESIDENT'S DAILY ACTIVITIES – Wednesday, March 30, 2016
 Cabinet took major policy decisions and mandated appropriate actions that
will enhance "Tier One Performance" of the administration's agenda with a
view to matching programs with implementation. The Cabinet, on
Wednesday, March 30, 2016, amongst others reviewed and assessed critical
outcomes including updates on the status of relevant legislations before the
National Legislature vis-a-viz progress ratio; a comprehensive overview of the
national energy agenda of the government in relations to infrastructure
milestones; analyzed progress updates on seaports and airports - that
pertained to improving port infrastructures in Monrovia and Greenville
respectively as well as briefings on RIA runway, cargo ware-housing and a
new terminal at the airport let alone commitments from funding agencies.
Meanwhile, President Ellen Johnson Sirleaf has urged her Cabinet to
become fully engaged with the National Legislature in order to follow
through on key legislations pertaining to their respective sectors with the aim
of meeting strategic local, regional and international benchmarks.